 The World Wide Web doesn't need still another UFO web site, especially one that may be nothing more than a vanity page. If you pull up a search engine like http://www.google.com/ and punch in "UFOs" you will find (as of March 2005) nearly two million sites that are about UFOs or mention them (more than ten million if you type in just the word "UFO"). Maybe a lot more, since the numbers keep growing. So what's my excuse? I don't have any.
However, my files contain a number of stories about sightings and close encounters that I've written over the past quarter of a century, and few people have ever seen them. Not that anyone HAS to see them, but somebody somewhere may find them interesting.
Since May 1975 I have interviewed about two thousand people who have seen UFOs. I've also talked to countless others who have come to me with their stories because they want to tell me what happened to them without being ridiculed. Some even think I'm an expert on UFOs, but I'm not. I don't think anyone is.
I investigate UFO sightings but don't consider myself a UFO investigator. That would require carrying out a far more formal and prolonged scientific study and analysis of cases than I usually have had time or inclination to do. Nor am I an investigative reporter, which implies lengthy undercover probing to dig out information that someone wants to keep hidden.
I am, simply, a reporter who became fascinated by this phenomenon and have been fortunate enough to be able to spend some time and money trying to find out what it's all about. After thirty years, I'm still at it… still trying to find out what it's all about.
At best, I think, I can call myself a UFO researcher, a term that's vague enough to cover anything and anyone, from the most qualified to the least. I fit somewhere in between.
What I am offering on this web site is what a few dozen of those two thousand or so people told me happened to them.
Some of the stories on these pages were written when I was a reporter for the National Enquirer between 1975 and 1981, and the rest since 1981, the year that I went on to other work. It was also the year that I began looking into sightings and encounters on my own, trying to satisfy my own curiosity.
While working for the Enquirer, I reported on UFO incidents in many parts of the United States as well as in Argentina, Bolivia, Brazil, Canada, Chile, Japan, Mexico, Peru, the Philippines, Puerto Rico and Uruguay.
I made five trips to South America for the Enquirer during those early years, four of them to Brazil. Most of my work since 1981 has been done in Brazil, with ten more personal visits since 1981, and in Puerto Rico, two more times.
Brazil has been particularly interesting to me because some of the encounters in that country have been so very different from what I have found elsewhere in the world. People in Brazil were sometimes injured by UFOs, a few of them fatally. Some incidents were truly bizarre.
In addition, virtually every one of the several hundred Brazilians that I have talked to was terrified by his or her encounter. Many of them truly feared for their lives.
Scores of their stories are told in my book, UFO DANGER ZONE, Terror and Death in Brazil – Where Next? (1996 Horus House Press). It was translated and published in Brazil in Portuguese under the title Perigo Alienígena no Brasil, Perseguições, Terror e Morte no Nordeste (2003 A.J. Gevaerd).
Puerto Rico is also fascinating because for many years it has been the scene of extraordinary UFO activity, some of it including strange creatures. Unfortunately, I haven't been able to spend as much time in Puerto Rico as I would like.
Several of my reports have been published in the MUFON UFO Journal, some of them in collaboration with Cynthia Luce and Daniel Rebisso Giese, fellow researchers that I have worked with in Brazil. I also served as editor of the MUFON Journal for one year in the mid-1980s.
It wasn't until I was nearly forty-nine years old that I became interested in UFOs. Until then I had been very much a skeptic. Just how I got interested in the UFO phenomenon is told in seven stories on this web page under the section titled "Getting Hooked on UFOs" with these being particularly relevant:
● Easing Into Ufology, or the Study of UFOs
● Things That Go MUNCH! in the Night
● Things That Go BANG! in the Night
● 'It Was Pretty... Prettiest Thing I've Ever Seen'
Some really true believers may be offended by some of the things I say or by my approach to the phenomenon, thinking me flippant or not serious enough. I am serious about the phenomenon but perhaps not serious enough to satisfy everyone. For example, I do not believe UFO aliens are good guys here only to help us, and because of that belief I have been criticized.
That's OK. I know several hundred UFO researchers in the United States and other countries and I can't think of even one who has not been attacked, usually by someone else in the research field. Apparently it's the nature of the beast.
I retired in April 1999 after forty-eight years as a journalist. My twenty-two-year newspaper career included reporting or editing jobs on the Alexandria (Virginia) Gazette, Charlottesville (Virginia) Daily Progress, Evansville (Indiana) Courier, Buffalo Evening News, Miami News, Philadelphia Enquirer, Louisville Times and the Louisville Courier-Journal.
Several of those newspapers no longer exist. I worked at the Charlottesville daily (which is still going strong) three times, twice as a police reporter in the 1950s and the third time as managing editor (1960-1967). My highest position on any of the other newspapers was as executive assistant to Barry Bingham Jr., one of the owners and then editor and publisher of the Louisville newspapers.
In 1973 I went to work for the National Enquirer in Lantana, Florida, where I worked as a writer for nearly two years and another six and a half years as a reporter.<![if !vml]>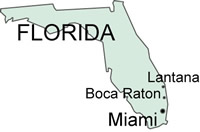 <![endif]>
Lantana is a small town that is part of the megatropolis that includes Miami and stretches for more than a hundred miles along the Atlantic Coast in southeastern Florida. Lantana is in the central part of Palm Beach County, a county famed for rich people (I don't know any of them), beautiful beaches, election snafus and tragic anthrax outbreaks.
Palm Beach County is also sometimes known as Tabloid Gulch, because all six major American tabloids are published there.
In 1982, I went to work for Globe Communications, then publisher of several tabloids and a number of other magazines, with offices in West Palm Beach. In 1985 the company moved into its new three-story building in Boca Raton. Anyone watching TV news during the 2001 anthrax attack has seen the building. By then it was owned by American Media Inc., which also owned the National Enquirer and had bought Globe Communications. I had worked with Bob Stevens, the man who died, and Ernie Blanco, the man who survived pulmonary anthrax, both fine men.
During my seventeen years with Globe Communications I worked at different times with its three tabloids – National Examiner, Globe and then Sun – as a computer page design and production editor. I did not write for any of them. All of my reporting since 1981 has been solely for myself.
In addition to writing UFO DANGER ZONE, I co-authored – with the late Dr. J. Allen Hynek and Philip J. Imbrogno – the book NIGHT SIEGE, The Hudson Valley UFO Sightings (1987 Ballantine Books) and NIGHT SIEGE, Second Edition Expanded and Revised (1998 Llewellyn Publications).
Phil Imbrogno and Dr. Hynek did all of the research for NIGHT SIEGE, with Phil doing most of it. My contribution was the actual writing of the book, with Phil supplying the outline and chapter suggestions and a truly unbelievable amount of material to work with.
Dr. Hynek worked with us in the beginning but he died of a brain tumor before the book was completed. The chapters as they were written were then submitted to his widow Mimi for her approval. Mimi had a fine mind and was as deeply interested in UFOs as Allen was. Sadly, she too has now passed away.
UFO DANGER ZONE is entirely my own and I did nearly all of the research, with a great deal of help from many investigator friends in Brazil.
This web site is also entirely my own, from the initial idea in the summer of 2001 to a course in web design at a community college, to software programs and manuals that I haven't begun to master or understand, and finally to the imperfect product seen on these pages. This means I have no one to blame but myself for any mistakes or anything going wrong. If glitches do occur, please accept my apologies.