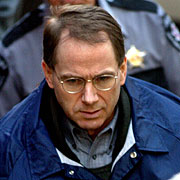 Amazing New Evidence Emerges about Oklahoma City Bombing
by Jerry Pippin
Oklahoma City, OK
4/20/05
Ten years ago, April 19th, I was in Las Vegas far from the world of my native Oklahoma, when I turned the TV on that early morning and was shocked to see a bombed out hull of the Murrah Federal Building in Oklahoma City in background, as Tom Brokaw reported on the bombing. I was familiar with this building, as I had lived in Oklahoma City for several years and frequented the public library to do research, which was very close to the Federal Court House.
I wondered why that building, when it was the anniversary of Waco, and I knew Bob Ricks, the FBI agent in charge of Waco, had an office in another building several miles from that downtown facility. I am still puzzled about this after all these years. Over the past decade I have watched, with much interest, the prosecution of Timothy McVeigh, Michael Fortier and Terry Nichols. It always seemed to me that there must be more to this story than was being reported.
The stories are coming out, ten years later, and a revisit of the crime scene by the FBI evidently has yielded some shocking new evidence. This new evidence, we are told by reliable sources, implicates an FBI Informant, as a result of the identification of some of the bomb components that were discovered at the former home of Nichols in Kansas. There are links to a federal informant, who many connected with the case think lied during the trial of McVeigh, who was executed after his conviction.
Here is what many have speculated that actually happened in this case. The FBI, using an informer as a conduit, supplied McVeigh and Nichols with the blasting components that the two used to construct explosive devices, one of which was then used in the bombing.
An interesting fact of note is that originally there was a lot of publicity about the March 31 FBI raid on Nichols's vacant home in Herington, Kansas, but less than a month later, things are very quiet on the government front. While the media reported that previously undiscovered explosives were found on the raid at Nichols's home, sources say there's much more to the story.
Nichols, we are led to believe, wanted certain fingerprints to be discovered on the material, and he was sure those fingerprints would belong to the informant, Roger Moore. Nichols wants to expose the FBI's role in supplying Moore the material that made it possible for the bombing to be done.
Nichols has evidently come to conclude that he (Nichols) and McVeigh were being manipulated prior to the bombing by federal authorities, in what was intended to be a "sting" the feds would use as "proof" of their skill in tackling domestic "terrorist threats" from "radical right wing extremists."
Now, in prison for life, Nichols evidently hopes to expose the role that Moore and his live-in girlfriend, Karen Anderson, played in the events. Moore and Anderson gave testimony in the federal trial, helping to convict Nichols. Nichols has told certain sources that the testimony against him was false. Court records show that Moore was an admitted FBI informant as long as a decade ago and may be still protected.
Moore, a Royal, Arkansas gun dealer, claimed to have been robbed by McVeigh and Nichols of some 66 guns, cash and gold coins in November 1994. The FBI and federal prosecutors claimed that the proceeds were used to finance the OKC operation. However, the defense team undermined that theory by producing a signed motel receipt, proving that McVeigh was in Akron, Ohio, on the date in question. This did not keep either the prosecutors or the news media from repeating the robbery story.
Moore, known to Nichols as a "Bob Miller," later changed his story, and said that it definitely was not McVeigh and Nichols. But, at the time Moore went to several bars and a barbershop the week of the alleged robbery, describing McVeigh as the culprit.
Testimony shows that Moore was a confidential informant for two Hot Springs FBI agents named Ross and Hayes. These two agents discovered the "stolen" guns in a sack behind the house trailer of Michael Fortier in Kingman, Arizona, shortly after the bombing. Fortier testified against Nichols and McVeigh, and in return received a plea bargain of a 20-year sentence.
It has been reported that the FBI had the information about the explosives about 30 days before the raid on the Nichols home. Gregory Scarpa, who is a convicted mobster serving a time with Nichols in Florence, Colorado, reportedly verified the story to the FBI. The FBI sent a polygraph expert to the prison on March 4th, who believed that Scarpa was lying. Scarpa then called private investigators he had worked with in the past and, during a seven-hour meeting on March 10, showed a letter in Nichols's handwriting.
Reliable information provided documents that the private investigators went to a contact they had at Homeland Security. Without the knowledge of the FBI, Scarpa provided the authorities with the address of the house and detailed descriptions of the location of the explosives.
Then came the FBI raid on March 31, cleaning out the neighborhood even though the explosives had been there untouched and missed by the original search of the property. Eye witnesses say the Topeka Police Bomb Squad cordoned off a three-block area. They were there for a full night and into the daytime hours the following day.
Now the question for Nichols is, will the FBI reveal the finding of their informant's finger prints? The John Doe story still lives, and security cameras have shown more people than just McVeigh with the Rider Rental Truck that was the truck bomb, even though some of this video has been kept out of any court proceedings by the government.
We have been told that Nichols will not stop until he gets the complete truth out about the FBI sting that went bad. The government has gone to great lengths to keep Nichols quiet in the past including banning CBS news anchor Dan Rather from the prison several years ago.

Follow-up: Evidence of Government Cover-up of the Oklahoma City Federal Building Bombing
1/8/05
In the following report from the American Free Press, evidence that McVeigh and Nichols were convicted of a crime they could not have possibly committed is presented.
OKC Bombshell Implicates Feds In Murrah Blast
After nearly a decade, shocking, suppressed evidence emerges
By Pat Shannan
Only moments after an enormous blast blew away most of the facade and a full quarter of the eastern end of the Alfred P. Murrah Federal Building in Oklahoma City in 1995, the FBI and Bureau of Alcohol, Tobacco and Firearms (BATF) began to release evidence implicating two men, and two men only, who they claimed were solely responsible. The evidence later showed that Timothy McVeigh and Terry Nichols had confessed to the impossible.
At first, several independent investigators came forward to complain that there was an obvious cover-up. Now they call it the "ongoing cover-up of the cover-up." And now, even the new OKC museum contradicts the official theory of what happened on April 19.
Officials in charge at the time still refuse to discuss anything other than the manufactured spin: McVeigh and Nichols, as convicted by the courts, mixed up a large batch of ammonium nitrate fuel oil (ANFO—a mild explosive used by farmers to blow out stumps) and demolished several square blocks of downtown Oklahoma City with a devastating blast that could be heard miles away.
In reality, the ANFO story was born only 10 minutes after the blast when a high-ranking BATF official by the name of Harry Everhart witnessed the blast from nearby and called the BATF office in Dallas to excitedly announce, "Someone has just blown up the federal building in Oklahoma City with a truckload of ANFO!"
Some reporters and investigators, who have looked objectively at the bombing, now argue that neither Everhart nor anyone else could have correctly deduced in such a short time exactly what caused the explosion.
According to government documents released later, Ever hart was experienced in loading large amounts of ammonium nitrate fertilizer into a vehicle for use as a terrorist truck bomb, and his presence in the midst of the second worst terrorist attack in U.S. history looms suspicious to this day.
Records indicate that this ANFO explosives expert and his associates had destroyed at least eight vehicles in "test bombing experiments" at a secret range in the New Mexico desert in the 12 months prior to the OKC bombing.
Everhart and his fellow specialists even photographed and videotaped these truck bombs as they detonated.
Far from an anti government militia member, the vehicle bomb expert was Special Agent Everhart, an employee of the Bureau of Alcohol Tobacco and Firearms. And, according to federal government records obtained later, Everhart had been instrumental in obtaining the government funding to perform the ANFO bombing tests.
Everhart served on the National Response Team (NRT), a group of experienced bomb and arson investigators who respond to major bombing crime scenes throughout the United States.
He also served on a secret government project in 1994 that conducted tests using ANFO and C-4 to blow up cars and vans in a classified U.S. government experiment known as "Project Dipole Might."
According to files, reports and photographs obtained from the Department of the Treasury through a Freedom of Information Act request, the U.S. government initiated a "comprehensive ANFO and C-4 vehicle bomb testing program" about a year before the OKC bombing. Records show the project was supervised and administered by the BATF, but was actually funded through a National Security Council (NSC) directive.
The Department of Treasury has confirmed the project was initiated under President Bill Clinton's NSC staff shortly after he took office in 1993.
The intent of the Dipole Might experiments in 1994 includes making videos and computer models to "be displayed in a courtroom to aid in the prosecution of defendants" in vehicle bomb cases, according to government documents. The exact precedent and purpose of this activity is unclear. BATF agents started blowing up vans and cars in the spring of 1994 at the White Sands Missile Range in order to collect test data for post-blast forensics computer software packages to be issued out to National Response Team personnel when they respond to truck bombings.
Why the NSC would fund such a BATF project—despite the rarity of the crime—has not been explained.
Nor has it been explained as to what specific threat-assessment information the government had when it decided to engage in such a project, just a few months before officials claimed a Ryder truck laden with ammonium nitrate fertilizer exploded in front of the Murrah building.
The only major ANFO vehicle bombing in U.S. history, prior to OKC, occurred in August 1970 at the University of Wisconsin, in Madison, Wis.
Contrary to media reports, the World Trade Center bomb of February 1993 was composed of urea nitrate, not ANFO, according to the FBI.
Despite only one known case in almost 25 years, why did Clinton's NSC anticipate a need for detailed information regarding ANFO vehicle bomb attacks a few months prior to the Oklahoma City blast?
Treasury's own official documents reveal the intensity of interest. In fact, a brief summary of "Project Dipole Might" is featured in BATF's 1994 Annual Report to Congress.
There were enough clandestine characters hanging around Oklahoma City to fill a James Bond movie during the days prior to the crime.
BATF's paid informant Carol Howe had provided information that the Murrah building was one of three potential targets.
On April 6, Cary Gagan gave U.S. marshals in Denver the information that "a federal building would be blown up in either Denver or Oklahoma City within two weeks." He had not only personally delivered timers and blasting caps to a Middle Eastern group, but had sat in on a meeting where the blueprints of the Murrah Building were on display.
Then, 38 minutes before the blasts on April 19, the Department of Justice in Washington received an anonymous telephone call warning that the Murrah Building was about to be blown up but took no action.
After a morning of reporting that "multiple bombs" had been found in the Murrah debris—a report publicly confirmed by the Gov. Frank Keating—and that rescue operations had been halted for two hours while these unexploded bombs were removed, news people suddenly began to spin the government yarn about an ANFO bomb being responsible for the enormous damage.
One of the problems with that theory was the fact that the columns remained standing directly across the sidewalk from the truck as opposed to those that had collapsed more than 50 feet away. A retired air force brigadier general with 30 years experience compiled an irrefutable report on this subject, which showed exactly where the charges were placed inside the building.
It was so irrefutable that the prosecution refused to allow him to testify at the Denver trial as it would have destroyed any ANFO theory that the government had already sold to the American people.
On May 23, 1995, only 34 days after the explosions, the federal government stonewalled all attempts to examine the building's remaining structure and carried out an ordered demolition, destroying and burying forever what many believed contained the evidence of many explosions.
In its issue of Oct. 11, 19, as well as other issues, the now defunct weekly Spotlight newspaper fully covered the Oklahoma City incident and conclusively proved the accuracy of reporter Shannan's above story. The bombing was definitely a federal government operation; just why Nichols and McVeigh confessed is a mystery that forbids the closure of the case.
Not Copyrighted. Readers can reprint and are free to redistribute - as long as full credit is given to American Free Press - 645 Pennsylvania Avenue SE, Suite 100 Washington, D.C. 20003

Commentaries by Jerry Pippin
EPILOG
McAlester, Oklahoma - 11:00 a.m. CDT August 9, 2004
by Jerry Pippin
The sun was bright this August morning in "Little Dixie" as the country around McAlester is known by Oklahomans. This August has been cool by state standards and this morning is no different. No 90s, just 80 degrees, if that, and a gentle wind from the South.
Inside the old court house, it is white hot emotionally. Terry Nichols stood before the Judge this day for his sentence, the second time he has been given "Life without Parole." First from the Feds and now from the State of Oklahoma. This was not what many wanted, they wanted to punish him with death, but it was plain for the jury to see that this was not really justice since questions remain about Nichols involvement in the entire Oklahoma City Bombing plot.
For those of us, who are convinced there is more to this case than has come to light in Court, this is a bitter sweet day. Nichols chose once again not to talk publicly about the case in court. He did file a written statement with the court on Monday, but it was more along the lines of " I am sorry and I have found religion" than revealing any of the pertinent facts in the case.
So I say bitter because it appears the people in charge have won another round and have kept out of public reach the many unanswered circumstances that surround this case. We could rehash these circumstances, but the reader can see the details for themselves on this web site and others, in books written and to be written. It is plain to see, that if you rule out of evidence pertinent facts that lead to other conclusions rather than the prosecution case, the truth seldom appears in our court system.
The sweet, Terry Nichols is still alive and maybe someday, we will get his version of events. The question now is a simple one; will he live long in prison? It appears he is going back to the Federal System, at one time this would have been more likely an avenue for his life to be spared. These days however, we are not so sure.
After all, it was the Feds who screwed up this case and muddled the waters of truth so deeply that no one knows exactly who, what or why things happened the way they did that morning in April in Oklahoma City.

for details of the Nichols sentencing in Oklahoma State Court.

McAlester, June11, 2004 - 10:00 pm - Report by Jerry Pippin
Sometimes things don't go according to plan. Seven jurors wanted to fulfill the plan, but five just couldn't go along with the legalized execution for whatever reasons.
It was a surprise and a shock to the prosecution who thought they had, in this part of the country, a "Lead Pippin Cinch". You can't say that you blame them for being surprised, after all, Judge Steven Taylor did what he could to help them. Time after time his rulings suppressed or prevented any evidence that Nichols was duped and/or had a lesser part in the conspiracy for the bombing.
It looked like the millions of dollars that the State of Oklahoma spent were being put to use. The defense spent well over $3 million, and I understand the prosecution could have spent twice that amount to shut this guy up. It looked like it was working. It only took the jury 5 hours to convict him and 19 hours or so for them to understand that 5 of the jurors were not going to go along with the program.
It was not Oklahoma's finest moment in my opinion, spending millions of dollars to be vindictive, or maybe they were spending millions of dollars to try to finish what the Feds couldn't do.
I'm not talking about killing him, I'm talking about making sure he never talks.
Now the question will be, will Nichols sing like a bird? Probably not yet. He has an appeal pending, and it looks to me like there are plenty of points of law to be addressed here. I guess the real question will be: "How long will it be before Mr. Nichols has an untimely accident?" Hopefully, he will continue to survive and someday the real story will be told.
McAlester, Oklahoma, 5/26/04 - Report by Jerry Pippin with assistance from reporter Judi Bentley
Everyone seemed to know the outcome. It doesn't take long for a mob to rule for a hanging and when Judge Stephen Taylor ruled once again against the Nichols defense, it was plain to see Nichols was going to be in prison for the rest of his life or perhaps even receive the death penalty. Taylor said the jury had to find Nichols guilty or not guilty of first-degree murder. Taylor ruled last week that they could not consider lesser charges.
The Judge had ruled out most of the defense case that Nichols as a patsy and there was a wider conspiracy over and over. As they like to say in neighborhood poker games down in this part of Oklahoma known as "Little Dixie" the cards were stacked against him. It took the jury only a few hours to find him guilty on all counts of first degree murder.
Interesting observation from this reporter, this time around the Nichols defense team seemed to be more adept than the Federal Trial; but this jury was not inclined to give him a break especially in light of the ruling of the Judge that lesser charges could not be considered. The 49 year old man is serving a life prison sentence on federal involuntary manslaughter and conspiracy charges. He was acquitted of murder charges in Federal Court where jurors at Nichols' federal trial deliberated 41 hours over six days before reaching a verdict.
This time around, this jury took less than a day to convict on all murder charges. The closing arguments took longer than the jury deliberations.
In closing arguments, Tuesday, Nichols' attorneys told the jury that dozens of witnesses saw bomber Timothy McVeigh with other people, including a man known only as John Doe Number Two. A defense attorney also criticized an FBI fingerprint examiner who admitted he was wrong when he said Nichols' palm prints were on a map of downtown Oklahoma City found in Nichols' trash. The defense says McVeigh had other conspirators in the 1995 bombing and set up Nichols to take the blame.
Defense lawyers had planned on bringing up evidence that a shadowy group of conspirators, including members of a white supremacist gang, helped McVeigh with the bombing. But Judge Steven Taylor refused to allow that evidence, saying the defense never showed that such people made any overt acts to further the bomb plot.
Defense attorney Brian Hermanson called this a story of friendship and betrayal. He portrayed his client as a man who loved his kids. He says Nichols did not buy fertilizer for the bomb. And he says the feds have no fingerprints or tire tracks to prove that he burglarized a Kansas rock quarry. Explosives stolen there were allegedly used to build the bomb.
Now the penalty phase will begin, both the prosecutors and defense attorneys will be calling witnesses as the jury considers the death penalty.
Tonight, when the sun has set on Big MAC, the maximum security prison where Nichols is being held, one wonders what is going through his head. It seemed like he couldn't get a break from the Judge or the Jury in his case even though many defense witnesses testified that items found at Nichols' home and linked to the bombing by prosecutors could have had benign uses, and that anti-government literature found at the home was the sort of material McVeigh had given to several people.
Even an FBI whistleblower disputed an FBI forensic scientist's testimony that ammonium nitrate crystals found on bombing debris came from the blast and then there were hundred plus witnesses that they had planned to call showing that others were involved. They never got to testify because of the rulings from Judge Taylor.
Nichols must be thinking back to the damning testimony given by Frederick Whitehurst. Whitehurst said there was not enough evidence to support either of FBI Scientist conclusions.
He had this to say about Steven Burmeister, "He is my student. And I trust him like a brother. But he lied under oath. He lied," Whitehurst said, appearing to grimace with emotion.
"Mr. Burmeister's lying under oath is just something I could not accept," he said.
As we said, it looks like the "deck was stacked" against the chance of showing that these three men, McVeigh, Nichols and Fortier were not alone in this horrific crime. Nichols and his defense team knew the odds were bad. If the guilty conviction does not bring the death penalty, prosecutors in Oklahoma City are likely to face massive criticism for billing taxpayers in the cash-strapped state millions of dollars to try a man who was already going to spend the rest of his life in prison.
It took the jury five hours to convict. I wonder what the odds are for less than five hours to decide on the death penalty?
This web site and my radio shows have covered conspiracy cases for a long time now and none has been more mind boggling than trying to dig out the real story behind 9/11 and the Oklahoma City Bombing case. On the surface, they do not appear to be related and they may not be, other than one important facet. The government is not telling the whole story, and they are doing every thing they can in legal circles to keep the truth from coming out.
Nichols has been convicted, but the Fat Lady has not sung on his case as yet. Will there be future surprising revelations? Stay tuned. We will keep you informed.

News and Views on the Terry Nichols Trial
Look for any future news briefs and TV coverage of the Nichols case at:

5/26/04: After a lengthily defense, the case was given to the jury, and today Nichols was convicted of 161 counts of Murder under the laws of the State of Oklahoma. His penalty will likely be death. Another link to the mysterious, behind the scenes happenings relating to the OKC bombing will have been dispatched. CLICK HERE for details.
5/11/04: McAlester, Oklahoma, filed by Jerry Pippin.
The Defense of Terry Nichols is now well underway and it is certain to all that the defense feels it can prove that Timothy McVeigh was seen many times with an enigmatic, dark-skinned man known as John Doe No. 2. Witnesses are on the stand and they are saying McVeigh was with this man and others, not Nichols.
Witnesses to this effect included Kathy Henderson, who worked in a hair salon in Junction City, Kan., testified Monday that the sketches of McVeigh and John Doe No. 2 look "almost exactly" like the men who came into the salon together a day before the bombing. Tonia Rumbaugh, another employee, said the unidentified man appeared to be Hispanic, with thick, dark hair that was tinged with gray. McVeigh stood at the door while the other man asked for a haircut, but there were no open appointments, Rumbaugh said.
Henderson says F-B-I sketches of McVeigh and John Doe Number Two look almost exactly like the men in the shop. Six other witnesses testified that McVeigh was with other men other than Nichols.
The owner of the Dreamland Motel where McVeigh stayed before the bombing, a maid and a pizza delivery man all testified there were others in the room at various times and none of them were Terry Nichols. The maid and the motel owner testified the Ryder truck was parked at the motel a full day before the FBI says McVeigh and Nichols rented the truck using an alias.
Last week the defense won a critical ruling from the Judge that they could call their own fingerprint experts to identify other prints connected to the bombing. The defense is hoping to match fingerprints found in Timothy McVeigh's car and a hotel room where he stayed days before the bombing to a gang of white-separatist bank robbers.
Defense attorneys allege the robbers helped McVeigh plan the April 19, 1995, bombing. When the Prosecution rested its case it called 151 witnesses and introduced more than 1,000 pieces of evidence over 29 days. The Defense expect about the same amount of time to be used and probably as many if not more witnesses to be called.
Earlier the Judge ruled their was no evidence of a wider conspiracy and as result limited the defense ability to call witnesses to testify that there was a conspiracy. This resulted in the defense scaling back their witness list from 800 to about 200.
A jury member had a heart attack last week, leaving only two extra jury members. Three of the jury members were kicked off the case at the beginning of the trial by the Judge because they were found to have lied about connections with the prosecutors.
Last Thursday, the defense read into the record a deposition from the late Danny Wilkerson, who said he sold a pack of cigarettes and two soft drinks to bomber Timothy McVeigh about 10 minutes before the bombing. Wilkerson also said he saw another man sitting in a Ryder truck, waiting for McVeigh.
One of the witnesses called was a motorist who watched as Timothy McVeigh was arrested after the Oklahoma City bombing testified that he also saw a man in a pickup truck back up near McVeigh's car. A McDonald's employee in Junction City, Ks. testified that a man who looked like John Doe number 2 ordered food for McVeigh and himself, she saw them drive off in a car by themselves.
4/27/04: McAlester, filed by Judi Bentley: This will probably be the last week for the prosecution's case in the Nichols trial. Six weeks of testimony has had mixed results in the prosecution case. Last week ended with grisly testimony about an extra leg being found in the ruins of the OKC bombing debris. The medical examiner said he thought it was a woman's leg because it was clean shaven. In the McVeigh trial, the defense tried to put on evidence saying the leg was that of the missing bomber.
Circumstantial evidence about the plastic barrels being tied to Nichols was also presented. The barrels contained fertilizer similar to the composition of the bomb that destroyed the building in 1995.
4/26/04: Jerry Pippin and Judi Bentley discuss her reporting and eye witness account of the Terry Nichols Oklahoma City Bombing Trial.



4/23/04: Jerry Pippin reporting. Thursday, Michael Fortier continued to testify. During cross examination, Michael Fortier conceded that he handled the same stolen explosives that Nichols did prior to the Oklahoma City bombing. Wednesday, the defense pointed out that Fortier never talked to Nichols about the plot. He told friends he was going to get rich over his story of the bombing. FBI audio tapes show that Fortier had conversations that included comments about "doing the talk show circuit" and "selling the movie and book rights after the (McVeigh's) trial."
Fortier said the Federal Bureau of Investigation paid him a visit for the first time just two days after the bombing. He said he was not truthful with agents during their first visits nor any of those that followed. Fortier said McVeigh made comments about Nichols being stupid.
4/22/04: OKC DA interferes with reporter's ability to testify in Nichols trial following reporters testimony under oath that he was told that Nichols was not the only conspirator in the bombing case. Reported by Jerry Pippin.
We have been writing about J.D. Cash, the Idabel newspaper reporter, who has been doing an investigative journalism piece on the connections of McVeigh to a white supremist group and that connection with Peter Langan, former head of the Aryan Republican Army who is serving a life sentence on bank robbery and weapons charges. Cash has reported that Langan's sister and father are employed by the CIA.
Cash has 40 boxes of records, personal notes, photos, documents and even clothes of the convicted robber. These boxes have been the subject of whether or not there has been a cover up in the OKC bombing case for years and on Monday a clash between Cash and the Oklahoma City Police came to a head when a policeman showed up and said he wanted the boxes for the Oklahoma City DA's office.
As Cash wrote in his newspaper this week, " Prosecutors are becoming increasingly concerned about what may be in the boxes that they haven't seen - evidence which might corroborate Langan's expected testimony that his band of bank robbers helped Timothy McVeigh blow up the Murrah federal building."
Go here to read the J.D. Cash account of why he did not show up for a Monday night hearing in McAlester and more details of the attempt to steal the records from the McCurtain County Gazette by the Oklahoma City DA's office: http://www.mccurtain.com/articles/2004/04/20/top_story/top001.txt
4/21/04: Judge says not enough evidence, but... Jerry Pippin reporting.
With the defense getting a crack at Fortier on the stand in the Nichols Trial, it is interesting to go back and examine more information that has come forth about the Secret Service Memo that states contrary evidence to the prosecution theory about the bombing.
An entry from the Secret Service Memo written as a result of their investigation reported that the security video was consistent with a witness' account that he saw McVeigh's getaway car in the lead before a woman guided the truck to its final parking spot in front of the Murrah building.
"A witness to the explosion named Grossman claimed to have seen a pale yellow Mercury car with a Ryder truck behind it pulling up to the federal building," the log said. The witness "further claimed to have seen a woman on the corner waving to the truck."
In addition to the witness mentioned in the Secret Service document, a woman working in Murrah's Social Security office who was rescued from the rubble and a driver outside the building both reported to the FBI seeing two men leave the truck, according to government documents.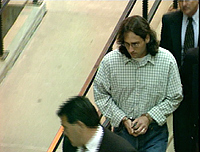 McAlester, Judi Bentley reporting. In a move that was expected by most court observers, Judge Steven Taylor has denied a request to dismiss murder charges against Oklahoma City bombing conspirator Terry Nichols.
Nichols' attorneys had requested dismissal of the case, saying prosecutors failed to provide them with evidence crucial to the defense.
The evidence includes alleged security videotapes of the bombing of the Oklahoma City federal building and of an accomplice getting out of the Ryder truck with bomber Timothy McVeigh moments before the bombing.
Judge Taylor says there's no evidence the tapes exist. Testimony continues this morning with Michael Fortier on the witness stand.
Fortier testified yesterday that McVeigh told him Nichols was deeply involved in the bombing plot and helped gather components for the bomb.
4/20/04: Key Witness testifies, closed hearing continues on dismissal of trial against Nichols and more deaths are connected to the bombing conspiracy. Reported by Jerry Pippin. This story was also done with the help of reporters Judi Bentley and Roberta Scott.
With the specter of Michael Fortier, who met Nichols and executed bomber Timothy McVeigh while all three served in the Army, testifying, the exclusive story of a prison guard's suspicious death back in 1996 looms large as the web of conspiracy widens in the case.
On February 6, 1996 in El Reno, Oklahoma, the body of Federal Prison Guard Joseph Scott Gladden was found. He was just one of four other prison guards who served at the Prison whose deaths were ruled suicides. Gladden was a senior guard at the prison and was primarily assigned to watch McVeigh, who was there for a brief time after being arrested and charged with the Oklahoma City Bombing.
Days before Gladden's death, he told his mother, Sharon Gladden of Konawa, Oklahoma that he feared for his life because he had overheard something that he shouldn't have. Upon further questioning, the dead man told his mother that it concerned McVeigh, the OKC bombing and that he was not afraid of the bad guys but others. He would not go into detail about the incident as he said it would endanger his mother as well, if she knew.
A wrongful death suit brought by the dead guard's family was dismissed upon a technicality in the pleading and the family dropped further investigation into the mysterious death circumstances.
This afternoon McAlester, a quiet Southeastern Oklahoma Town is resting quietly underneath a cloudy sky after and early morning round of Thundershowers, the tranquil scene in sharp contrast to the court room drama unfolding downtown in the old district court building. In side, Fortier, a former resident of Kingman, Arizona, and who is serving a 12-year federal prison sentence for knowing about the bomb plot and not telling authorities. This sentence was the result of a plea bargain in which a guilty plea was entered after he testified against McVeigh and Nichols at their federal trials.
Fortier and his wife, Lori Fortier, will both testify for the prosecution in the state trial. Meanwhile in Arizona a Judge has ordered 13 people to testify in the trial here in Oklahoma. The Mojave County residents are people who knew Nichols, McVeigh and Fortier. The defense asked the Judge to compel them to come to Oklahoma and testify under oath after testimony by Nichol's wife indicated they were all members of a neo-Nazi white supremist group with connections in Oklahoma.
Former Oklahoma County District Attorney Bob Macy was subpoenaed for a hearing on whether to dismiss murder charges against Terry Nichols. That hearing, on Monday, came after the day's testimony. The jury was not there for the hearing.
Meantime, on the stand Monday, Nichols' attorneys cross examined an F-B-I agent who interviewed Nichols two days after the Oklahoma City bombing. Prosecutors say they'll end their case May third or fourth. Defense attorneys say they'll begin their case May sixth.
Earlier in the week, a gun collector took the stand. He testified about a 1994 robbery that prosecutors say financed the Oklahoma City bombing. The man could not identify the gunman, but prosecutors allege it was Nichols.
4/19/04: A note from Jerry Pippin. Today, April 19th is the ninth anniversary of the Oklahoma City Bombing and it seems strange but unfortunately all too true that only now many details of a possible conspiracy are being reported. John Solomon is a respected AP reporter in Washington D.C. click on the link and see his report about hidden video tapes showing others involved. Video tapes hidden by the Federal Government and the tangled web of intrigue surrounding the case that was never investigated properly. With the rumblings of the facts in the 9/11 terrorist attack not being as the government has reported and the not so veiled threat issued yesterday by Condoleezza Rice that another terrorist attack is probable to try to effect the outcome of this years election, it is no wonder many people dismiss out of hand things we have been writing for years...that a right wing cabal has taken over the government of the United States. Read the article below and remember this is not coming from talk show host in Oklahoma but from a respected reporter with the top news organization in the world, the Associated Press.
http://news.yahoo.com/news?tmpl=story&u=/ap/20040419/ap_on_go_ca_st_pe/mcveigh_video_1
4/17/04: Freedom of the Press is working, better late than never. McAlester, Oklahoma, Jerry Pippin reporting.
Two enterprising print reporters and some Oklahoma Defense attorneys are about to blow the lid off the Oklahoma City bombing case. We have praised the reporting of an Idabel Newspaper Man, J.D. Cash for revealing many sordid details leading up to the booming incident in 1994 and now Referring to a series of recent articles by Washington, D.C., Associated Press reporter John Solomon, and materials used in earlier stories copyrighted by Cash and his newspaper, that other federal investigatory files the defense was able to file a huge documented motion for a dismissal of charges against Terry Nichols. In the filing, the defense writes:" discovered critical exculpatory material buried in the 1B file in the 37 file cabinets in the District Attorney's office."
The filing goes on to read: "The federal government and state prosecutors have withheld - and continue to withhold - critical information from the defense that shows that Timothy McVeigh was aided by persons other than Terry Nichols in his plot to bomb the Murrah Building." In a copyrighted article Cash exposes damning evidence about photographic evidence showing others involved with the planting of the Rider Truck in front of the Court house in Oklahoma City, just over three minutes before the bomb exploded.
The evidence came from From details discovered in a Secret Service file on Richard Lee Guthrie Jr., one of the Midwest bank bandits who Cash says helped finance the bombing operation. The witness is now deceased, McVeigh was executed and the defense lawyers told the court that they discovered references to a video that appears to have captured the bomb truck arriving and individuals exiting, then leaving the scene before the blast. This document confirms that the film does exist.
The Secret Service document also records that an eyewitness at the scene recalled a woman waving the bomb-laden Ryder truck into a parking place minutes before it exploded. Cash writes that this is backed up by the security tape which shows the Rider truck, halting briefly then pulling into a vacant parking spot in front of the building.
This answers a question we have had for sometime at jerrypippin.com about how McVeigh had managed to get a coveted spot in front of the building. Evidently the woman was there and signaled the truck when the spot was coming open.
Cash has shown unusual resourcefulness in getting this story, on Dec. 14, 2003, the motion states:
"This FBI memorandum is a veritable bombshell. It was from the Director of the FBI and it specifically contains the Oklahoma City bombing FBI case number. ... The importance of this memo cannot be understated."
We have learned that Cash will testify on Wednesday in a close court hearing about the findings, some reports earlier had indicated it might be on Monday, however; the Judge has indicated he needs more time to examine the large numbers of documents submitted by the defense.
4/17/04: McAlester, Oklahoma, Roberta Scott reporting. During a hearing on Wednesday, John D. Cash, a McCurtain Daily Gazette reporter, testified that he is the legal custodian of records for Peter Langan, who is serving a life sentence, plus 30 years, for federal charges that include bank robbery. Link here to John Cash's article on this story: http://www.mccurtain.com/articles/2004/04/14/top_story/top001.txt.
On Thursday, April 15, District Judge Steven Taylor signed a subpoena, after the close of regular court, ordering John D. Cash to bring the legal records to the Pittsburg County Courthouse, by Monday, for an after-hours hearing in the case of accused Oklahoma City bombing conspirator, Terry Nichols. Cash authored a book, several years ago, in which he laid out a case in which the government was a co-conspirator in the Oklahoma City bombing case. Taylor scheduled the hearing after the close of regular court in response to a request by Nichols' attorneys to dismiss all state charges against him.
Cash said Langan has told him that some members of his gang, called the Midwest Bank Robbers, helped Timothy McVeigh carry out the bombing of the Alfred P. Murrah Federal Building in Oklahoma City. Langan is scheduled to testify as a defense witness for Nichols on May 12.
On Thursday, Nichols' defense team wanted to call Angela Finley-Graham to testify, who was an agent for the Federal Bureau of Alcohol, Tobacco and Firearms in 1994 and 1995, but the potential witness could not be located for the hearing. The process servers were not able to locate her.
In regular court action, on Thursday, an Oklahoma City man told jurors he pushed his wife down in the floorboard of their car after he sensed a huge object hurtling toward them after the Oklahoma City bomb exploded.
Richard Nichols who was working at the Regency Tower Apartments near the Murrah Building, said the object that had crashed into the car's hood, was later identified as the axle from the Ryder rental truck used in the Oklahoma City bombing.
Also, Special FBI Agent Leslie Earl III read passages from a novel titled "Hunter," which authorities contend was a blueprint for the bombing. He read passages about a character who builds an ammonium nitrate bomb, loads it in a truck and detonates it after parking it near a building. Earl said he found the novel in the Nichols' home.
4/13/04: Filed by Jerry Pippin at 7:30 p.m. CT. Oklahoma Bombing Trial revealing many unanswered questions that lead to doubt that Nichols and McVeigh were alone in the plot. Possible Terrorist connection and government frame coming to light.
Will the good old boy trial in Oklahoma unleash forces that will unravel the government case that only Nichols and McVeigh did it? In the past few days and in the upcoming couple of days, elements of a conspiracy not against the Feds, but something more sinister seems to be unfolding.
For the past few days, testimony in the Terry Nichols trial has been centered not on the defendant, but his dead co-conspirator, Timothy McVeigh. Today, most of the testimony centered around McVeigh again with FBI agents taking the stand describing documents found in the car where the former Army hero was arrested by an Oklahoma Highway Patrolman.
Last week, the blockbuster of the entire case, so far, is the fact that rumors that have circulated since the bombing were verified on the stand by Nichols wife, Marife Torres. Another rumor has been persistent about Torres, a native of the Philippines. This one centers around the fact that Nichols made frequent trips to the Island nation where terrorists have a foothold in the country side. This rumor says Nichols had made contact with those terrorist before the bombing; this however, has never been confirmed by anyone with an ability to know for sure as far as I know.
His second wife, who is 30, testified that she met Nichols in the Philippines in 1990. Nichols first wife testified that on Dec. 18, 1994, she received a call to her home from a pay phone in Gilman, Ill., as coming from Timothy McVeigh. She said McVeigh was trying to get in touch with Nichols while Nichols was in the Philippines.
Under later questioning by the defense, his first wife, Linda Padilla backed off earlier statements in which she described Nichols as an anti-government survivalist. She suggested that FBI agents who interviewed her after the bombing fabricated statements attributed to her that were critical of Nichols.
Another twist that will keep conspiracy story tellers busy came to light in Court on Thursday, Nichols' lawyers have asked the public defender in Kingman for help in subpoenaing the witnesses for Nichols' defense.
The 13 haven't been identified publicly but are believed to have known Nichols or McVeigh, who lived in the Kingman area before the bombing.
Then there is the motion filed by defense attorneys, here is how James Beatty, editor of the McAlester daily newspaper reported this story on the front page this morning in the page:
Terry Nichols' attorneys contend state and federal authorities are withholding evidence critical to his defense - including a video showing "suspects" exiting a Ryder truck three minutes and six seconds before it detonated.
Nichols' lead defense attorney, Brian Hermanson, filed a 90-page brief Monday, asking District Judge Steven Taylor to dismiss all charges, with prejudice, against Nichols in connection with the April 19, 1995, Oklahoma City bombing.
"Put bluntly, this court has been misled," Hermanson said in the motion.
Hermanson said prosecutors failed to disclose that McVeigh made a phone call to Elohim City, described as a white supremacist stronghold in Northeastern Oklahoma, after he rented the truck used in the bombing.
Nichols' defense also said:
€ Relatively soon after the Oklahoma City bombing, Attorney General Janet Reno announced publicly that the bombing was an act of domestic terrorism.
€ The FBI and federal officials proclaimed prior to and at the federal trials of McVeigh and Nichols that there was no John Doe No. 2 or other unnamed co-conspirators.
Hermanson said there are more than 50 witnesses who saw McVeigh and a man resembling the composite sketch of John Doe No. 2 in Kansas and Oklahoma the week before the bombing.
Hermanson also contends authorities have deliberately frustrated defense efforts to link McVeigh with a group known as the Midwest Bank Robbers.
District Judge Steven Taylor set hearings following the close of court today, Wednesday and Thursday at the Pittsburg Count Courthouse to hear the motions. This evening's hearing is expected to be closed.
4/7/04: Lana Padilla who was married to Nichols testified that he was a loner with few friends. Padilla testified for more than three hours in her husband's state murder trial and recalled being shocked by a sealed letter he gave her on Nov. 22, 1994 -- nearly five months before the April 19, 1995, Oklahoma City bombing that killed 168 people.
The letter included instructions on how to distribute Nichols' belongings if he died during a trip to the Philippines, where his second wife, Marife, was from. Padilla, a Las Vegas real estate broker, and Nichols divorced in 1988, she said. A second envelope contained another letter addressed to McVeigh, instructing him to clear out two storage units, including one in Council Grove., Kan., that prosecutors have said were used to store components for the bomb that destroyed the Oklahoma City federal building.
She said she followed the instructions to her and pried off the back of a kitchen drawer, where she found a package containing $20,000 in cash. She said she took the money to her office and placed it in a safe.
She went to the storage shed on Dec. 17, 1994, and found camping gear, bullion coins and a cigar box containing jade that prosecutors say was stolen from Arkansas gun collector Roger Moore as part of a plan to finance the bombing.
Nichols discovered that the package of cash was missing when he returned from the Philippines. Padilla said she removed $5,000 for child support before she returned the package.
"He agreed to let me keep $3,000 if I opened up a savings account for Josh," she said. A letter to McVeigh ended with the line "You're on your own. Go for it."
An FBI fingerprint expert admitted he had made some mistakes in identifying Nichols prints and He also testified that fingerprint examiners uncovered more than 1,000 unidentified prints on the evidence but never tested them, He said FBI officials believed the prints would not be in the FBI's database, which had prints from 35 million people then.
4/5/04: Monday the man responsible for the description that led to the sketch of John Doe number two took the stand. Eldon Elliot operated the Ryder Truck facility in Kansas where the truck was rented to be used as a truck bomb by McVeigh. He testified there was a second man there and he was not Nichols but the man in the sketch.
Ruth Hailey said she saw a yellow Ryder truck behind Nichols' house in Herington, Kan., the evening of April 17 or 18, 1995. Hailey lives in Herington.
An FBI expert testified Nichols' fingerprints were on a motel registration for Oct. 16, 1994, at the Starlite Motel in Salina, Kan. That is significant to prosecutors because the guest checked in as "Terry Havens" -- the same last name as the customer who bought the 2 tons of fertilizer alleged used to make the bomb.
William Bodziak, a former FBI agent, told Oklahoma County Assistant District Attorney Suzanne Lister a track found at a storage shed matched a tire found on Nichols' blue GMC pickup.
FBI fingerprint expert said he identified a fingerprint of Roger Moore's on a rifle seized from Nichols' home. Authorities have alleged the Oklahoma City bombing was partly financed by robbing Moore, an Arkansas gun dealer.
4/4/04: Nichols, who turned 49 Thursday, April 1st spent his birthday in court listening to testimony from witnesses called by the prosecution. One of those witnesses was Jerry Knapp. Knapp said he talked to Nichols on the phone after an inquiry about trailers for sale by his company in Nebraska. "He wanted to know how many 55 gallon drums would fit on the trailer."
Gary Atkinson, of Herington, Kan., said he drove by a storage unit in April 1995 and saw a Ryder rental truck backed up to the door of a unit. He said he didn't see anyone around the truck. Earlier a woman testified that her brother owned the storage units. Records showed she had rented a unit to a Shawn Rivers, which prosecutors say was used by Nichols. The woman said she did not recollect meeting Nichols or the other man in personal Then A Wichita, Kan., coin dealer who had a time lapse tape in his store which captured both Nichols and McVeigh in 1994 took the stand.
Robert Dunlap said he paid McVeigh $2,330 on Sept. 14, 1994, for one-ounce gold Canadian maple leaf coins. Dunlap said he gave a check made out to then Terry Nichols wife for the gold coins. Under cross-examination from Nichols' defense attorney Brian Hermanson, Dunlap said he had no record of a sale to Nichols and had no independent recollection of either McVeigh or Nichols until he viewed the videotapes.
Another witness, Tim Chambers, of VP Racing Fuels Inc., told of a man who bought three drums of nitromethane racing fuel on Sept. 21, 1994, during National Hot Rod Association Races in Ennis, Texas, near Dallas. The man who made the purchase paid $2,775 for three 54 gallon drums of nitromethane, he said. The buyer said he planned to use the fuel in racing motorcycles in Oklahoma City, Chambers said. He could not identify the man who bought the fuel.
In the first incident of the trail, a woman did identify Nichols in the Court room, More details of Nichols activities listed as trial continues.
By JAMES BEATY, senior editor Friday, April 2, 2004 12:25 PM CST
McAlester, Oklahoma News Capital
McALESTER - A Nebraska tire salesman testified in the Terry Nichols trial that he once talked to Nichols about trailers his company had for sale.
"He was interested in buying a trailer and he wanted to know the biggest trailer we had," said Jerry Knapp. "He wanted to know how many 55 gallon drums would fit on the trailer."
Knapp said he told Nichols to give him the dimensions and he would do the math. He had contacted Nichols by telephone after receiving a message that a man called Terry was interested in buying a trailer, the witness said.
He remembered that Nichols said he lived in Kansas.
Knapp said he told Nichols the trailer would allow for extensions.
"He said 'Isn't this an enclosed trailer?"' Knapp said he told Nichols he didn't have any enclosed trailers for sale.
"He was agitated. It seemed kind of a waste of time, I guess."
Knapp testified Thursday in District Judge Steven Taylor's courtroom at the Pittsburg County Courthouse in McAlester.
Nichols, who turned 49 Thursday, is standing trial on 161 state counts of first-degree murder, as well as counts of conspiracy and arson for the April 19, 1995, bombing of the Alfred P. Murrah Federal Building in Oklahoma City.
Prosecutors contend a 4,000 pound bomb made of ammonium nitrate fertilizer and fuel oil held in 55 gallon drums inside a rental truck was used in the bombing.
Gary Atkinson, of Herington, Kan., said he drove by a storage unit in April 1995 and saw a Ryder rental truck backed up to the door of a unit.
"It had a ramp down," Atkinson told Oklahoma County Assistant District Attorney Suzanne Lister. He said he didn't see anyone around the truck.
Another witness, Helen Mitchell, of Herington, Kan., had testified earlier her brother owned the storage units. Records showed she had rented a unit to a Shawn Rivers, which authorities have linked to a name used by Nichols.
Mitchell said she had no recollection of ever seeing "Rivers," or Nichols.
A Wichita, Kan., coin dealer testified Thursday that he had a time lapse tape in his store which captured both Nichols and McVeigh on videotape in 1994.
Robert Dunlap told Lister he paid McVeigh $2,330 on Sept. 14, 1994, for one-ounce gold Canadian maple leaf coins.
Lister showed the jurors still photographs, taken from the tapes, that showed McVeigh inside the store.
"I paid by check," Dunlap said. "He said to make the check payable to Marife Nichols." At the time, Marife Nichols was married to Terry Nichols.
Another series of photographs from the following month show Terry Nichols inside the store. Dunlap said he feels there was a transaction with Nichols, because there is money on the counter.
Under cross-examination from Nichols' defense attorney Brian Hermanson, Dunlap said he had no record of a sale to Nichols and had no independent recollection of either McVeigh or Nichols until he viewed the videotapes.
McVeigh was executed in 2001 for his part in the bombing.
Another witness, Tim Chambers, of VP Racing Fuels Inc., told of a man who bought three drums of nitromethane racing fuel on Sept. 21, 1994, during National Hot Rod Association Races in Ennis, Texas, near Dallas.
Chambers said the company had a truck in a restricted area selling racing fuel.
The man who made the purchase paid $2,775 for three 54 gallon drums of nitromethane, he said.
The buyer said he planned to use the fuel in racing motorcycles in Oklahoma City, Chambers said. He could not identify the man who bought the fuel. Chambers said he loaded the drums in a pickup with a white camper on top.
Sharon Furman, of Council Grove, Kan., testified she rented a storage unit in November 1994, to a man who signed his name as Ted Parker and gave a Decker, Mich., address.
She said she met the man called Parker at the unit. Asked if she could identify him in court, Furman pointed at Nichols.
Friday, the testimony centered around McVeigh buying the car he was arrested in after the bombing and witnesses seeing McVeigh with a Rider Truck at a Kansas Motel. Two witnesses testified that Nichols had an expensive fuel meter that he wanted to sell.
3/31/04: James Cadigan, a retired FBI tool mark examiner, said the one-quarter inch drill bit made the same distinctive markings as those found in a drilled hole in a padlock found at a Martin Marietta quarry near Marion, Kan., where detonation cord and blasting caps were stolen less than seven months before the bombing.
"That was the drill that was used,'' Cadigan said. The crime scene is about twenty five miles from where Nichols lived.
Judi Bentley
McAlester, Oklahoma
3/30/04: More witnesses took the stand, Tuesday, testifying about the fertilizer used in the Oklahoma City bombing. Prosecutors are trying to link that fertilizer to Terry Nichols.
A woman testified that she watched Nichols spreading ammonium nitrate fertilizer on the lawn of his Kansas home two days after the bombing. Ammonium nitrate fertilizer and fuel oil were used in the bomb that destroyed the Oklahoma City federal building. Prosecutors contend that the fertilizer she allegedly witnessed Nichols spreading was left over bomb-making material. The witness could not identify Nichols in the courtroom.
An explosives expert testified that a bomb made of 4,000 pounds of the material would be large enough to bring down a building. So far all the witnesses this week have been connected to fertilizer testimony in one way or another.
In the first week of testimony, 37 witnesses took the stand. On Friday, testimony also concentrated on the fertilizer. Defense attorneys argue that Timothy McVeigh had other conspirators, and that Nichols was set up to take the blame.
Last week, prosecutors asked the judge to limit testimony from a federal death row inmate. David Hammer is set to testify for the defense. He says that Timothy McVeigh told him in conversations on death row that Nichols helped store ingredients used to make the bombs, but did not help build them. Hammer says McVeigh tried to recruit Nichols to help build the bombs, but he never showed up. - Source, KJRH-TV, Tulsa
3/29/03: The prosecution today had mixed results on the stand, with an FBI Agent testifying that he had gone over all of the receipts at a Fertilizer Plant in Kansas where they suspected the fertilizer for the bomb inside the back of a Rider Truck was bought. He stated that Havens, an alias, the government says used by Nichols, was the purchaser of 4,000 pounds of fertilizer similar to what was used in the Oklahoma City Bombing. It was the third largest transaction for the year for the fertilizer company.
The CEO of the company testified that a hundred pound bag of the Fertilizer would cover a good size yard. A worker at the coop, Jerry Showalter, testified that he was involved in the Sept. 30 sale to Havens. But neither Showalter nor Frederick Schlender Jr., who ran the co-op's branch in McPherson and testified on Friday, could identify Nichols as the buyer.
Judi Bentley
McAlester, Oklahoma
3/26/04: This week's wrap-up: The manager of a Kansas farm-supply store told Terry Nichols' jurors Friday he "can't identify anybody positively" as the customer who bought 2 tons of fertilizer in 1994. Frederick Schlender Jr., testified the customer drove a vehicle "consistent" with Nichols' blue 1984 GMC pickup. Jurors were told the customer went by the name "Mike Havens." Under defense questioning, the witness confirmed he'd told the FBI in April 1995 that the pickup had a Kansas tag. Nichols' vehicle in 1994 had a Michigan tag.
11:00 AM -- The prosecution continues to hammer at the fact that they think a calling card belonged to Terry Nichols was used to set up the bombing in Oklahoma City. So far over 20 witnesses have been called, but under defense questioning, Fred Dexter, assistant deputy director of the FBI, said a team of government investigators connected calls to a Ryder truck rental agency in Kansas to the prepaid calling card owned by Nichols. Dexter said he did not know who made the calls.
Judi Bentley
McAlester, Oklahoma
3/25/03: Noon -- A telecommunications consultant testified today that telephone calling card found in Terry Nichols' home was used to make the call reserving the truck used in the Oklahoma City bombing.
The prepaid card was issued to Daryl Bridges, which prosecutors say, so far without proof was an alias used by Nichols. The same car was used a few days before the bombing to telephone Nichols' home from a bus station in Junction City, Kansas. He says a few minutes later, the same card was used to call a Ryder Truck rental agency in Junction City. Prosecutors say bomber Timothy McVeigh made the call to Nichols, then used the card to reserve the Ryder truck.
Nichols sat quietly though the testimony showing little emotion.
The farmer testified Nichols told him he could make explosives out of fertilizer to blow up tree stumps. Then the government called Dana Rogers, of the Paladin Press, who testified Thursday that McVeigh had ordered some books from the company in 1992, including one book titled "Homemade C-4," which told how to make explosives.
"Have you ever sold any books to Terry Nichols?" Wallace asked.
"We didn't have any record of it," Rogers said.
Judi Bentley
McAlester, Oklahoma
Photo Gallery of the Pittsburg County Court House and the Court Room where the Nichols trial is being held.
3/24/04: McAlester, Oklahoma News Capital Story - The Terry Nichols State Trial is now underway with testimony dealing with telephone records and photos and evidence from the Nichols home. The prosecution is trying to show that Nichols was involved deeply with McVeigh on planning the bombing in Oklahoma City. The Defense says this proves little, and they will show that McVeigh actually did most of the calling from the Nichols home while he was out working. The question for the Jury will be, was it a three man plot as the prosecution says or was it a deeper plot involving Aryan Nations groups or even other known terrorist groups and the government missed stopping the event; therefore, deciding to try to wrap it up by convictions of Nichols and McVeigh who has been put to death in a rare Federal action.
Channel 9 (OKC) Report from McAlester: http://www.newsok.com/?video
In depth report from the local McAlester Newspaper: http://www.mcalesternews.com/articles/2004/03/23/news/top_stories/top01.txt
History of the Oklahoma City Bombing from Court TV: http://www.courttv.com/archive/casefiles/oklahoma/
Prosecutors aim to block inmate's testimony in Nichols case
By TIM TALLEY, Associated Press
(Published March 17' 2004)
OKLAHOMA CITY (AP) - Prosecutors in Oklahoma City bombing conspirator Terry Nichols' state murder trial want to block a death row inmate's testimony that white supremacist bank robbers were involved in the deadly blast.
A motion was filed Tuesday to limit the testimony of David Paul Hammer, who is expected to testify for the defense at Nichols' trial on 161 counts of murder for the 1995 bombing.
Nichols' defense attorneys claim co-conspirator Timothy McVeigh had substantial help from others in staging the bombing and that Nichols was set up to take the blame.
Hammer is expected to testify that McVeigh told him that there were other accomplices. McVeigh was executed in 2001.
Assistant District Attorney Lou Keel said Hammer's testimony should not be used to show that McVeigh had help from members of the Aryan Republican Army.
Keel's motion argues that Hammer's testimony should only be used to challenge the testimony of prosecution witness Michael Fortier, who says McVeigh told him Nichols was involved in the bombing.
No hearing is scheduled on the motion. Opening statements in the trial are scheduled Monday.
Nichols, 48, is already serving a life sentence on federal convictions for the deaths of eight law enforcement officers. The state murder charges cover the 160 other victim's and one victim's fetus.
Hammer, a former Oklahoma prisoner, is scheduled to be executed June 8 for murdering a prison cellmate.
3/23/04: Jurors Look at Evidence in Nichols Trial.
3/22/04: Testimony began Monday in the state of Oklahoma versus Terry Nichols in McAlester, but not without some controversy. Three jurors were dismissed because they were distant cousins of an attorney who works in the prosecution's office. The judge was reportedly angry that he had to let the jurors go because he said prosecutors should have told him about the connection during jury selection so he could have replaced them. The judge cannot make any replacements now, so they only have three alternates for a case that could last up to six months. The judge said he would throw the Nichols case out if he ends up with too few jurors. The jury dismissals set some things back for the day, but both sides were able to make opening arguments.
Judi Bentley
McAlester, Oklahoma
Wednesday morning, 6:46 a.m.
McAlester, Oklahoma News Capital Story: Three jurors excused.
USA Today Story: Prosecutor - Nichols worked hand in hand with McVeigh in bombing.