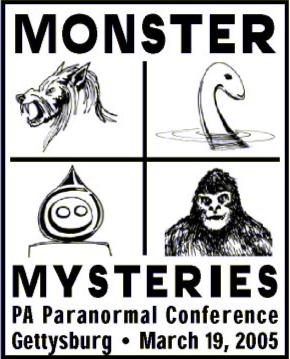 On 3/19/05, Gettysburg, Pennsylvania hosted the 2005 Pennsylvania Paranormal Conference. In attendence, representing the Jerry Pippin Show, was our Associate Producer, Farah Yurdozu. The annual conference, organized and produced by Rick Fisher, paranormal investigator, covers a wide range of paranormal subjects and research being performed. From Bigfoot and ghosts to UFOs and vampires, this is exciting coverage of what is happening in Pennsylvania.


for the Paranormal Society of Pennsylvania web site.

Conference Overview by Farah Yurdozu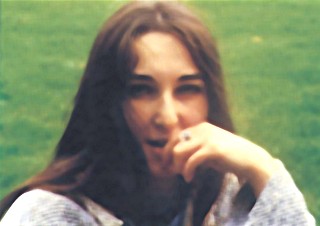 A Most Haunted Day in Gettysburg
I am sure the ghosts of Gettysburg are proud to be remembered and visited almost every day of the year. But, a very special event was held on March 19, 2005 at the Holiday Inn Hotel, which brought a scientific touch to paranormal subjects.

Gettysburg National Cemetery
The 4th Annual Pennsylvania Paranormal Conference was a meeting place of important investigators in the field of Ghosts, UFOs, Vampires and Werewolves, Monsters, and Big Foot. World famous Gettysburg Town hosted famous names in the paranormal investigation field, such as Rick Fisher, who is the sponsor of this event, Rosemary Guiley, Frank Feschino Jr, Stan Gordon, Mark Nesbitt, and Eric Altman.
Pennsylvania has many paranormal and unexplained cases. This event was a perfect sample of the dedication and passion of the speakers discovering a mysterious world around us. I enjoyed interviewing them, and I cannot wait to attend next year's conference.

Speaker Interviews with Farah Yurdozu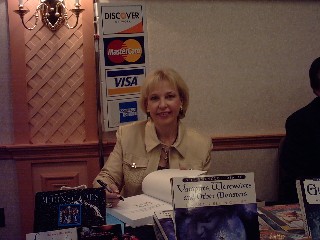 Rosemary Ellen Guiley, Ph.D. is an expert on visionary, spiritual and paranormal topics. A best-selling author, Guiley has written 30 books on a wide range of subjects, including single-volume encyclopedias and practical and inspirational works. Her books have been translated into 13 languages, selected by major book clubs, and cited for excellence. She has written hundreds of articles for various publications. She makes numerous media appearances, and travels internationally to make presentations. Of particular interest to Guiley are dreams and their creative, healing and transformative characteristics. Since the early 1990s, she has worked as a lay dream work facilitator, helping general audiences understand their dreams. "I was fascinated by dreams in my teens and have been studying dreams ever since then," she says. "Our dreams give us useful information about daily life, but they also take us into paranormal and spiritual dimensions. I have learned from my own experience that dreams are psychic, provide intuitive guidance, are a direct line to the "voice of God," and are the medium for creative breakthroughs and profound healing. The more we work with our dreams, the more we express and realize our full potential."
Interview with Rosemary Guiley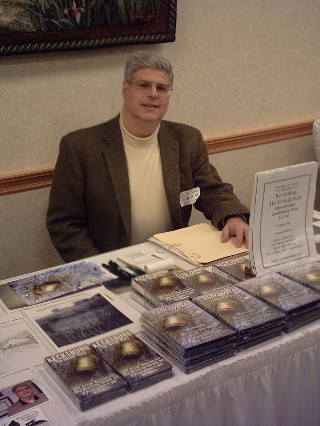 Stan Gordon: Since 1965, Stan has been conducting on scene investigations of mysterious encounters in Pennsylvania. He has been involved with the examination of thousands of UFO and other strange reports from across the Keystone State. During the late 1960's, Stan acted as a telephone report sighting coordinator for the UFO Research Institute of Pittsburgh. Stan has been internationally recognized as an authority on the subject of the UFO and Bigfoot phenomena. He gained prominence from his first hand investigation into the well remembered 1973 Bigfoot/UFO series of sightings and encounters which occurred in Pennsylvania. Stan has also appeared on the Jerry Pippin UFO-Files Show and other programs such as UFO's Tonight, hosted by Don Ecker, and 21st Century Radio, with Dr. Bob Hieronimus. He has also been featured on numerous radio and TV news shows including: KDKA, WPXI, WTAE, and KQV in Pittsburgh. He has also been featured on some syndicated TV shows such as Evening Magazine for CBS, and PM Magazine for NBC. In 1982, Hollywood television producer Alan Neuman who has done such shows as Kraft Theater, The Academy Awards, and Meet the Press, came to Greensburg to film Stan for a proposed series on the Unexplained to be filmed world-wide.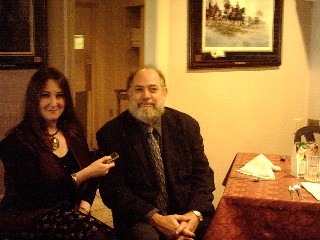 Rick Fisher has had an interest in the paranormal since an early age when he saw what he believes to have been a ghost. In1997 he founded the Pennsylvania Ghost Hunters Society which is now the Paranormal Society of Pennsylvania and investigates reported hauntings, strange creatures, UFO's, mysterious places, and unexplained phenomena. An innovator in modern ghost hunting techniques he teaches classes on Paranormal Investigating at a local community college and his techniques are used by many paranormal groups. Fisher has conducted hundreds of investigations and appeared on such programs as the Travel Channel's "Ghostly Gettysburg" and "Supernatural Destinations" as well as local TV and numerous newspapers, books, magazines and radio programs. Owner and operator of Fisher Productions he hosts a Haunted Workshop and Paranormal Conference each year along with walking and driving ghost tours of Lancaster County, PA and is a frequent lecturer on the subject of the paranormal. His story telling presentations of "Ghosts of the River Towns" and "Haunted Tales of Lancaster County" has won praise from many organizations. He is the editor and publisher of "Paranormal Pennsylvania & Beyond" magazine and author of an upcoming book "Ghosts of the River Towns." Rick enjoys reading and listening to stories on the paranormal and as a member of the Pennsylvania Bigfoot Society enjoys hiking in the woods in search of the legendary creature known as Bigfoot. Rick resides in Lancaster, PA.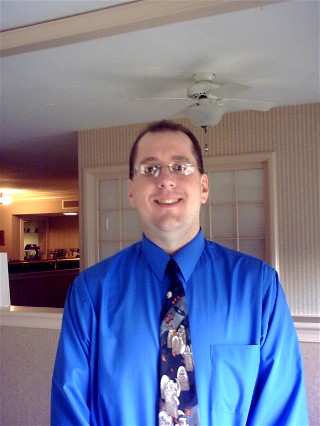 Eric Altman tells about himself: I was born in Greensburg Pennsylvania. I attended high school, and received my college degree from a private liberal arts college in NW Pennsylvania, where I received my Bachelor of Arts Degree in Communication. I am married to my lovely wife Kathy for 5 years, and we have 3 cats, Maxx, Patches and Aly. Although we have no children yet, we are in the adoption process. I began my fascination with Bigfoot at the age of 10. At the age of 14, I met Stan Gordon, who would inspire me to become a Bigfoot field researcher. In 1999, Steve Anderson, Henry Benton and I formed the Pennsylvania Bigfoot Society. In January of 2000, I was given the position of Director of the PBS, which I have held since. My hobbies and interests include fishing, hunting, hiking. I enjoy the study of the paranormal, including ghosts, UFOs, Bigfoot, and my favorite holiday is Halloween. I collect movies and books about the paranormal from Ghosts to Bigfoot. I enjoy all sorts of movies from comedy to action and horror movies. I also enjoy listening to hard rock, 80's rock, some country, but I hate Rap. I spent the first 7 years out of College as an on air radio personality at WPQR 99.3 FM and WASP 94.9 FM. I currently am employed for a major communication company as a software engineer.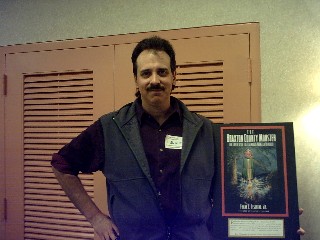 Frank Feschino Jr.: In the early 1990's, Feschino became involved in UFO and Crop Circle research in West Virginia. He frequently visited a relative's farm located in Braxton County, where Crop Circles appeared over night and UFO sightings were frequent. This is when Feschino learned about the 1952 "Braxton County Monster" Incident, which occurred in Flatwoods, near his cousin's farm. In 1991, he contacted MUFON and was granted a meeting with Crop Circle enthusiast, Colin Andrews. Shortly afterward, Feschino met with MUFON representatives and Colin Andrews and supplied him with his West Virginia UFO and Crop Circle documentation. He continued to collaborate with Andrews about the ongoing anomalies occurring in Braxton County but Frank's curiosity with the Flatwoods Incident proved to be his calling. He began to investigate this 1952 incident at a deeper level and devoted all of his time to it. Feschino moved to Florida to further his education. In 1993, he enrolled in Phillip's JR College and studied film and video production. He continued to travel to West Virginia during his schooling but was now armed with camera operation knowledge as well as interviewing and scriptwriting skills. It was during Frank's two-year training program that the Braxton County Monster evolved into a production project. He combined his strong Art background together with his video production and scriptwriting skills; his story began to take shape.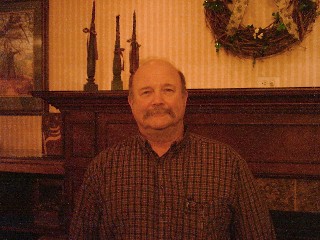 Mark Nesbitt is a former National Park Service Ranger/Historian. He started his own research and writing company in 1977 and did research and advertising copy for some of America's best historical artists. Beginning in 1978 he began writing books, including If the South Won Gettysburg (1980), 35 Days to Gettysburg (1992), Rebel Rivers (1993), Saber and Scapegoat: J.E.B. Stuart and the Gettysburg Controversy (1994), Through Blood and Fire (1996), and the best selling Ghosts of Gettysburg Series (1991- present). Many of his stories have been seen, and/or heard, on The History Channel, A&E, The Travel Channel, Unsolved Mysteries, Coast to Coast AM, and numerous other local television programs and specials. In July of 2004, his Ghosts of Gettysburg Series received the National Paranormal Award for "Best True Hauntings Collection" and "Best 'Local Haunt' Guidebook".