Dead at 48 years old (December 2008)
Mr. X passed away shortly after Noon in a California Hospital after going to the emergency room the night before, complaining of a severe headache. He had a new wife and a new child and according to Project Camelot's Kerry Cassidy who had stayed in contact with him, he was quite happy. When Kerry and I discussed this surprising death today, she noted that Mr. X never asked for money or fame, he just wanted people to know what he had found when he was archiving the secret documents. With this sad news once again the unknown cause and unexpected death of a whistle blower puts another road block in our pursuit of the truth.
Jerry Pippin
January 1, 2009
Here is the audio file played by Kerry Cassidy and Bill Ryan at the recent Crash Retrieval Conference in Las Vegas. It is a recording by Mr. X relating much of the information he gave us in that interview at Twenty Nine Palms, Ca. in 2005.


MP3 running time: 6 minutes, 40 seconds.

Windows Media Version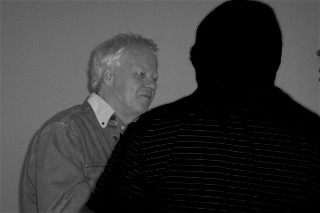 Interview with Jerry Pippin - It was a warm weekend in the high desert of Southern California, when we arrived at the motel in Twenty Nine Palms. I am always amazed at this landscape, a couple of hours driving time from Needles over a wavy, dip strewn two lane highway with not a house in eye sight. When we checked in, we left word at the desk for our Mr. X. He had checked in already, per our instructions under the name of Larry Dicken. We quickly went to our room, and Roberta Scott started setting up the recording equipment. The phone rang, and it was him. He and his wife would be down a few minutes.

Mr. X, shown in the photo with Jerry on the left, was very leery and worried about someone finding out his true identity as he arrived for the interview. We made some small talk and immediately started rolling tape. Over the years, I have found this was the best way to get the story. Do it fast, clean and simple with point blank questions. What I heard was stunning.

This man was locked in a vault type room with a guard slipping trash bags full of papers, envelopes and photos to him, all marked Top Secret and higher. He was not allowed out of the room until the late afternoon when the work day was over. He was not a military man but a civilian employee of a Southern California Defense Firm, and his tale is stunning.

He speaks of the evidence he handled that showed or documented "Tall Orange" ETs in charge, Grey ETs everywhere, communications between ETs and Air Force officers common place, the confirmation of the Roswell (Corona, NM) UFO crash and details about these alien beings that left little to the imagination. He even saw documents about a possible end of the world scenario....that's right....in 2012! Was the photo, (right) from the Apollo 16 mission to the Moon among those photos examined by Mr. X? Is that a UFO or planet Earth?

His story was told with sincerity, and he was reeling off fantastic details in a matter of fact way. This is the stuff of which great investigative radio shows are made, and now you can hear it all.



MP3 Running time: 1 hour, 6 minutes, 45 seconds


Windows Media Version Part One -

Windows Media Version Part Two

to read the transcript of the interview.

Subsequently, Project Serpo Spokesman, Bill Ryan, and Film Producer, Kerry Cassidy interviewed Mr. X at an undisclosed location. Bill states: "Mr. X worked during the 1980s as an archivist of ET and UFO materials documenting alien-human interaction sanctioned by the U.S. government over the years, starting with Roswell in 1947 and continuing to the present day. His coming forward at this time is a courageous act of unselfishness on behalf of disclosure of the alien presence on Earth. We salute him and applaud his valor."
CLICK HERE to watch this video.
The direction, videography and post-production editing was performed by the multi-talented Kerry Cassidy. Audio post-production editing by Rick Troppman, Jerry Pippin Productions Product Producer.
This is the first production under the PROJECT CAMELOT banner (www.projectcamelot.org).
In addition, to the above video interview, Bill and Kerry conducted a one on one recorded interview with Mr. X, which asks some more in depth questions. CLICK HERE to read this interview, which was transcribed and edited to the satisfaction of both the interviewers and the interviewee.

PROJECT CAMELOT - SUPPORT FOR RESEARCHERS AND WHISTLEBLOWERS
PROJECT CAMELOT has been formed in support of researchers and "whistleblowers," who challenge the current paradigm. Our aim is to provide safety in numbers and thereby establish a climate of trust and support across many disciplines, emphasizing the freedom to explore and take a stand for truth... wherever it leads.

for more information.