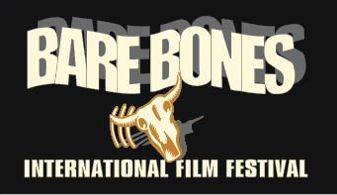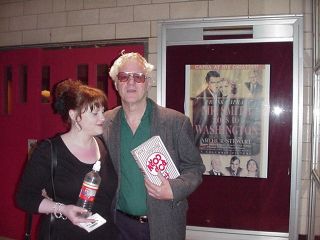 Jerry Pippin Presents
Coverage of the 2004 Bare Bones International Film Festival

BARE BONES INTERNATIONAL FILM FESTIVAL 2004 RESULTS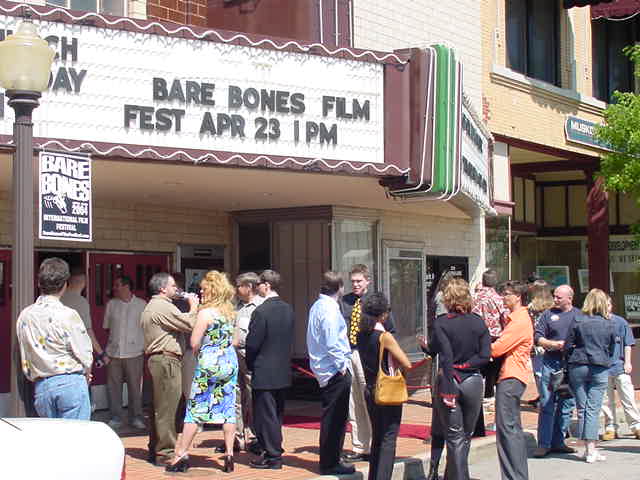 for a list of all of the winners at this years festival.
Photos from the Festival
Click on the photos to see enlargements

BARE BONES INTERNATIONAL FILM FESTIVAL 2004
From: The Founders of the 5th (April 19-25th) Annual Bare Bones International Film Festival, Shironbutterfly & Oscar Ray. http://barebonestickets.tripod.com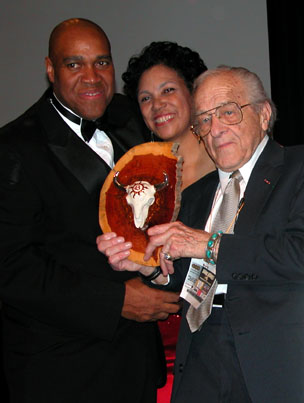 CHARLES NEDWIN "NED" HOCKMAN AKA "HOLLYWOOD" HOCKMAN (at right in photo above) is the recipient of this year's Bare Bones Trailblazer and Living Legend Award for all of his tireless work in motion pictures and his role in creating the next generation of filmmakers major and minor in the State of Oklahoma and around the world.
Tuesday, April 22nd 6:00 pm
ShadowWood Mall Cinema-401 W. Broadway-Downtown Muskogee
FREE Admission
A special screening of "Stark Fear", 1960 B & W movie produced and directed by Ned Hockman, shot on location in Oklahoma and Arkansas with Hollywood Actress Beverly Garland, was a movie drama, before it's time and has spawned the many "fear" type movies that have come later.
Thursday, April 22, 5;30 pm
Muskogee's Chamber of Commerce & City of Muskogee Welcomes Filmmakers
Outdoor Block Party & Business After Hours- 3rd & Broadway Streets
Salute to Ned Hockman and acknowledgement of special guests by the Mayor of Muskogee Hershell McBride.
Food, Entertainment and Movies start at 8:00 pm
A Special short Documentary on the Life & Times of Ned Hockman as seen through the eyes of his student, John Meyer, Jr. will be shown along with several short films that highlight this years film festival. Film Noir, Comedies, Drama, Documentaries, Animation, Student Filmmakers and the world premiere of the first recipient of the Bare Bones "Shoot 'n OK" Greenlight Project, a short comedy "Male-2-Order" featuring Jeanne Baker, a Tulsa resident, funded by Darkwood Film Arts Institute.
More movie descriptions and schedules on our website. http://barebonesfilms.tripod.com
On Festival Closing day, Sunday, April 25th 3:00-5:00 pm, the final opportunity to pay tribute to Oklahoma's Living Legend Honoree during the Bare Bones Awards Gala at the Roxy Theatre-220 W. Okmulgee Ave-Downtown Muskogee, OK.
We hope that you will come out and show your support and help us to make Thursday and/or Sunday events a very special one for our own Charles Nedwin "Ned" Hockman.
Shironbutterfly & Oscar Ray
(918) 391-1313
401 W. Broadway, Suite 308 Muskogee, OK 74401
www.barebonesfilmfest.wxs.org

This year we are planning a bigger and better celebration of the Art & Business of Independent Moviemaking, April 19-25, 2004 in Muskogee, OK. CLICK HERE for Promos and information from the 2004 Festival participants.
Bare Bones has been dubbed the "World's Friendliest Film Festival" by it's alumni. This is evidenced by it's down-home, feel appreciated-family approach. From arrival to departure, it's a non-stop array of truly independent movies, roundtables, panel discussions, interviews on radio and TV talk shows, hands-on demonstrations, tours, parties, receptions and a glamorous Awards Gala that makes you wonder why the Bare Bones motto is "No Frills-No Waste". Actually this motto is referring to movie productions with budgets less than a million dollars.
The Bare Bones Independent Film Festival have gained an international reputation for championing the hypenate-autueur. This is the person who is willing to use any means necessary to get his/her movie made; thus assuming many production positions, i.e. writer-director, actor-producer combinations, then assuming roles as music supervisor, editor, cinematographer, production designer, actor/actress, to name a few. The coveted Bonehead Award is presented during the Awards Gala featuring entertainers, awards presenters, showcases and reception. The mantra for the Bonehead is "We the indie filmmaker, left to fend for ourselves, have done so much with so little, for so long, that we are now qualified to do anything with nothing."
The Bare Bones International Film Festival provides the backdrop for an intimate experience for filmmakers, cast and crew to network with each other and festival goers. The movie screenings are an eclectic array of films representing the full spectrum of INDIEWOOD: student films, documentaries, animations, experimentals, narratives, shorts, mini, features, music videos, actor monologues, TV productions, screenplay readings. Additional festival events include a Youth Film Project, with guest-filmmakers interacting with elementary, middle and high school students, promoting Behind-The-Scenes aspects of moviemaking. Local tours around Northeastern Oklahoma are also scheduled during the festival to showcase the diversity of locations talent and crew, with a film-friendly attitude to encourage out-of-state filmmaker-guests to consider Oklahoma as their indie production destination.
The festival is now in it's 5th year, and have saluted numerous Indie Trailblazers such as Robert Rodriguez, Rick Schmidt, Lt. Governor Mary Fallin, Wes Studi, Annette O'Toole, Mario Avila, Orville Baldridge, OTFC org , Valerie Red-Horse, Jerry Pippin, Ian Skorodin, Jackson Burns, John Wooley, Allena Brackin, and Clu Gulager. Why? Because we must honor those who dared to pave the way for others. We are now accepting nominations for the 2004 Indie Trailblazer Salute.
Thus far, Ned Hockman, retired University of Oklahoma Professor, Director, Motion Picture Production, School of Journalism & Communication has been nominated.
Entries are accepted on VHS or DVD for screening and judging until January 31, 2004 at the low rates of $40 feature-length (60 minutes/pages or more), $35 mini-feature (31-59 minutes/pages), an $30 shorts (30 minutes or less). $15 Movie Trailers (up to 5 minutes) Late fees of $15 will be applied after that date. All original formats of 35mm, 16mm, 8mm, DV, Mini-DV, HD, and Video are accepted on DVD or S-VHS for festival screening. More details on rules can be found on website: www.barebonesfilmfestival.com.
Persons interested in volunteering during the festival may sign-up by sending an email to barebonesfilmfest@yahoo.com For more info, call 918-391-1313.
Mark your calendar to attend the 5th Annual Bare Bones International Independent Film Festival & Movie-Biz Conference, April 19-25, 2004 in Muskogee, OK.
http://www.barebonesfilmfestival.com
"The World's Friendliest Film Festivals" Where the IndieFilmmakers are Championed.

Don Boner:

An unexpected encounter with mysterious stranger changes the life of four travelers forever. The Journey begins Fall 2004. Visit http://www.somewhereinin.com for details.

A Movie by Don Boner
Visit http://www.losers-lounge.com
Order the DVD Now . Losers Lounge accepted by 2004 Bare Bones International Independent Film Festival being held April 19-25, 2004.


Eric Haines and JP Nickels

Bare Bones participant to document festival participation

Pittsburgh --- Five Cent Productions, LLC, the Pittsburgh-based, independent film company whose award-winning screwball comedy, ³Why We Had To Kill Bitch,² has been accepted for screening by the fifth annual Bare Bones International Film Festival in Muskogee, will document its participation in the festival with a documentary titled ³The Road to Muskogee.²

³Essentially, we¹re making a movie to promote the fact that we¹ve made a movie that¹s in a major film festival,² said producer, director and screenwriter John-Paul Nickel.

Five Cent Productions began shooting ³The Road to Muskogee² on Monday April 5th at the first rehearsal for their Oklahoma Gas Money Fund Raiser. Filming continued at the fund raiser on Tuesday, April 12th at The Rex Theater in Pittsburgh.

While at the Bare Bones festival, Five Cent Productions will film ³Team Bitch¹s shameless self-promoting all over the town of Muskogee, the April 23rd screening of ³Why We Had To Kill Bitch at the Roxy Theatre and most of the events at the Bare Bones Film Festivals,² said Nickel.

In addition to its participation at the Bare Bones International Film Festival, Five Cent Productions will shoot a 5-minute promotional film for Bacone College. ³Bacone selected us to shoot the promo in exchange for covering our hotel stay for the week we¹re in Oklahoma,² says Nickel. ³Bacone does not have an Audio/Video department and they¹d like a to have a nicely put together promotional video about the college to present to the board to say, ŒThis is why we need a Film Program.¹ ²

Information about the screening of ³Why We Had To Kill Bitch² at the Bare Bones festival is in the press release below. More information about the Bare Bones International Film Festival is available at www.barebones.uni.cc. More information about ³Why We Had To Kill Bitch² and Five Cent Productions, LLC is available by phoning 412.719.9999 or by visiting the web site at www.killbitch.com.



Why We Had To Kill Bitch
www.killbitch.com

the feel good family comedy

Winner: BEST FEATURE LENGTH COMEDY, MPC Fall Film Festival 2003

"...Nickel and cohorts simply make it near impossible not to like this film."

- Daniel Wible, Film Threat

"Silly film. Entertaining ensemble cast. Love the camera voice!"

- Dances With Films International Film Festival

"The name alone makes the movie worth seeing!"

- Steve Opsanic, President of The Great Lakes Independent Film Festival

"Bitch is a visual treat. Viewers need to pay close attention to what happens on the sidelines as well as the main action."

- Wayne Wise Pulp Magazine

"Stunts like smuggling Canadians over the border and lacing children's ice cream with marijuana ... shed light on the moronic misadventures of the licentious characters ... The background story is almost like a film of its own..."

- Daniel J. Stasiewski, A&E Editor The Behrend Beacon

Pittsburgh --- Why We Had To Kill Bitch, the award-winning screwball comedy from Pittsburgh-based, independent film production Five Cent Productions, LLC, has been accepted for screening by the fifth annual Bare Bones International Film Festival in Muskogee, Oklahoma. The festival runs April 19-25, 2004. The screening of Why We Had To Kill Bitch is scheduled for Friday, April, 23rd at Midnight in The Roxy Theatre.

Why We Had To Kill Bitch has been shown at several truly wonderful festivals, but this is by far the largest, most prestigious festival we¹ve been accepted into yet, said producer, director and screenwriter John-Paul Nickel, ³The Festival Magazine is mailed to over two hundred agencies as well as independent and studio acquisition and distribution executives for movies and television in an attempt to get as many possible representatives to attend.


Brandor Will

DADBOT: THE MOVIE

Dearborn, Mich. — Brandon Will never considered himself a filmmaker wannabe. He's been a filmmaker "gonnabe" since being introduced to video production in 1997 as a sophomore at Dearborn High School.

Dadbot: The Movie, Will's first feature-length movie, is set to premiere on Saturday, April 24th at the Bare Bones International Film Festival in Oklahoma.

With a defiant, subversive twist on the sci-fi family comedy genre, Dadbot is the result of Will's goal to make a movie that is unique and entertaining. It is the tale of a somewhat quirky eccentric robot scientist/ single father/ bigot and the adventures surrounding his death and apparent re-birth into his latest robotic creation.

"I am one of the many people excited about the new advances in digital moviemaking," Will said. "This is the second time I have made this particular movie as a feature and I am finally proud of it and confident in it."

Sunchaser Pictures
EXPIRATION
Official Site (FLASH with trailers)
http://www.expiration.ca

"A genuinely involving story, effortlessly told and undeniably effecting by the time it arrives at its unlikley conclusion... Heffernan's a damn smart writer and EXPIRATION is the exciting start to what should be an exciting career." - Ain't it Cool News

"The textured, painterly digital video cinematography is downright gorgeous at times; coupled with the haunting, ethereal score by Jon Day and the rhythmic editing, EXPIRATION often achieves a beautiful sense of poetry. Heffernan is a natural-born filmmaker...I bet we'll see more from him and the other talented people involved in this production in the future. And we'll be amazed." - Flipside Movies

"Breathtaking Cinema... Leagues better than 90% of films churned out by respected Hollywood professionals...EXPIRATION exudes raw talent on both sides of the lens and serves as an unwitting document to the purity of vision embodied by artists at the beginnings of their careers, before fame and fortune have affected their judgment and creative output." - Film Quips Online

"Probably the best Canadian movie of 2003... If EXPIRATION is the future of digital video filmmaking, count me in and get me a front row seat. I want to be a part of the future.... Heffernan's direction is second to none...One of the best inexperienced casts you'll ever witness. The performance by Janet Lane is enough to make you fall in love with movies all over again.." - Jakeopolis

"With its artistic camera shots and almost dreamlike atmosphere, Expiration boasts a unique cinematic style.. It's refreshing to see such excellent work from a relatively unknown group of actors... Most importantly, Expiration introduces us an impressive new filmmaker in Gavin Heffernan." - Reel Talk

In an era when so many up-and-coming filmmakers are playing it safe, Gavin Heffernan should be applauded... Clearly inspired by directors like Fellini, Polanski, and Paul Thomas Anderson, Heffernan turns Expiration into a memorable and undeniably captivating visceral experience. - Reel Film Reviews

"Refreshingly, this is a film which centres on people rather than powder; on love rather than sex, using inner strength as opposed to sporadic outbursts of bloody violence; a credit to the literate script and some outstanding performances from a team of professionals and amateurs. A quietly large achievement, and one that deserves your attention." - The Spinning Image

"A surprisingly entertaining film...Heffernan should thank his lucky stars that he's blessed with such a stellar cast of unknowns. You could watch 100 films produced on moderate budget and never run across this kind of cast." - Nixflix

"Hypnotically entertaining....Heffernan's work on Expiration demonstrates the true potential of digital filmmaking. The overall look is quite impressive, rivaling that of many traditionally filmed Hollywood productions....featuring some of the best principle and ensemble performances of any movie this year, independent or otherwise." - A.J.'s Movie Reviews

"An intriguing web of a movie with a cast so skilled that it's impossible to tell the rookies from the pros. This is indie filmmaking the way it's meant to be - unique, clever, nothing like you'd get from the Hollywood machine." - Amazing Colossal

"Made with lots of care and more than a little talent, EXPIRATION should garner respect from other big-time wannabes. More than that, it's an exceptional film that really deserves professional attention. These filmmakers don't need 'encouragement' - all of the creatives at work here are ready for bigger things." - DVD Savant

"Janet Lane and Denise DePass both exhibit real star power....Energy and enthusiasm flow naturally from Heffernan's palpable youthful exuberance, and his mastery of camera technique and pacing are even more astonishing...they seem to be the work of someone twice his age. Someone in Hollywood take note: this is the guy you want to hire." - Mixed Reviews

"A surprisingly potent independent feature that's intelligent without being pretentious, visually confident without showing off and hip without sweating it."- Montreal Film Journal

"Fabulous..This is a film that will not be forgotten, it will reside in your subconscious and conscious minds for the rest of your life." - Linear Reflections
Griffin Marks
www.beermusclesmovie.com

ALL THE BEER IN BARLEYVILLE HAS MYSTERIOUSLY DISAPPEARED. NOW THE TOWN IS IN COMPLETE AND UTTER CHAOS.

Beer Muscles is a 90-minute comedy about a town that is totally devoted to beer. When an evil wine mogul destroys all the beer in Barleyville, it's up to a super-powered bartender and his slacker buddy to get beer back.

Beer Muscles was shot on mini-DV, with a budget of under $5,000. Filming took place in New Hampshire and Massachusetts. and lasted from May 2002 to October, 2002, with postproduction and editing lasting until September, 2003.

Beer Muscles recently won the 2004 B-Movie Merit Award, and will screen at the Atlanta Comicon Film Festival on April 17, 2004. We are still seeking distribution.

I am a 25-year-old filmmaker (writer, director, producer, actor), who has been making films for 8 years. I am a graduate of Columbia College Chicago, with a degree in film. This is the first feature film from my Chicago based production company, Balls Productions. I also produced the short film, Stanley, which screened at Tromadance 2002. Other Balls Productions titles include Lethal Injection and A Day in the Life of Danny. Balls Productions specializes in low-budget, high entertainment movies, for real people.

Stars of Beer Muscles include Bill Booker, Matt McGuire, Carmen Jessee, Jessee Dunstan, and Mark Zimmerman. Director of Photography was Brad Davison.


Doug Phillips
Screenwriter Doug Phillips of Rice Lake, Wisconsin, a two-time finalist in the Screenplay competition of the Bare Bones Film Festival, will attend this year's Festival in Muskogee, April 19-25. His 2004 Finalist entry is "Mr. Almost," a romantic comedy. His 2002 Finalist entry was "Lost Boundaries," a Western adventure based on a true story. On Saturday, April 24, he will direct, and will play roles in, live readings of 15-page excerpts from both scripts. Oklahoma actors and actresses will play the remainder of the roles. The two readings will be presented back-to-back, beginning at 1:00 PM at the Muskogee Civic Center Cinema, Room B.

In addition to screenwriting, Mr. Phillips is a singer-songwriter, a fiction and nonfiction writer, a staff film critic for a large website, a stage actor (credits include "The Happiest Millionaire" and "Calamity Jane"), and an occasional film actor. He has a credited role in the 2001 Indie flick "Hollywood, Wisconsin," directed by Ted Roesgen. He worked as an uncredited extra in the Disney film "Mr. 3000" starring Bernie Mac, to be released later this year. For a "day job," he works as a Medical Technologist in a hospital lab.

Anyone interested in Mr. Phillips' available screenplays may contact him at phil50@chibardun.net for more info.

Laurie Lee Goretski


"There is no escaping what you cannot understand"

An EMP Production

Nominated for Best Soundtrack + Best Thriller

Jeff Thomas
I am the director of "13 Seconds," a new independent horror film that has recently played to sold out audiences at many film festivals. Douglas Preston, best-selling author of The Relic, declared it a "terrifying film, startling, riveting, with a marvelous and completely unpredictable twist at the end." We were awarded Best Independent Feature at this year's Calgary International Horror Film Festival. We were also awarded Best Horror Feature at the New York Independent International Film Festival. And we were awarded by Ramsey Campbell at this year's Fantastic Festival of Films.

We will be having our Oklahoma premiere at the Bare Bones International Film Festival this Saturday, April 24th at 9:30 P.M. Please stop by to meet the cast and crew.

For more info on us, here is our web address: www.rainstorm-pictures.com

To download the trailer, please check out http://rainstorm-pictures.com/trailer.htm

Sincere thanks,

Jeff Thomas
Writer/Director




CLICK HERE to listen as Jerry talks with Oscar and Shiron "Butterfly" Ray about their movie company and the movies they have made in Oklahoma. CLICK HERE to listen to part two of the interview.

HIGHLIGHTS OF THE 2003 FESTIVAL
Festival Director Shironbutterfly Ray is shown here (center) with two of the 2002 festival participants. One of highlights this year was the filming of the "Great Train Robbery." This was the fourth year for the event and some major film makers attended this year.
CONTACT: Shironbutterfly Ray
PHONE: 918-391-1313
EMAIL: barebonesfilmfestival@yahoo.com
Oklahoma filmmakers truly turned the tide in this years' film festival. Midwest City Filmmaker, Brett Bower (Star Crossed) was one of three independent filmmakers nominated for the festival's highest awards, Auteur of The Year, that goes to the filmmaker who performs the most jobs with the lowest budget and the highest production values. The other two nominees were Marc Anthony Massimei (The Shape of Evil) from San Diego, CA and Skip Swink (Everything's Wonderful) from Annapolis, MD.
Gary Sievers of Tulsa, attended with his fellow production members from Hollywood with their Indie feature, LA MARIA, on which he was the cinematographer.
Kenneth Robinson of Bartlesville, directed his screenplay, Deadly Reality, in a live staged reading.
Ford Austin of Oklahoma City, now living in Hollywood, returned to screen the World Premiere of his short narrative drama, Soiree during the festival.
Native Oklahoman Madison Miller and her production teammates now living in Santa Monica, returned to show off their Oklahoma roots with Southern Hospitality, a feature action/adventure shot on location around the Canadian River in Southern Oklahoma.
Joel McClaskey of Stillwater premiered his short comedy, Who Gets The Girl.
Enid residents Diana Kettle and Tim Eck showed off their latest music video featuring the folk rock singer GREY. His music was featured during the Welcome reception for Filmmakers and during the Awards Gala.
Newcomers, Carl and Vivian Adams, of Tulsa made their moviemaking debut with a short comedy, Like A Lady.
Student filmmakers, Adam Ropp-NSU-Tahlequah (Last Conversation), Matt Sexton-Cameron University (Dumb Game), Crystal Campbell (OU-Norman), Kimi
Loera-Cameron University (A Historical Moment Captured in Bronze), Jonathan Payne-Rose State College (Jazzman) joined film students from west and east
coast Universities.
Pete Sleeper of Edmond, OK (Aussies in the Workplace) presented a workshop (How to Create Buzz for Bare Bones Movies).