Binion Trial History- Prosecution Case

Golden Nugget bellman Richard Sueno acknowledged under questioning by District Judge Joseph Bonaventure that he spoke to jurors saying not GUILTY as they were entering the downtown hotel to eat lunch. What happened to free SPEECH? How could this be contempt of COURT? The last time we checked the Golden Nugget Hotel Lobby is not the COURT ROOM! America land of Free Speech?
Week number one-
Day One: Monday, April 3, 2000
Sandy and Rick's lawyers admit they were lovers! The bombshell was dropped during opening arguments in the case last Friday, March 31st. John Momont said in making the admission: "That's what happens when you love drugs more than your woman."
The Prosecution determined to bore the 12 member to death has said that they will go ahead and call 20 witnesses or more to prove that they two accused were lovers; even though it was admitted in Court within three hours or so after the opening gavel!
Binion's ex- wife was the first witness for the prosecutors- Doris Binion broke into tears on two occasions. There will be 110 witnesses; She first wept when she testified that she had left Binion briefly in 1983 because of his heroin use. She cried a second time when she talked about a 1995 incident when her former husband beat her!
The former Mrs. Binion who now goes by her maiden name, Kilmer, said he used heroin on a daily basis from about 1980 to 1987, when his troubles with gaming regulators began after he was arrested on a drug charge. By his own estimate, Binion spent nearly $1 million on heroin over the years.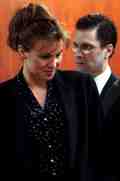 Photo of Sandy Murphy and Rick Tabish entering Court on Monday! ( Photos by Las Vegas Review Journal )
Eight Witnesses testified on Monday including attorney Joshua Landish, who represented Doris Binion during divorce proceedings. He said in a February 1996 deposition in which Sandra Murphy discussed her initial meeting with Binion that Murphy had lost $13,000 gambling at Caesars Palace during a visit from her home in California. She recouped her losses by dancing for two weeks at Cheetah's, a local topless club, where she was introduced to Binion.
"She made it all back, all $13,000," Landish testified.
Day Two: April 4, 2000:
Steven Kurt Gratzer was a childhood friend of murder defendant Rick Tabish. He took the witness stand this morning as testimony resumed in the trial of Tabish and Murphy on charges of killing the wealthy gambling figure in Sept. 17, 1998.
"He said he was going to kill him. There was no two ways about it. I tried to talk him out of it, but he said he hated him." Gratzer said on the stand. When he confessed that he was trying to help Tabish during the preliminary hearing, prompting Tabish attorney Palazzo to sarcastically ask if that meant he was trying to help the prosecution now.
Note from Jerry: Tuesday, April 11th Tabish attorney Louis Palazzo used his client's travel records to target the testimony of Kurt Gratzer, who last week testified that Tabish tried to hire him to help kill a Las Vegas casino owner named Ted. Gratzer said the conversation occurred Aug. 28, 1998, in Missoula. Airline records indicated Tabish missed the flight that was scheduled to take him from Las Vegas to Missoula on that date.
Prosecutors called Jerry Keenan, an Oregon jeweler once in business with Binion, as their first witness. Keenan testified that he had a telephone conversation with Murphy in August 1998, a month before Binion's death, in which she said Binion was killing himself on heroin. She said she was only getting $1 million from Binion in the event of his death and "that's not enough." .
A trio of Missoula, Mont., residents testified that Gratzer told them in the days before Binion died that Tabish had asked him for assistance in killing a man in Las Vegas.
A fourth Montana resident, pharmacist Jon Berman, testified that Gratzer called him sometime between March 1998 and September 1998 to ask him what the lethal doses were for two drugs. Under cross examination, the drug store employee agreed that he was often asked far out questions about drugs and that he could not remember what the names of the two drugs were!
Day Three: April 5, 2000
Girl Talk between Sandy and her manicurist started off the day: Deanna Perry said Murphy told her the wealthy gambling figure would die of a heroin overdose within three weeks during a Sept. 10 visit to the Neiman Marcus beauty salon at the Fashion Show mall.
Day Four: April 6
On Thursday Rick Tabish's attorney Louis Palazzo asked Leo Casey to re-enact the alleged assault by Tabish and this morning, he asked Casey if anyone noticed his disheveled appearance later that day -- when he was signing asset transfer papers in an attorney's office.
"Didn't anyone indicate to you you had bruising on your face?" Palazzo asked. "Didn't anyone indicate to you you had swelling on your face?"
Casey said no.
"Didn't anyone indicate to you you had abrasions and scratches on your arms or that you had dirt, oil, muck or grease on your clothes?" Palazzo said. Again, Casey said no.
Day 5, April 7, 2000


Former Las Vegas Mayor Jan Jones, right, is sworn in before taking the witness stand Friday in the Ted Binion murder trial. Las Vegas Review Journal!

Friday's witnesses included Jan Jones, the former Mayor of Las Vegas...who said that she had always thought that girl friend to Binion and defendant was with Ted only for the money; however, She reconsidered while listening to Binion, soaking in the atmosphere of the tidy home and inspecting pictures of the smiling couple.

"Maybe everybody's really wrong," Jones told the court.

In about an hour after Ms. Jones left the Binion house, he called his lawyer's house; the wife answered and Binion said; "Tell Jimmy to take Sandy out of the will."

Laura Brown testified she was told after asking; "Is Sandy gone?"
"No, but she might as well be,"

Dr. Enrique Lacayo, who lived next door to Binion, said he provided a prescription for 120 Xanax pills for Binion the day before his death. Lacayo, who specializes in digestive diseases, said Binion approached him outside his home and said he was back on heroin.

Binion friend Jay Kerr said he called Binion from Texas on two occasions the day before Binion died. Kerr's car had broken down, and Binion, whose drug abuse cost him his gaming license, wired him $300.

Palazzo asked if Binion -- who was found on his back on a mat on his den floor -- wouldn't have put up a fight if someone tried to kill him.

"Unless they caught him off guard and they were real close to him," the Texan responded.

Convenience store employee Marvin Reed said Binion made one of his regular visits to the 7-Eleven at Charleston Boulevard and Rancho Drive at about 5 a.m. on Sept. 17, 1998. Reed said Binion, who died later that morning, was visibly angry. He said, `Sandy's messing around,' " Reed said.

BINION MURDER CASE www.lasvegassun.com
Key witness nabbed on battery charge
By Jeff German
<german@lasvegassun.com>
LAS VEGAS SUN
A key witness in the Ted Binion murder trial was arrested early this morning on a domestic battery charge just two days after his testimony in the high-profile case.
Steven Kurt Gratzer, 36, of Missoula, Mont., was booked into the Clark County Detention Center about 4:20 a.m. on a misdemeanor domestic battery charge, police said.
Gratzer, a childhood friend of Rick Tabish, one of Binion's accused killers, was being held on $3,000 bail. State law forces anyone arrested on a domestic battery charge to remain behind bars for at least 12 hours as part of a cooling-off period.
Monday, April 10, 2000:


Peter Sheridan testifies in the Ted Binion murder trial Monday. He told jurors he delivered 12 balloons of tar heroin to Binion on Sept. 16, 1998, warning him not to mix the heroin with any other drug.
Photo by Jeff Scheid. Las Vegas Review-Journal
Steve Reincke of the Las Vegas Fire Department said a hysterical Sandy Murphy led paramedics to Binion's body in the den of his Palomino Lane home. Several quick tests determined that he was dead.
"Miss Murphy came running into the room and just about dove on the body," Reincke said.

Gardener Tom Loveday said he tended to Binion's yard between 9 a.m. and 1:15 p.m. The living room curtains, which blocked his view into the den, were closed for the first time he could recall.
Ted's two gregarious dogs who usually greeted his entry to the back yard were subdued and fixated on the kitchen doors near the living room windows.
"They were sad," Loveday said. The Gardener saw no one either inside or outside the house the entire time he was there
Real estate agent Barbara Brown said she called the home at 12:04 p.m. and spoke to a hysterical Murphy for just over three minutes. She said Murphy told her Binion could not come to the phone.
"He's out of it. He can't talk right now," she said Murphy told her. "Nobody knows what it's been like living with a drug addict."
Under questioning by Murphy attorney John Momot, Brown said she was aware Binion might have abused Murphy.
"Every woman needs a beating once a month, ain't that right babe?" Brown said she once heard Murphy tell Binion.
"He said, 'Yeah, and you got yours already,' " Brown said as several jurors groaned.
About 3 p.m. that day, Murphy sought to deposit a check into one of Binion's accounts, said Kathy Rose, who paid Binion's bills. She also remembered that Murphy called the office on Sept. 28, 1998, in hopes of pitching an offer to Jack Binion, the brother of Binion and the executor of his will.
"She said she knew where some things were buried in Pahrump," Rose said. "She would tell Jack where they were buried, and they could split what they found." She said Jack Binion did not take Murphy up on her offer. Reports say the Silver buried on the Binion Ranch was valued at seven million dollars.

Tuesday, April 11, 2000:
Crime Scene Analyst Michael Perkins testified Tuesday morning that he took photographs inside Binion's house on Sept. 17, 1998, just an hour after paramedics declared the casino mogul dead. A Xanax bottle was found near the body, said Perkins. He also retrieved pieces of red and pink balloon, aluminum foil and a knife with brown residue from the bathroom adjacent to the den where the deceased was located.
Defense attorneys challenged the prosecution's theory of murder by asking Perkins about a set of car keys and women's sunglasses found at the scene. The analyst said the items were found on the floor of the den. The defense argues that these "dropped" items represent the moment of surprise Murphy experienced upon seeing Binion's lifeless body on the floor. www.courttv.com
Tabish attorney Louis Palazzo used his client's travel records to target the testimony of Kurt Gratzer, who last week testified that Tabish tried to hire him to help kill a Las Vegas casino owner named Ted.
Gratzer said the conversation occurred Aug. 28, 1998, in Missoula. Airline records indicated Tabish missed the flight that was scheduled to take him from Las Vegas to Missoula on that date.
Last week Leo Casey testified Tabish and another man restrained him with a pair of thumbcuffs in July 1998 and then beat him until he agreed to sign incriminating documents. The prosecution produced a pair of thumb cuffs today as evidence saying they had been found behind a chest of drawers in Sandy's room.
Wednesday, April 12, 2000:
The morning was spent in arguments over a Defense Poll that shows most people think that the prosecution hasn't proven their case and whether they should be able to advertise this through an independent company which bought advertisements on Las Vegas One, the local cable channel covering the trial which is linked to this site. The prosecution was up set then in the afternoon when the witnesses for the prosecution resume, the defense became upset:
The defense says a statement made by Ted Binion's attorney led the jury to believe that Sandy Murphy and Rick Tabish are guilty as charged. That caused the defense to jump up and ask for a mistrial.
Richard Wright, the attorney for the Binion estate, said something to the family's private investigator that got defense attorneys hopping mad, "My instructions were to investigate this thoroughly." He continued, "If Sandra Murphy or Rick Tabish had complicity in causing the death, to prove it...if they didn't...prove that."
The defense was angry because they say the jury could conclude that since Sandy Murphy and Rick Tabish are on trial, there was enough evidence to prove they killed Ted Binion. The mistrail was denied.
Monday, April 17, 2000:
Monday morning, Ted's maid Ms. Montoya-Gascoigne testified that she made a list of missing items, mainly valuable coins that totaled in valued somewhere in the $200,000 range. She toured Binion's home with homicide detective James Buczek on Oct. 7, 1998 making a list of what was missing.
Dr. Michael Baden was on today's list of witnesses but he might not make it to the witness stand until Tuesday. He is scheduled to follow Dr. Fredric Reiders, a well-known Pennsylvania toxicologist who worked with Baden on the O.J. Simpson defense team.
The Medical Examiner, Dr. Larry Simms admitted under cross examination that he changed his conclusion from overdose accidentally to murder after receiving reports from Binion Family Private Investigator and the the Police. There was no new evidence that mad him revise his report.
Click here to see autopsy report from CourtTV link!
Tuesday, April 18, 2000:
Defense suggests bias, incomplete work by pathologist
Portraying Dr. Michael Baden's work as shoddy and his motives corrupt, the defense in the Ted Binion murder trial subjected him to nearly five hours of cross-examination Tuesday.
An alternate juror was dismissed for talking about the case. It was the second time in as many days we've seen the judge angry about a threat against the jury. Some legal experts say if it happens again, the jury may not see the light of day until this trial is over.
he juror said, "I don't know. I really don't know." As she left the County Courthouse, alternate juror, number 5 says she has no idea why she was ousted, kicked off the Binion murder case. But judge Joseph Bonaventure spelled it out, simply. He got a call from a woman who had her nails done with the juror over the weekend. That woman told the judge, #5 couldn't stop talking about the case.
The Jury was on KLAS-TV last night and saying she did not talk to anyone about the case. Judge Bonaventure might be over-reacting to all of this, do you think?
Wednesday, April 19, 2000:
Dr. Baden continued on the stand. He defended his view that Ted was suffocated. During the breaks, he was given the celebrity treatment at the court house including signing autographs. Meanwhile that night across town, at the PSYCHIC EYE Book Shop efforts to located Ted's spirit apparently failed.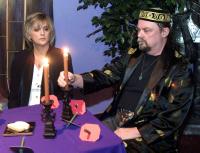 www.lasvegassun.com
Picture above- publicist Jacqueline Gladfelter, who is also an astrologer, left, looks on as psychic Zarin lights candles at a seance Wednesday to try to contact the late Ted Binion.
Thursday, April 20, 2000:
Truck driver William Adler, a former employee of Tabish's company, MRT Transport, testified that he helped load up Binion's silver at the casino in July and that Tabish was not secretive about his decision to dig up the fortune on Sept. 19, 1998.
"I would have gone with him," testified Adler, saying broken machinery waylaid him and caused Tabish to arrive late in Pahrump over 50 miles away. Prosecutors have alleged that Tabish was digging in the middle of the night to avoid discovery. But the defense claims Tabish had planned to be there earlier and it would have been impossible to remove that amount of silver, buried right off the main road, without someone noticing.
Jared Pace said he saw Rick Tabish and fellow businessman Mike Milot loading silver into a truck the day after Binion died between 11 a.m. to 2 p.m. Pace said the two men were working closely together, and did not need to use phones to communicate. Defense attorneys seized upon this point, presenting phone records that show multiple cell phone calls placed between Tabish and Milot during those hours.
Court was not held because it is GOOD FRIDAY- ( April 21st)
Monday, April 24, 2000:
Nye County sheriff's Sgt. Ed Howard testified today that Rick Tabish told him he was with Ted Binion on the day he died.
"He told me that Ted said he was going to take a whole bottle of Xanax and go to sleep and when he woke up his body would be cleansed of drugs," Howard said. Drug abuse experts thought this was a strange theory due to the known long term effects of Xanax use.
The statement, Howard said, was made after he confronted Tabish and two other men who had dug up Binion's $6 million silver fortune from an underground vault in the heart of downtown Pahrump less than 36 hours after Binion's Sept. 17, 1998, death.
Tuesday, April 25, 2000:
Ted Binion's divorce attorney testified today that he told the wealthy gambling figure it was a bad idea to have someone excavate his buried silver fortune in Pahrump in the event of his death.
"I told him that it was the stupidest thing I've ever heard," Tom Standish said.
Rick Tabish has contended he dug up the silver at Binion's request less than 36 hours after his death to protect it for Binion's 19-year-old daughter, Bonnie.
Tabish told Sheriff Sargent Steve Huggins at the scene that he was instructed to leave one silver dollar in the middle of the vault after he had dug up the fortune to send a message to the Binion family. Deputies found the silver dollar when they examined the vault after Tabish's arrest.
There has been previous testimony that the safe in Binion's home was cleaned out of everything but one dime after his death.
Bail bondsman Dario Costantino, who helped Murphy spring Tabish and Milot from jail a day after their Pahrump arrests, was next on the stand. He testified that Murphy, assisted by her civil attorney, William Knudson, put up her 1998 Mercedes sports coupe, some jewelry and California land in her name as collateral for the two $100,000 bonds that had been set for Tabish and Milot.
Wednesday, April 26, 2000:
Prosecutors rested their case late Wednesday afternoon after presenting 90 witnesses over 16 full days of testimony.
Prosecutors last July obtained the seven-page list of coins, which Murphy had given her close friend, Tanya Cropp. It was presented as evidence in Court today. First, a Metro Police fingerprint expert today testified that he found the fingerprints of Sandy Murphy and Rick Tabish on a handwritten list of coins; then Ms. Cropp, 25. said Murphy asked her to fax the list to Tabish in Missoula, Mont., on Nov. 1, 1998.
Rehbein, the 37-year-old brother of Tabish's wife, Mary Jo, said Tabish offered to sell him the coins during a Nov. 1, 1998, meeting in Missoula, saying he needed the money for his defense. He said Tabish showed him the list that Cropp had faxed.
Cropp said Binion asked her the day before he died if Murphy was having an affair. She said she told Binion that his longtime live-in girlfriend had "intentions" to cheat on him.
At the time, though, Cropp never told Binion that Murphy was locked in a romantic relationship with Tabish.
Jason Frazier who is being held as a material witness in the murder trial in jail in Las Vegas was the last witness for the prosecution. At one point he read from a letter written by Tabish; "My life is on the line, and we need to fight fire with fire."
Under questioning by Tabish attorney Louis Palazzo, Frazer said Mitchell asked to see his own time-cards from the week Binion died. Frazer said he believed Mitchell wanted to ensure the accuracy of the information he was being asked to provide. Frazer also said he gave no money to any of the witnesses expected to testify regarding Tabish's whereabouts when Binion died.
Prosecution Rests-