Ted Binion Murder Case
The Truth and the Whole Truth
Click on the Banner above to go to in-depth coverage of both trials and details on the case.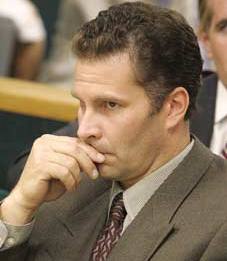 January 27, 2010: The Nevada State Board of Parole Commissioners has granted parole to Rick Tabish. His parole eligibility begins April 2, 2010. He could be released on that date or shortly after when his release plans are approved. He was convicted on numerous charges including burglary and grand larceny. After a second trial, he was acquitted in the murder of gambling heir Ted Binion.
CLICK HERE for story from LasVegasNow.com
Trial coverage by Cathy Scott, true-crime writer and journalist and Jerry Pippin direct from Las Vegas. (related link: www.cathyscott.com)

Yidio.com

offers several programs on

Ted Binion originally broadcast

on

CBS 48 Hour Mysteries

and Investigation Discovery Channel.

CLICK HERE

for information on how you can watch these shows for free:

August 25, 2004: Cathy Scott, who writes a column for the Las Vegas City Life Newspaper was in the court room and describes the episode surrounding the missing shirt and a request for a hearing on the missing evidence. Scott writes:
Button, button, who's got the button?
A hearing will be held into what happened to a shirt -- and the buttons -- worn by casino heir Ted Binion when his body was found in his home in September 1998.
"This case, believe it or not, centers around the buttons on the shirt," said J. Tony Serra, attorney for defendant Rick Tabish, who has been charged, along with Binion's live-in girlfriend Sandy Murphy, with killing the former casino exec. The pair were convicted after a 2000 trial but the verdicts were later reversed by the Nevada Supreme Court.
"We have, through our perspective, been limited," Serra continued. "What was the button material? What was the size of the button? What was the distance between buttons? Was the shirt turned and was [the button] inside? If [Binion] was smoking heroin, was the shirt in any way impregnated [with heroin]? It's imperative to our defense. We're very disgruntled."
Christopher Lalli, a prosecutor in the case, told Judge Joseph Bonaventure the shirt was missing.
The judge granted an evidentiary hearing for Sept. 10 to look into what happened to the shirt and buttons, saying the record "isn't clear."
During a request for another motion at the Aug. 20 hearing, a discussion between the prosecution and the defense got heated. It was after Lalli referred to the alleged crime as "murder."
"This isn't a tea party," Lalli said. "This is murder."
With that, Serra jumped up from his chair and told the judge, "What he's doing right now is posturing for the cameras. If he says that to a jury, it's misconduct. No prosecutors say 'murder.'"
Bonaventure agreed, because Tabish and Murphy have been accused and not convicted, and asked both Lalli and co-prosecutor Robert Daskas to refrain from calling the defendants murderers and to refer to the charges as 'alleged.'"
with that, Bonaventure said, "Let's take a lunch break. Everybody's getting a little testy."
Here are other articles written by Cathy Scott relating to the new trial:
August 11, 2004: http://www.lvcitylife.com/articles/2004/08/11/crime_punishment/crime.txt

August 23, 2004: In the first of two minor victories, the Tabish lawyers, led by J. Tony Serra, got the right to hearings on Sept. 10 to "explore the criteria used" by the Binion estate to pay roughly seven witnesses a share of $100,000 after the first trial concluded. Serra implied the prosecution may have had a hand in "paying witnesses for their testimony." The second victory concerned a hearing on how the shirt worn by Binion at the time of his death had been lost by the prosecution. This was an important piece of evidence in the first trial backing up the main theory of how Binion was killed.
The Las Vegas Sun story indicates that Murphy's attorney, Michael Cristalli, lost the the argument that testimony of witness Steven Kurt Gratzer had been mishandled. Another reporter present at the hearing told our sources that Murphy's attorney did not seem confident and seemed unsure of some of presentation. This leads many to continue to have the fear that with the departure of Murphy's lead attorney over differences with the defense team, her case might be in trouble. Others seem to think since they are being tried together again, Tabish defense team which is top rated still might carry the case for both defendants.
August 20, 2004: from Jerry Pippin: Today's hearing ...which is expected to be the last before the retrial, scheduled for October, gave defendants, Sandy Murphy and Rick Tabish a big break. During the deliberations, the jury will be sequestered. And on another technical issue, which could become important in the trial, the defense received an additional number of preemptory challenges. Which means members of the jury can be excluded by the defense without cause.
The Las Vegas Sun Newspaper reports that the motion concerning prosecutorial misconduct conducted by Vegas DA, Davis Roger, was denied. Most experts watching this trial figure the defense got a better break in today's hearing than what was expected. For details, see: http://www.lasvegassun.com/sunbin/stories/lv-crime/2004/aug/20/517375913.html.
August 11, 2004: From Jerry Pippin: Casey Clare has a background in law enforcement and we are very lucky to have her as a contributor to several sections of this week site. Posted below you will find her conclusions about this case. I am inclined to agree with her. As you know Cathy Scott, a very good investigative reporter believes it was an accidental overdose. Probably so; I originally had thought it was mob related and a frame job. I still say I am half right.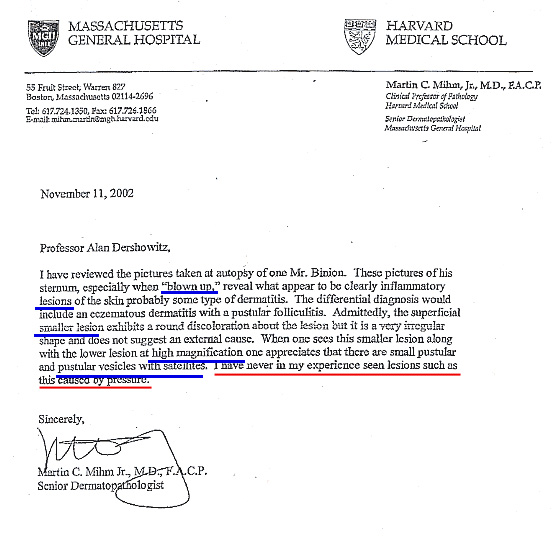 From Casey: In my opinion the evidence doesn't show guilt beyond a reasonable doubt. There can be varying scenarios for his death, i.e. suicide, accidental overdose etc. I will say that the timing of his death is suspicious, but let's look at his life. He asked for Xanax the previous day from his Dr. He bought heroin also. He was a long time drug user. He may have discovered her infidelity and became depressed, and the drugs he was using caused him to become even more depressed than he might have been ordinarily. Also, he had fallen the day before. Everyone says that he has compression bruises, but I feel that these aren't bruises at all, bur dermatitis (see pictures above and letter to the left). I can't believe the doctors in this case said they were bruises. He didn't have petechiae (broken blood vessels from hypoxia or lack of oxygen in the brain) which are always present in suffocation. His autopsy showed no damage to his chest or neck area, but a lot of congestion in the nose and lungs, which often happens in overdoses; these people often suffocate because of this alone. How does an overdose of drugs translate into homicide? The redness around his mouth was attributed to resuscitation efforts. The droplets of unknown substance on the carpet was literally a trail to where he finally went down, indicating to me that he was ambulatory before he died. How can you force drugs into someone while they are standing or walking? He could not have drank it as he would have fallen and died then and there. There are absolutely no defense wounds of any kind on him. When I person feels threatened with immediate harm or death they will fight or struggle, and this is not evident here. Also keep in mind that there were no marks on either of the defendants either, which would happen if they were struggling with this man.
A teenage girl was once arrested for the death of her Mother by suffocation and almost convicted, as she had the broken blood vessels in her eyes and bruises like this man. It turned out that she had a seizure and fell, bruising and suffocating herself. It's very possible that this happened to him. You don't have to have a diagnosis of a seizure disorder to have one, especially if you are using multiple drugs. I know one person who had a grand mal seizure and almost died. She was comatose for 3 days. She had never had one, and hasn't had another one since. It's been 6 years. No one knows why this happens, but it does.
My feeling is: He took the Xanax and the other drugs, and was doped up before taking the heroin. He then tried to walk but fell and crawled, with matter coming from his mouth, where he finally collapsed and died. He could have been choking. As far as the postmortem lividity it is possible that he fell into a sitting position and died with his head down. It wouldn't take long for the blood to pool in his head. After a while before rigor set in, he finally fell into a laying position. It's happened many times before. This kind of death might indicate to someone that his body had been moved when it hadn't. This is my opinion.
So the doubt is there. I am not an expert by any means, but any of these lawyers, doctors, and the Judge could have figured this out too. There is just too much in the defense's favor. She was sleeping with another guy; it happens every day and the people involved don't kill the other person except in rare circumstances. He was abusive towards her in their relationship, and he was a drug user. These are not very effective dating tools, and does not endear you to your significant other. It would disgust me, I can tell you. Things might have turned out differently if he actually checked into a drug rehab center for treatment.

None of this adds up to murder. Aren't you glad you asked?
August 8, 2004: From Jerry Pippin: Some interesting things have been happening in pre-trial hearings for Sandy Murphy and Rick Tabish. On Friday, August 6th, Judge Joseph Bonaventure ruled in favor of the two defendants in critical areas. First of all, the state will pay for expert witness testimony. This comes not to soon for the defense as another attorney dropped out of the Murphy case because he is owed money by the defense. The good news for both Tabish and Murphy was a ruling by the Judge that they could not be convicted of the crime and sentenced to death or life in prison without parole.
Interesting in that most of the breaks this time around have been going to the defense and the last time the defense could not get an even break on any of the pre-trial hearings. Read the story from the Las Vegas Review Journal here.
August
August 4, 2004: Murphy associate leaves threatening message, By Cathy Scott
The trials and tribulations of writing true crime means people occasionally jump from the shadows in gorilla costumes and try to scare you to death with threats of lawsuits. Too many times, however, the people making the accusations don't know the laws they're supposedly quoting from.
Such appears to be the case regarding a book I wrote in 2000 about the Ted Binion homicide trial, which prompted a recent phone message, left late July 30 on my home recorder.
In the message, the person threatened to sue for libel, although, apparently unbeknownst to the caller, the statute of limitations for the book, per both state and federal laws, expired nearly two years ago.
The person, employed along with other people by defendant Sandy Murphy's financial backer, originally called a few days earlier with questions about a passage in my book. The questions were about Murphy's work history, information readily available to defense attorneys.
The next day I called Murphy's lead attorney, Michael Cristalli, to ask him about the inquiry. That apparently prompted the person to call me again at home, late at night. After the caller started yelling, I hung up. The person immediately called back, leaving a lengthy voice message. Here's the message:
"Listen to this and listen to it good. You know, you're obviously chicken enough not to even take my calls, which is somewhat, you know, childish of you. Anyway, you know, I rang you yesterday in good faith and you're trying to make some little problem out of nothing, and it doesn't work that way because I run that entire camp.
"So let me tell you something now. We have a flank of libel attorneys looking into the statements you made in your crappy book. It's full of crap. It's silly stuff. It's poorly researched. And my [inaudible] advice to you is you keep all the notes you can possibly gather together and the names of all those girls you claimed to have spoken to, because they're going to sue your ass, your sorry ass, and also that of your publisher and anybody else backing you for years to come, and you can spend the rest of your days defending yourself. And that's not a threat, that's a promise. Good night."
July 22, 2004: From Jerry Pippin: William Fuller, the 80-ish millionaire who has bankrolled Sandy Murphy's appeal, and John Prendeville, a paralegal, who has been doing legwork for the defense of Sandy Murphy, are targets of the DA Investigation. The question gets more complicated, when you look at it. This is a good example on how to discount a key witness. The results are simple, if there was hanky panky by the prosecution, it will now be a clouded issue. If the witness tells the story of the highest bidder, we will never know if that is really the truth. Read below a very good account by one of the most respected journalist in Las Vegas, George Knapp:
Thursday, July 22, 2004
Copyright © Las Vegas Mercury
By George Knapp
The Binion Quandary
The latest salvos in the ongoing Ted Binion murder saga certainly demonstrate just how rough and tumble the upcoming trial will be. A week ago, defense attorneys filed a motion that accused prosecutors of misconduct. Witness Kurt Gratzer, who testified in the first trial that he had been approached by Rick Tabish to kill Ted Binion, now says he repeatedly told prosecutors that Sandy Murphy knew nothing of the plot, but that the state advised him to keep his trap shut about Murphy. By any standards, this is a blockbuster allegation. The question is whether it can be proven.
Gratzer isn't exactly a reliable witness. During his earliest appearances, it seemed tough for him to pay attention. We later learned that he had drug and alcohol problems. No kidding. But his testimony about being recruited as a hit man was certainly damaging to the defendants. In exchange for his testimony, he was given a $20,000 reward from the Binion estate.
Now, prosecutors are firing back. They allege that Gratzer may have been bribed to change his tune about Murphy's noninvolvement in the alleged plot. They point out that Murphy's defenders paid Gratzer's legal bills to the tune of about 35 grand, and they think it might amount to felony witness tampering. No one has spelled it out, but it appears the state will try to go after William Fuller, the 80-ish millionaire who has bankrolled Sandy Murphy's appeal. They are also targeting John Prendeville, a paralegal who has been doing a lot of the legwork for the defense.
Although these developments might seem like they just popped up, they didn't. Gratzer's affidavit about Murphy's innocence was given almost four years ago. For a variety of reasons, it wasn't formally introduced in court, but there have been several media references to it, including in
this column. Likewise, the D.A. investigation into the alleged witness tampering didn't start recently. Knowledgeable sources told this writer about it last summer.
The problem now will be how to believe anything that Gratzer says. If he was paid $20 grand in cash for one set of testimony, then his lawyers got $35,000 in connection with his cooperation on another story, what is anyone to ever make of his credibility? Are we to believe only some of his statements but not others? If he is discredited as a witness, or isn't even called in a second trial, you would have to call it a victory for the defense, because it would mean the jury will never hear the story of how Tabish tried to hire him. If he IS called, it really could open up a can of worms. Then again, who knows what twists and turns Gratzer's tale may take between now and the October trial date.
July 21, 2004: A note from Jerry Pippin: The headlines in the Las Vegas Review Journal over an article by reporter Glen Putt says it all: ACCEPTANCE OF LEGAL FEES: Reliability of Binion witness questioned One attorney says Gratzer's "credibility is less than zero," or does it? The PR machine from the DA is working overtime on this one and in this redirection movement of the story, the central question is still left unanswered and now, probably, will never be answered, " Did the DA and the police pressure testimony that was untrue in order to convict Tabish or Murphy?"
In a world where the good guys sometimes use the methods of the bad guys, one wonders what really happened. The circumstantial facts are simple, it meant more money and power if Sandy Murphy was out of the way when it came time to divide up the estate of Ted Binion. This upcoming trial could have been very informative, but it looks like it is shaping up to be another railroad job for the prosecution. Read the article here.
July 20, 2004: Things are getting dirty in the pre-trial activities leading up to the new murder trial for Sandy Murphy. Murphy Defense team has unearthed testimony from a witness that DA, Police and other investigators tried to silence a witness. The DA is answering those charges by telling the newspapers that they are investigating witness tampering in connection with that testimony. Read the Las Vegas Review Journal Story.
July 16, 2004: By Cathy Scott, Bonaventure boys cause conflicts with Binion case
Big Joe and Little Joe. The names sound straight out of vintage Bonanza episodes about the Cartwright family. They're not.
The names of "Big Joe" Judge Bonaventure and his son "Little Joe" Bonaventure -- a justice of the peace candidate -- are being bandied about in the media because of possible conflicts of interest in the Ted Binion retrial.
One of Little Joe's campaign fundraisers is cosponsored by Michael Cristolli, the lead attorney for Sandy Murphy in the Binion case. Murphy is scheduled with co-defendant Rick Tabish in October to be tried a second time for murder in the senior Bonaventure's courtroom.
But that's not the only seemingly conflict of interest in the case. Murphy attorney Cristolli once clerked for Big Joe. And Little Joe once worked for David Roger, who is now a district attorney. This was in the appellate division of the district attorney's office at a time when Roger prepared briefs in the Binion case and filed them with the Nevada Supreme Court.
It's all a little too close for comfort and could eventually be grounds for a mistrial. Or, if Bonaventure continues presiding over the case and Murphy is again convicted, the conflict could be grounds for another appellate decision in favor of the defense.
Conflicts of interest aren't simply about the conflict itself. They are about public perception. If the public perceives it as a conflict, then it should be removed, especially when the future of a defendant is hanging in the balance.
The senior Bonaventure is already under scrutiny for possible bias in his active role in a book signing at the Horseshoe Club following the first Binion trial. It was a book signing where he, along with his then-clerk Al Lasso, signed a bevy of books not with just his name, but with the moniker "Judge Bonaventure."
The outcome of a Nevada Commission on Judicial Discipline review about the issue is pending. Mark Denton, a fellow judge with Bonaventure in Clark County District Court, sits on the discipline commission.
In a 2002 court motion, San Francisco attorney J. Tony Serra, who represents Tabish, took issue with the book signing. He asked that Bonaventure be removed from the case because of his participation. Serra at the time called the book, written by a Las Vegas Sun columnist, a "one-sided recounting" of the events leading to Binion's death. And signing his name to a "perceived biased and inflammatory book" should disqualify him from the case, Serra said.
Chief District Judge Mark Gibbons, in response, refused the defense's request to disqualify Bonaventure as the presiding judge. Bonaventure remains on the case.
July 15, 2004: Comments on the current status of the Binion case by Edna Burch.
July 8, 2004: By Cathy Scott, Bonaventure boys cause conflicts with Binion case
Big Joe and Little Joe. The names sound straight out of vintage Bonanza episodes about the Cartwright family. They're not.
The names of "Big Joe" Judge Bonaventure and his son "Little Joe" Bonaventure -- a justice of the peace candidate -- are being bandied about in the media because of possible conflicts of interest in the Ted Binion retrial.
One of Little Joe's campaign fundraisers is cosponsored by Michael Cristolli, the lead attorney for Sandy Murphy in the Binion case. Murphy is scheduled with co-defendant Rick Tabish in October to be tried a second time for murder in the senior Bonaventure's courtroom.
But that's not the only seemingly conflict of interest in the case. Murphy attorney Cristolli once clerked for Big Joe. And Little Joe once worked for David Roger, who is now a district attorney. This was in the appellate division of the district attorney's office at a time when Roger prepared briefs in the Binion case and filed them with the Nevada Supreme Court.
It's all a little too close for comfort and could eventually be grounds for a mistrial. Or, if Bonaventure continues presiding over the case and Murphy is again convicted, the conflict could be grounds for another appellate decision in favor of the defense.
Conflicts of interest aren't simply about the conflict itself. They are about public perception. If the public perceives it as a conflict, then it should be removed, especially when the future of a defendant is hanging in the balance.
The senior Bonaventure is already under scrutiny for possible bias in his active role in a book signing at the Horseshoe Club following the first Binion trial. It was a book signing where he, along with his then-clerk Al Lasso, signed a bevy of books not with just his name, but with the moniker "Judge Bonaventure."
The outcome of a Nevada Commission on Judicial Discipline review about the issue is pending. Mark Denton, a fellow judge with Bonaventure in Clark County District Court, sits on the discipline commission.
In a 2002 court motion, San Francisco attorney J. Tony Serra, who represents Tabish, took issue with the book signing. He asked that Bonaventure be removed from the case because of his participation. Serra at the time called the book, written by a Las Vegas Sun columnist, a "one-sided recounting" of the events leading to Binion's death. And signing his name to a "perceived biased and inflammatory book" should disqualify him from the case, Serra said.
Chief District Judge Mark Gibbons, in response, refused the defense's request to disqualify Bonaventure as the presiding judge. Bonaventure remains on the case.
June, 23, 2004: BY CATHY SCOTT, Non-lawyer visits prison as attorney
The unnamed non-lawyer -- referred to by celebrity attorney Dick DeGuerin as the reason for quitting his representation of Sandy Murphy -- has regularly been visiting a prisoner, seemingly as a lawyer, according to sources inside the prison and sources close to the case.
Rick Tabish, who is housed at the High Desert State Prison in Indian Springs 30 miles north of Las Vegas, is represented by San Francisco attorney J. Tony Serra. Murphy, Tabish's co-defendant, is represented by local lead attorney Michael Cristalli. William Fuller, who has been paying Murphy's legal fees, hired the non-lawyer.
Tabish and Murphy were convicted of killing casino heir Ted Binion. But their convictions were overturned and a new trial was scheduled for October.
"If the inmate wants to talk to [the non-lawyer], he can," said Glen Whorton, spokesman for the Nevada Department of Corrections.
Even though the non-attorney isn't even a paralegal and the firm he's affiliated with doesn't represent Tabish? And is the non-attorney escorted into the prison to a visiting room as lawyers are?
"If there's something inappropriate, we'll fix it, and if we don't find something, we won't," Whorton said. "Other than that, I have no comment, unless I find something further."
An officer inside the prison said lawyers' bags and paperwork routinely aren't searched because of the client-attorney privilege. "A non-attorney is a security risk," the officer said.
http://www.lvcitylife.com/articles/2004/06/23/crime_punishment/crime.txt
June 16, 2004: Dream Team shattered. Celebrity attorney Dick DeGuerin departs from the Binion murder case. Now what? A Las Vegas City Life article by Cathy Scott, a Las Vegas-based journalist and author, who wrote a book about the Ted Binion case titled, Death in the Desert.


Order the book below.
May 7,2004: Rick Tabish got bad news today in Court in Las Vegas. The Judge refused to grant him time served on other charges besides the murder conviction of Ted Binion which has been set aside for a new trial. His lawyer says he could get out as early as next year if not convicted again in the new trial this October. CLICK HERE for the KLAS-TV story.
April 30, 2004: Las Vegas, compiled by Edna Burch, Glenn Putt and George Knapp. Long time rumors about hit team hired by Binion by his brother in law surface, including copies of tape recordings made from phone calls.
Another wrinkle in the Ted Binion Murder case, a Los Angeles, Ast. US Attorney, notified the defense team of a witness in Federal custody for a period of time in another investigation has personal evidence that someone else killed Ted Binion. This evidence surrounds a man involved in a plot to rob and kill Binion that came to light when Sandy Murphy turned over a tape with the voice of Ted's brother in law responding to charges that Murphy had made to the gaming board. One of the men in the plot died in Arizona later as the result of a drug overdose.

to read the complete story by Glenn Putt of the Las Vegas Review Journal.


to view the video filed by George Knapp of KLAS-TV.
April 3, 2004: from Edna Birch - The Truth and Justice is a very important organization which has picked up our case. I am friends with Sheri who operates this site. I liked the way she worded this, and she has a link to Cathy Scott's article after the word extortion. This website will not accept cases unless the defendants are innocent.
*************************************************************************
Nevada, Clark County, DA David Roger is taking an innovative approach to dodging Rick Tabish's complaint that Roger suborned perjury in order to obtain an extortion conviction against Tabish. Roger is claiming that Tabish's prosecutorial misconduct complaint is really a complaint of ineffective assistance by his own trial counsel. Moreover, Roger wants a judge to throw out Tabish's complaint unless Tabish waives attorney-client privilege so Roger can grill Tabish's trial attorney. Speaking of Extortion ... http://truthinjustice.org/p-pmisconduct.htm.
March 29, 2004:
Mystery of the Binion Silver in Vancouver
by Edna Birch
After nine months of investigation into the Binion silver being in Vancouver, nothing has come out of this. Even the Ministry of Public Safety and Solicitor General Office has no knowledge of the silver. This agency is responsible for the corrections department and correctional facilities in the Vancouver area. This agency referred me to the Police Chief of Saanich to validate the articles regarding the silver. However, why would a Police Chief be involved in negotiations with an inmate in a correctional facility. Certainly the agency responsible for the correctional facilities would be aware of ongoing negotiations with inmates. Is this just another rumor, started to prejudice the potential jury pool for the new trial?
March 12, 2004: Rick Tabish gets okay for attorney even though DA says murder charges could be filed against the lawyer in connection with the Binion case. Las Vegas Sun story here.
March 10, 2004: Are the new prosecutors in the Binion case, attempting to intimidate Mike Milot, from allowing his former lawyer, Attorney Sgro from joining Rick's defense team? The hearing regarding Attorney Sgro joining the team is on Friday the 12th. Five years after Ted Binion's death, the prosecutors are alleging they have new information. As Attorney Sgro commented, Mike Milot has already been investigated. CLICK HERE for story.
February 11, 2004: Possible DA conduct in Binion case? CLICK HERE for story.
February 9, 2004: Binion Case is heating up again, as Sandy Murphy new trial gets closer. Sources close to the case call recent newspaper articles in the Las Vegas Sun as out and out lies. Controversial Las Vegas political personality weighs in on the case in a recent newspaper article as well. CLICK HERE for details.
January 1, 2004: District Attorney wants Rick Tabish ex-lawyer to tell on his former client. Las Vegas Sun story can be found here: http://www.lasvegassun.com/sunbin/stories/lv-crime/2003/dec/31/516103958.html.
December 22, 2003: Sandy Murphy released on $250,000 bail, and she can go to California to live with her parents awaiting trial, and travel to Vegas to meet with her lawyers. Her new lawyer Dick DeGuerin is awesome, and wants the trial moved from Oct to June.
December 20, 2003: The Prosecutors are getting down and dirty, going for life without parole this time. They give a litany of reasons, which are mostly hearsay as to why Sandy should not get bail. I think she and her parents must be on pins and needles. Jeff German, has turned into a real tabloid trash writer, you might want to check out his columns also. There is another bail hearing Mon, will let you know how it comes out. Commentary by Edna.
December 8, 2003: Judge Bonaventure should not be on the Sandy Murphy case at all. It is well documented that he was there at the Jeff German book signing and afterwards more than one person has told me that he was seen drinking with Becky, Ted's sister and benefactor to ownership of the Binion Las Vegas facility. Las Vegas can ill afford to have a "crooked biased Judge" on a high profile case like this. It shows that far from the Vegas PR machine, organized crime still rules the roost. Commentary by Jerry Pippin.
September 14, 2003: The Binion case has always fascinated me (Jerry Pippin). I was talking with Frank Military, one of the top Private Investigators around who lives in Las Vegas about the case today (www.frankmilitary.com). I asked him if he thought Sandy Murphy was innocent, was it an accidental overdose by Ted Binion or was there some hanky panky by the mob or someone. He told me in no uncertain terms: "JERRY, ACCIDENTAL OVERDOSE, NO HANKY PANKY. SHE WILL GO FREE THIS TIME."
BINION MURDER CASE
August 18, 2003
During all the years I was in Las Vegas, I liked Jeff German's work in the Las Vegas Sun. I thought he was the top crime writer, but the Binion case has changed my mind. I think he is either in the pocket of the prosecution, which sometimes happens even to the best of crime reporters, or heavily influenced by the Binion family. Despite this prejudice, I have decided to link to the German articles about the Binion Murder case. Why:? Because he does come up with a good story, I am not as sure as I used to be about all of the facts, but he does write with an interesting slant. - Jerry Pippin

Former President Bill Clinton, left, speaks with Las Vegas Sun reporters Jeff German and Ed Koch during a visit to the newspaper offices.
News and Commentary Stories
The Las Vegas Sun's news coverage of Ted Binion's death and commentary by Sun reporter Jeff German.
August, 2003

Experts say jury likely to reconvict Tabish, Murphy
July 16, 2003
Even though the powers that be in Las Vegas are putting out the word that Tabish and Murphy will be convicted again in this new trial which was ordered because of the fraudulent nature of the first trial, my sources say many are not so sure. Many of my sources think there was a frame job here and that actually there never was a murder, just an overdose and then others think the mob did it. CLICK HERE for the story from the Las Vegas Sun. Here is another perspective on the story, as presented in the Las Vegas Review Journal. - Jerry Pippin 10:34 a.m. July 16, 2003.

CLICK HERE for all the latest information on the whole Binion case,
published by Edna from Woodstown, New Jersey.
CLICK HERE to see an advertisement which was recently run in the Las Vegas Review Journal. In this ad/article, there is information corresponding to the latest information we have received in the past few months. As a result of our research, and using new enhanced photography, we were able to determine the marks on the chest of Binion, are skin lesions which may be basal cell carcinoma. Also the photographs of the wrists were examined, using this photography and it shows the lesions on the right wrist were in various signs of healing. There is no evidence of any marks on the left wrist, as the Prosecution argued. Also it is now apparent, that the video of Sandy, taken in the kitchen, shows she DID NOT take any wine glass. There is also evidence withheld from the defense, that Barbara Brown, the realtor called Binion's home, AFTER Sandy had left the house for lunch.
And, here's another scoop being currently researched. Peter Sheridan the drug dealer who sold Binion the heroin the night before he died, got a sweetheart deal from Roger in May. Sheridan was arrested on drug charges, including operating a Meth lab in 12/01 but his indictment was sealed, until the afternoon of the appeal arguments in 6/02. His trial was continued many times, until Feb of this year. In Feb, he was a no show for a court appearance, and a bench warrant was issued. I have no idea who posted his bond, how much it was etc. In May he was sentenced to 12 and 24 months, and that sentence was suspended. He was ordered to attend counseling. This sentence seems unusual for someone who is operating a Meth lab, and the question arises, did he receive special treatment from Roger? - Edna, 7/16/03

Lawyer: FBI leads may justify new Binion probe
April 25, 2002
By Jeff German
german@lasvegassun.com
LAS VEGAS SUN
A defense lawyer Wednesday urged District Attorney Stewart Bell to reopen the Ted Binion murder investigation because of new evidence disclosed in a 1999 FBI wiretap affidavit.
Herb Sachs, who represents convicted killer Sandy Murphy, told Bell in a three-page letter that the new leads, which point to other possible suspects in Binion's 1998 death, should be pursued in the interest of justice.
"Therefore," Sachs told Bell, "you should reopen the investigation into the alleged murder of Ted Binion to ascertain whether the comments contained in the affidavit ... are true, and if so the effect it would have had upon your office acceding to the wishes and pressures of a well-connected, wealthy Binion family to target Sandra Murphy and Rick Tabish as alleged murders."
Murphy, 30, and Tabish, 37, were convicted of killing the 55-year-old Binion, a troubled casino executive with a heroin addiction. They are both serving more than 20 years in prison following the well-publicized trial in 2000.
The 62-page FBI affidavit -- which sought permission to conduct wiretaps on a criminal organization that may have had knowledge of Binion's slaying -- was not made public until October, long after the murder trial.
Bell said he sees no information in the affidavit, written by FBI Agent Gerald McIntosh, that would warrant further investigation by his office and the police.
"I don't think there is any substantial evidence that anybody other than the persons convicted committed this crime," he said.
Binion's sister, Becky Behnen, president of Binion's Horseshoe, agreed.
"There's no doubt in my mind who killed Ted -- the two people who are sitting in jail, Sandy Murphy and Rick Tabish," she said.
Behnen said it would be a waste of time and taxpayer money to reopen the investigation.
Chief Deputy District Attorney David Roger, who helped convict Murphy and Tabish, said he believes others participated in the murder conspiracy, but no solid evidence identifying additional suspects has turned up.
"I'm sure there were people other than Rick Tabish and Sandra Murphy involved in the conspiracy to murder Ted Binion," Roger said. "If we become aware of them, we'll prosecute them."
But Roger also insisted that there were only two killers.
"And they're sitting in their prison cells trying to stir up media attention," he said.
Roger said he doubted that FBI agents obtained any meaningful evidence in the slaying as a result of the 1999 wiretaps because agents would have shared that information with him prior to the murder trial.
Last week Tabish's San Francisco attorney, J. Tony Serra, asked Chief District Judge Mark Gibbons to force the FBI to hand over documents supporting the affidavit, which now is under seal, so that he can file a motion to overturn his client's conviction based on the new evidence.
But Roger said in court papers this week that Gibbons does not have authority to compel the FBI to provide the requested documents because the murder case is in the hands of the Nevada Supreme Court on appeal.
Oral arguments for both Tabish and Murphy are scheduled before the high court in Carson City on June 27.
Roger said the lower court won't regain jurisdiction until the Supreme Court decides whether to overturn the convictions.
Gibbons has scheduled a hearing on Tuesday to discuss the FBI documents, as well as a motion by Serra to disqualify District Judge Joseph Bonaventure, who presided over the trial, because the defense says he is biased against Tabish and Murphy.
Bonaventure has denied any bias.

Tabish lawyer's motion divides defense team
LAS VEGAS SUN
April 09, 2002
A San Francisco attorney's motion to disqualify District Judge Joseph Bonaventure in the Ted Binion murder case has created another rift within the defense team representing the gambling figure's convicted killers.
J. Tony Serra filed the motion on behalf of defendant Rick Tabish last week, accusing Bonaventure of being biased against his client, because he signed books at an August book signing for "Murder in Sin City," written by Sun reporter Jeff German.
Serra, recently hired by Tabish to challenge his murder conviction in District Court, alleged the book did not portray Tabish in a flattering light, and he wanted Bonaventure removed from hearing further matters in the case.
This morning Tabish's Las Vegas lawyer, William Terry -- who persuaded Bonaventure last month to allow Serra to work with him as co-counsel -- filed court papers saying the motion caught him by surprise and he did not support it.
Terry said he now wanted to withdraw from the District Court proceedings by the April 30 hearing on that motion, but remain as Tabish's attorney in his appeal to the Nevada Supreme Court.
Terry's request will be heard April 18 by Chief District Judge Mark Gibbons, who will also consider Serra's motion.
That could jeopardize the legality of the motion. Out-of-state lawyers must associate with in-state ones to be heard in Nevada courts.
Herb Sachs, who represents Tabish's co-defendant, Sandy Murphy, said he also was unhappy with Serra for not letting him know beforehand that the motion was going to be filed.
"I'm upset, because it might have an impact on what I'm doing," Sachs said. "He should have discussed it with me. He should have shown me the papers before he filed them."
Sachs has been preparing a motion to dismiss the murder conviction against Murphy because of prosecutorial misconduct.
The flare-up is the latest in a series of tiffs plaguing the defense team since the well-publicized murder trial in 2000.
Murphy and Tabish were convicted in May 2000 of killing the former Horseshoe executive at his home on Sept. 17, 1998. Both are serving more than 20 years in prison.
Tabish Lawyer Wants Judge Off Case
Says book-signing shows bias by Bonaventure
LAS VEGAS SUN
April 08, 2002 at 11:14:06 PDT
A lawyer for one of Ted Binion's convicted killers has filed court papers asking District Judge Joseph Bonaventure to disqualify himself from further post-trial matters in the high-profile murder case.
San Francisco attorney J. Tony Serra, who represents Rick Tabish, alleged that Bonaventure showed bias toward his client when he signed books at a book-signing at Binion's Horseshoe last August for "Murder in Sin City," written by Sun reporter Jeff German.
Bonaventure should be disqualified for signing his name to a "perceived biased and inflammatory book," Serra alleged.
Serra, recently hired by Tabish, said "Murder in Sin City," published by Avon Books in New York, is a "one-sided recounting" of the events leading to Binion's death and the subsequent murder convictions of Tabish and his co-defendant, Sandy Murphy, Binion's former girlfriend.
Murphy and Tabish were convicted in May 2000 of pumping the former Horseshoe executive with drugs and suffocating him at his home on Sept. 17, 1998. Both are serving more than 20 years in prison and are appealing their convictions to the Nevada Supreme Court.
Serra said that he plans to file additional post-trial motions soon, including one seeking to dismiss the case because of alleged prosecutorial misconduct, and Bonaventure should not be allowed to hear the motions. He has asked for an April 25 hearing.
Bonaventure plans to ask Chief Judge Mark Gibbons to decide who should hear the motion. Chief Deputy District Attorney David Roger, the lead prosecutor in the case, said he will oppose Serra's motion.
"These allegations are laughable," said Roger, who now is running for district attorney. "Judge Bonaventure was the greatest example of a fair and impartial jurist during the trial."
Roger said that, if anything, Tabish and Murphy had an advantage during the trial. Murphy's lawyer, John Momot, is a longtime friend of Bonaventure, and the judge's wife is the godmother of Momot's daughter.
Among those who also attended the book signing, which took place long after Murphy and Tabish were convicted, were Bonaventure's law clerk Al Lasso, Roger and co-prosecutor David Wall. Horseshoe owner Becky Behnen, Binion's sister, also was on hand.

The Binion Murder Web Spreads
By Rolando Larraz
Las Vegas -
8/21/01
The outrageous behavior of District Court Judge Joseph Bonaventure and his law clerk Al Lasso has prompted several phone calls to the Las Vegas Tribune office.
Last August 11th, Judge Bonaventure and his law clerk joined a Milwaukee author in a book signing at the Horseshoe Club. The book - a mix of pornographic material, innuendoes, figments of the author's imagination, plus several unethically obtained sealed court documents is supposed to be the "inside" story of the Ted Binion drug overdose death.
Judge Bonaventure presided in the Sandy Murphy/Rick Tabish trial - the two persons accused of causing the death of Binion. The judge, surrounded by a tainted jury, is now beginning to hear accusations of jury tampering and court misconduct that included his bailiff and law clerk.
Many people have viewed the Judge's visit to the Horseshoe to autograph biased books dealing with a case that he is still presiding over as the cavalier and arrogant behavior of an out-of-control Judge that is showing a great disregard for the law and for the people that elected him to the bench!
The high profile case that many people assume had ended in May 2000 when Murphy and Tabish were convicted of the overdose death of the controversial gaming figure is on appeal, and the Judge may have to rule again if it comes back to his courtroom. Though many in the DA's office wish it were, the case is far from over!
There now is the strong possibility that a conflict of interest exists, not to mention a violation of Judicial Canons Two and Four, but the judge seemed to ignore these Cannons by appearing in public two Saturday's ago with the victim's estranged family at their place of business.
Murphy and Tabish were charged with the first degree murder of Ted Binion after the Binion family failed in an attempt to strongly encourage Murphy to return to her California home immediately after Binion's overdose death - thus forfeiting all connections to Binion including an inheritance from his will of $300,000; his $900,000 home; and all its contents.
Murphy refused to be intimidated, and a second attempt to relieve her from the will also failed when Judge Myron Leavitt declined to recognize an 11th hour phantom will that Binion's attorney, Jim Brown, alleged Binion requested by phone the day before his death. To the Binion family's dismay, Leavitt's ruling placed Murphy back into the will.
With all civil legal attempts exhausted, it was then reported that Ted Binion's estranged sister Becky Behnen's scheme of foul play suddenly arose.
A third attempt to remove Murphy from the will finally proved fruitful when the right players successfully structured a case for Murder One that ended in a conviction. That automatically removed Murphy from the will without further contest.
The million dollar mansion and the secret treasures it may have contained became the sole possession of the family Ted Binion once ordered off his roperty at gunpoint!
Throughout the trial, Bonaventure perpetually grandstanded for the national television audience boasting he "wanted Miss Murphy and Mr. Tabish to receive a fair trial."
Nevertheless, Judge Bonaventure granted prosecutors all the time they wanted to pump testimony from their witnesses. Especially noticeable were the seven Binion rewarded witnesses.
Meanwhile, Judge Bonaventure habitually stonewalled Murphy's attorney, John Momot, to minimal cross or direct examinations. Once while Momot was being admonished by the Judge to "hurry along" with a witness, Momot responded about a need for more time to question the witness. Judge Bonaventure immediately snapped back, "Don't make me mad!" What must a member of the jury think when a judge is seen playing such favorites'
Several Tribune readers have related their feelings that the Binion's "rewards" may have also extended to Judge Bonaventure in some way for presiding over the two successful convictions. The Binions are well known political campaign contributors.
It is rumored that the judge has an interest in a Nevada Supreme Court seat in 2002 and winning a seat takes big money!
Telephone calls made to Judge Bonaventure's chamber were not returned by press time, but his law clerk Al Lasso, did as always, return our call placed to his voice mail.
Lasso said that nothing was planned. The Judge wanted to buy a copy of the book and he went to the Horseshoe to buy a copy of it and people in line started asking them to sign their books, "and that was all," Lasso stated.
The book is also readily available at dozens of local bookstores. Some would assumed that the author of the book, that was able to obtain so many sealed and confidential motions that no other journalists have been able to obtain, would have graced the judge with a second copy. The first one we are sure went to Deputy District Attorney David Roger.
Let's say the judge didn't even get a book, let's say he didn't even sign an autograph. It still doesn't promote impartiality of the judiciary. The fact that he went, it is a problem.
"He can buy one of those books someplace else, you don't have to go to a book signing party," expressed another attorney on condition of anonymity, fearing for the judge's retaliation.
When told about Judge Bonaventure being at the Horseshoe signing books, Murphy's former attorney John Momot exclaimed "I don't believe it!" expressing genuine surprise.
During a telephone conversation with the Tribune on Monday morning, Sandra Murphy didn't want to elaborate on the book signing without talking to her attorney, but she did say "That is Las Vegas, my friend. What do you expect'"
One of Sandra Murphy's new attorneys, Herb Sachs, was not available for comment on Monday morning. Rick Tabish's attorney Bill Terry, very politely declined to comment since the case is on appeal and is unethical for him to comment on the matter.
Ted Binion, the controversial drug addict son of gaming figure Benny Binion, was found dead in the living room of his 2408 Palomino Lane mansion. The night before his death Binion bought twelve balloons of Mexican tar heroine from well-known local drug dealer Peter Sheridan. He also filled a prescription for 120 Xanax pills prescribed by local doctor and Binion's neighbor Enrique Lacayo over the fence between their two homes.
Neither Lacayo nor Sheridan were charged in the case even though Sheridan confessed on the stand to a felony. After testifying, both were thanked by the judge and urged to go on "about their business."
Richard Tabish and Sandra Murphy were found guilty of Binions death and are presently doing time in two Nevada Penitentiaries. Their appeals are on file with the Nevada Supreme Court.

Attorneys say prosecution did not prove case
Thursday July 12, 2001
By ED VOGEL
DONREY CAPITAL BUREAU
CARSON CITY -- Attorneys for Sandy Murphy asked the Supreme Court on Wednesday to clear their client of a murder conviction, arguing prosecutors did not prove she killed former Horseshoe owner Ted Binion.
Lawyers Victoria Eiger and Herbert Sachs said prosecution witnesses presented conflicting testimony during Murphy's trial last year and reiterated the defense's position at trial that Binion was a longtime heroin user who simply died of an overdose.
Murphy and co-defendant Rick Tabish last year received sentences of life with the possibility of parole in the Sept. 17, 1998, death of Binion. Murphy must serve at least 22 years before having a chance to win parole.
In the appeal, the lawyers said all four of their medical witnesses determined Binion had died of a drug overdose. But they contended statements by the prosecution's experts conflicted.
One prosecution witness said a drug overdose killed Binion, while another testified Binion had been "burked" or deliberately suffocated by someone after being forced to take heroin and the sedative Xanax.
"The state hedged its bets, floating a number of vague and contradictory theories as to what had happened," Murphy's lawyers argued.
Consequently, they contended, the conviction cannot stand.
"The evidence was legally insufficient to establish that Binion died as result of any criminal act," Murphy's lawyers stated.
While the Binion family portrayed Murphy as a "conniving golddigger" who became a "cold-blooded murderer," Murphy's advocates said she really is a simple woman who wanted marriage and a family.
At the time of the slaying, Murphy, then 28, had lived with 55-year-old Binion in his Las Vegas home for three years.
She now is serving her sentence at the Southern Nevada Women's Correctional Center in North Las Vegas.
Tabish and Murphy had been lovers. He is not represented by Murphy's lawyers.
A Supreme Court hearing on Murphy's appeal could be a year or more away. Prosecutors now have an opportunity to file their responses to briefs filed by Murphy's lawyers.
Tabish's appeal has not been received by the Supreme Court.
In the appeal, Murphy's lawyers state Binion had smoked heroin every day for seven years in the 1980s, kicked the habit but returned to drug use in 1998.
They said he was using heroin "as only a rich man can, by chasing the dragon, that is, by heating tar heroin and inhaling its fumes."
Binion used one to two balloons of heroin every day, according to the lawyers.
Their witness, Dr. Norton Roitman, testified that heroin usage "is basically Russian roulette" and users "can't calculate their dosage."

Wednesday June 27, 2001
Why didn't the State and Metro request the FBI investigate Ted Binion's Death?
FBI Special Agent H. Charles Maurer took this statement from jailed mob hitman Antone Davi on April 20, 1999. In the report, Davi details the murder of Herbie Blitzstein and alleges that there was another plot to kill Ted Binion with a heroin overdose.
Antone Davi was interviewed at the Clark County Detention Center in the presence of his attorney, Dan Albregts. Davi provided the following information:
Davi has resided in Las Vegas for approximately sixteen (16) years. Davi's father moved Davi and his family to Las Vegas from New York so that Davi could pursue his boxing career. Davi had been employed as a cook, waiter, and bell captain, as well as a boxer.
At age 28, Davi attempted a boxing come back and suffered an injury that causes severe headaches. Davi was forced to quite boxing at that time and began work at various restaurants. Davi worked until approximately January 1996 when his headaches made it too difficult to work. At that time he was able to quit his job because his wife, Brandi Davi, was making enough money to support the both of them.
Davi met Al Mauriello approximately seven (7) years ago at Ferraro's Restaurant in Las Vegas. Davi believes he met Mauriello on a prior occasion in New York City, but did not become friendly with him until after this meeting at Ferraro's. Al Mauriello introduced Davi to Steve Mauriello, who is Al Mauriello son.
Davi knows Steve Cino to see him and say hello to him. Davi met Steve Cino at one of the restaurants where Davi was employed.
Davi has never met Bobby Panaro.
Davi met Herb Blitzstein approximately four (4) months prior to Blitzstein's murder at the Club Paradise. At that time, Davi made arrangements to take his vehicle to Any Auto Repair for work. Davi took the vehicle to the garage, however, Blitzstein was not there.
Davi met Richard Friedman approximately four (4) years ago at the Don Yeyo Cigar Store in Las Vegas. Friedman and Davi became friends and began spending quite a bit of time together. In approximately October 1996, Davi introduced Friedman to Al Mauriello. Al Mauriello sent Davi and Friedman to collect debts on loans. They contacted several people by never collected any money. Mauriello told Davi that Pete Caruso had given him the names of the debtors.
Also in the fall of 1996, Davi and Friedman committed armed robberies on drug dealers and on one occasion were assisted in fencing silver bars by Al Mauriello.
In approximately November 1996, Al Mauriello called Richard Friedman on his cell phone. At that time, Davi and Friedman were together and an agreement was made to meet Mauriello at the 7-Eleven near Mauriello's residence. At the meeting, Mauriello told Davi and Friedman they could make some money if they wanted to "whack some guy out." Davi was reluctant to accept this job but Friedman readily accepted and told Davi later that he would handle everything. Mauriello did not tell Friedman and identity of the person to be murdered or the amount of money they would be paid at this time.
The following day, Al Mauriello called Davi and told Davi that Davi he believed Friedman might be a cop. Mauriello told Davi that Davi would "be hit in the head" if Friedman were a cop since Davi introduced him to Mauriello. This meeting occurred at the Riviera Hotel.
During subsequent meeting Mauriello told Davi and Friedman the person to be murdered was an old fat guy. Davi also saw Al and Steve Mauriello driving a car that had Any Auto on the license plate or somewhere else on the vehicle. At that time, Davi determined the person to be murdered was probably Herb Blitzstein. Davi then told Al Mauriello he believed the person to be murdered was Herbie Blitzstein and Mauriello told David he was correct. Davi said he was afraid to kill Blitzstein because he was a very high profile person in Las Vegas and his murder would generate a great deal of publicity and police interest. Friedman advised Davi that he didn't care and that he would definitely carry out the hit on Blitzstein.
Davi, Friedman, Al Mauriello, Steve Mauriello all discussed the murder of Herbie Blitzstein. Steve Mauriello was present during all meetings regarding the Blitzstein murder except the first meeting that occurred at the 7-Eleven. Davi doesn't recall exactly when the amount of money they were about to be paid was discussed. davi recalls that an agreement was made that he and Friedman would receive $3,000 for the murder. This money was to be split evenly between Friedman and Davi.
The murder was supposed to be done in December 1996. Mauriello explained the plan involved Pete Caruso going into Blitzstein's house and committing a burglary. Caruso would then leave the front door open so that Davi and Friedman could gain access to the house where they would wait for Blitzstein to come home and kill him. Mauriello told Davi and Friedman that Caruso believed that Mauriello and his son Steve, was going to to commit the murder. Mauriello told Davi and Fried,an that all information regarding the murder and the set up was being obtained from Pete Caruso.
Mauriello provided a .38 caliber revolver which could be used in the murder. Davi described this gun as being old, silver, and having a short barrel. Friedman said the .38 caliber would be too loud to commit the murder as outlined by Mauriello.
Friedman and Davi then contacted a fried and drug supplier named Ryan who owned a .22 caliber pistol. Davi described this as being a black semi-automatic handgun. Ryan agreed to give the .22 caliber pistol to Davi and Friedman and offered to have a silencer made for the .38 caliber revolver. Friedman and Davi took possession of the .22 caliber pistol, which Ryan later reported stolen. They gave Ryan the .38 caliber which he returned to them about one week later with a silencer welded to it.
Al Mauriello had Herb Blitzstein's address, which he had obtained from Pete Caruso, but was unable to find the house. Since Davi knew the Las Vegas area better than Mauriello, Davi showed Mauriello the neighborhood. On one occasion, Al Mauriello, Steve Mauriello, Davi, and Friedman, drove to Blitzstein's house in Friedman's Mercury Sable. On this occasion, Davi and Mauriello pointed out Blitzstein's house. This occurred two (2) to three (3) weeks prior to the murder.
The murder was supposed to occur in December 1996, but was postponed on at least three (3) or four (4) occasions by Mauriello. On these occasions, Mauriello contacted Friedman and Davi to advise them the burglary and murder would occur on a specific day. Each time the plans were canceled. Mauriello told David the murder was canceled on each occasion because Blitzstein had a houseguest. Mauriello told Davi the houseguest was a young female who had a breast augmentation and was recovering. Friedman wanted to do the murder anyway and kill Blitzstein and the girl both, but Mauriello would not approve of this.
During December 1996, Davi and Friedman took the .22 caliber pistol and the .38 caliber with the silencer to a location near Red Rock Canyon where they test fired the weapons. Friedman was unhappy with the .38 caliber silencer, but decided to use the weapons anyway. The weapons were given to Al Mauriello and Steve Mauriello to be stored until the day of the murder.
On the day the murder occurred, Mauriello called Richard Friedman on his cell phone. Davi and Friedman were together at Bagel Mania, which is located near the intersection of Twain and Swenson. Mauriello told Friedman the burglary and murder would occur today and Mauriello will call Friedman and Davi when it is time to commit the murder. Davi and Friedman went to the cigar store and drove around for a few hours. Mauriello never called Friedman so Friedman called Mauriello. Mauriello told Friedman and Davi to come to his apartment immediately.
Just before arriving at Mauriello's house, Davi telephoned his wife, Brandi, from Friedman's cell phone. They then drove to Al Mauriello's residence in Friedman's Mercury Sable. When they arrived at Al Mauriello's residence. Steve Mauriello was there but in another room. Al Mauriello gave the murder weapons to Friedman, who put them in a briefcase. Mauriello told Davi and Friedman the front door to Blitzstein's residence was open and they could go in and wait for him and kill him when he came home between 5:30 and 6:00 p.m. Mauriello also told Davi and Friedman to steal anything they wanted and to call Mauriello when the murder is completed. Mauriello instructed Davi and Friedman to tell Mauriello "the party went well" when the murder was completed.
Davi and Friedman then drove to Blitzstein's neighborhood and parked the Mercury Sable several blocks from the residence. Friedman then, carrying the briefcase, walked to Blitzstein's front door and entered. Davi waited a couple of minutes and followed. It was approximately 3:00 p.m. when Davi and Friedman entered Blitzstein's residence. Both Davi and Friedman were wearing latex gloves at this time.
When Davi entered Blitzstein's residence, he sat in a chair near the front door. David observed Friedman looking around the house and taking various items and putting them in a briefcase which Davi believes must have belonged to Blitzstein. Davi observered Friedman move a chair by the door, and a table so he could have more room.
Davi also observed Friedman take a bottle of Louis XIII brandy and put it in the second briefcase.
Davi and Friedman waited in the house for Blitzstein. Friedman placed both guns on the dining room table and the briefcase he carried them in was placed on the floor. While they were waiting for Blitzstein to come home, Davi tried to talk Friedman out of doing the murder. Friedman stated he would do the murder by himself and Davi shouldn't worry about it.
Davi observed Friedman wrap a towel around the .22 and .38 caliber weapons. Friedman did this because he believed the weapons would make too much noise equipped as they were.
Davi went to the bathroom exactly when Blitzstein arrived home. Davi heard the garage door open and walked into the room to observe Blitzstein walking in the front door with a cell phone in his hand. Friedman shot Blitzstein once in the face with the .22 caliber pistol. Davi heard Blitzstein say "oh no, why me?" Davi observed Blitzstein turn as he was hit and approach Friedman. The .22 pistol jammed and Friedman screamed for Davi to help. Davi grabbed the .38 pistol by the silencer and handed it to Friedman. Friedman grabbed the weapon and shot Blitzstein. Davi observed Blitzstein falling down and landing with his head on a chair. Davi said the shot from the .22 caliber was fired approximately six (6) inches from Blitzstein's face and the .38 caliber shot was fired approximately five (5) or six (6) feet from Blitzstein.
After seeing Blitzstein fall into the chair, Davi ran out of the residence. Davi went directly to Friedman's vehicle and waited for him. Friedman arrived a short time later and advised Davi he shot Blitzstein in the back of the head with the .39 revolver because he was still moving, even after being shot twice. Friedman had two (2) briefcases in his possession when he returned to the car. One briefcase contained jewelry, watches, and the Louis XIII brandy. The other briefcase contained the murder weapons.
David said it was sometime around 6:00 when the murder occurred.
Davi called Al Mauriello, using Friedman's cell phone, and told Mauriello that "the party went well."
Davi then telephone Brandi Davi at home, but she was not there. He then paged her and she called back on Friedman's cell phone.
Friedman and Davi proceeded directly to Davi's residence so that Davi could change his pants. Davi urinated in his pants at the time of Blitzstein's murder. From his house, Davi called his wife at work and she agreed to meet Davi and Friedman at the Outback Steak House.
Davi and Friedman then proceeded to the Outback Steak House. Friedman called Al Mauriello one or two times from the restaurant. Mauriello was not home but Friedman left a message. Mauriello returned Friedman's call at approximately 8:00 to 8:30 p.m. that night.
After finishing dinner, Davi took his wife home in Davi's vehicle. They were followed by Friedman who was driving his Mercury Sable. Once Davi arrived at his residence, he joined Friedman in Friedman's vehicle and both proceeded to Al Mauriello's apartment. Al Mauriello paid Richard Friedman an unknown sum of money at this time. Friedman later handed Davi $1,500 in the parking lot of Mauriello's apartment. This was Davi's share of the proceeds of the murder. While at Mauriello's residence, Davi bragged that he shot Blitzstein but this is not true.
The day after the murder, Davi and Friedman pawned jewelry stolen from Blitzstein's residence at a pawn shop on Sahara and Jones and a pawn shop in Commercial Center, next to the San Francisco Restaurant. Friedman gave Davi $100 of the proceeds from the pawned jewelry.
Friedman told Davi that he destroyed the murder weapons by busting them up and throwing them in a dumpster located near Friedman's residence.
Subsequent to the murder, Davi and Friedman visited Al and Steve Mauriello frequently. Davi often played cards with Al Mauriello while Richard Friedman watched. Approximately one week after Davi received $1,500 from Friedman, Friedman and Davi met Al Mauriello at the Stardust Casino. On this occasion, Mauriello gave Friedman an undisclosed amount of money. Mauriello gave Davi $200 on this occasion.
Davi said that on at least one occasion, Friedman and Davi told Al and Steve Mauriello the details of Blitzstein's murder. Friedman told Al and Steve Mauriello all of the details including the fact that Davi did not fire any shots during the murder.
Sometime after Blitzstein's murder and before Mauriello's arrest, Mauriello contacted Davi and Friedman and advised then that Teddy Binion offered to pay $50,000 to have his sister Beck killed. Binion later changed his mind and a plot was hatched to rob and kill Binion. Mauriello told Friedman and Davi that Binion will be robbed and a door to his house would be left open so Davi and Friedman could kill him. Mauriello said Binion was a heroin user and gave Binion's address to Friedman and Davi. Friedman came up with a plan to use a tazer on Binion and give him an overdose of heroin while he was under the influence of a tazer. Davi said the tazer which was recovered from Friedman's residence by the Federal Bureau of Investigation (FBI) was to be used during Binion's murder.
Al Mauriello also told Davi and Friedman of a contract murder which was to be done in the Los Angeles area. Nothing ever came of this murder and no victim was identified to Davi and Friedman by Mauriello.

Copyright © Las Vegas Review-Journal
THE BINION FILES
Recently released documents show FBI kept extensive records on former casino executive.
The day before he died, Ted Binion told his lawyer that he had calculated his net worth to be $73 million.
Attorney James Brown replied that he would have placed the tally closer to $50 million, but added the important thing was that Binion had all the money he would ever need. A skeptical Binion responded that he wasn't so sure.
"You never know when you'll get a catastrophic illness or a RICO action," Binion told him.
Some in the gallery chuckled when Brown recounted this conversation while testifying last year at the trial in which Rick Tabish and Sandy Murphy were convicted of killing Binion.
But previously secret documents the Review-Journal obtained under the Freedom of Information Act show Binion had every reason in the world to fear federal prosecution under the Racketeer Influenced and Corrupt Organizations Act.
Before he died, the former casino executive was a target of at least three RICO investigations mounted by the FBI.
Two of the investigations, involving allegations of murder and drug trafficking, spawned no charges. A third resulted in a racketeering indictment, ultimately dismissed, that named Binion and others associated with the Horseshoe Club, the downtown casino made famous by Binion's father, Benny Binion.
Attorney Richard Wright, who often represented Binion, said it's not so significant that federal law enforcement had its suspicions about Binion and the family business.
What's noteworthy, he said, is that not one prosecutable case emerged from the federal investigations that employed hypnosis, physical surveillance, video surveillance, electronic monitoring, confidential informants and undercover operations.
"To me, this is almost a Good Housekeeping Seal of Approval being put on the Horseshoe and Ted Binion," Wright said after reviewing the FBI file, which covers a 12-year period beginning in 1981. "They went all out to nail them, and obviously found nothing."
The public long ago grew accustomed to news that Binion was involved in some transgression or other, and his exploits often had a bizarre twist.
When he tangled with a gas station attendant, the man turned out to be a fugitive who would later admit to beating a homeless man to death with a log.
When his drug abuse and association with shady characters cost him his gaming license, Binion passed dozens of random drug tests. But when one hair test came back positive for marijuana, he shaved his head, chest and armpits before submitting to a follow-up test that detected no drugs.
So while it is not shocking that FBI agents investigated Binion, the depth and breadth of the allegations elicited surprise, and derision, from several people close to Binion, including himself.
His sister, Becky Behnen, said Binion obtained his FBI file about a year before he died and was amazed to discover some of the crimes that had been attributed to him.
Behnen, who now controls the Horseshoe, said Binion was dismayed by the accusation that he was the person who shot and killed Rance Blevins outside the family casino in May 1979. A Horseshoe employee pleaded guilty, but the FBI suspected Binion was the triggerman.
"Ted was very hurt by it," Behnen said.
She said her brother was less troubled by the allegation that in the early 1980s the FBI considered him "one of the major cocaine traffickers in Nevada."
Though her brother's own heroin habit was the stuff of legend, Behnen said he was amused by the suggestion he was a drug trafficker.
"I remember him laughing about them saying that he was selling cocaine," Behnen said. "To him, that was so absurd it was laughable."
In response to the Review-Journal's request for documents relating to Binion, the FBI reviewed 323 pages, of which 232 were released. The pages are heavy with redactions.
The earliest reports contained in the FBI file concerning the pre-dawn shooting of the 38-year-old Blevins.
Chief Deputy District Attorney Dan Bowman, who prosecuted the case, said Blevins was involved in a ruckus inside the casino and was ordered to leave. As he departed, he kicked and shattered a large plate-glass window.
Witnesses told police that a uniformed security guard and a man in civilian clothes chased Blevins down the street, where he fell to his knees. Witnesses said the man in civilian clothes then took the security guard's weapon and shot Blevins in the head.
"A contact wound," the prosecutor said.
Initially, three people who witnessed the shooting identified Binion as the man who pulled the trigger, Bowman said. Prosecutors were readying their case against Binion, then the secretary-treasurer of the casino, when a stunning development forced them to change direction.
"All three witnesses did a 180 and fingered Walter Rozanski, who was a pit boss at the Horseshoe," Bowman said.
Rozanski then was charged with murder, pleaded guilty to manslaughter and was sentenced to probation. Bowman said police and prosecutors always suspected that Binion was the actual gunman, though they had no chance of securing a conviction with all the witnesses pointing the finger elsewhere.
"I thought the witnesses had been paid to change their story, but I couldn't prove it," Bowman said.
Newspaper accounts of the slaying said witnesses told police the gunman was wearing a blue-plaid jacket. Police said the jacket, which was found in a casino count room, belonged to Rozanski.
In 1981, an unidentified source led the FBI to suspect that Binion was the actual gunman. Agents wrote that they then questioned three witnesses to the slaying who tended to corroborate the information provided by the source. But in at least one instance, a witness's account was not consistent with the physical evidence.
"One witness positively names ... Binion as forcibly striking the victim on the head with an automatic pistol. The autopsy report reveals only one wound to the victim's head which resulted in his death when the weapon discharged," an FBI agent wrote.
Agents sought and received permission to use hypnosis to interview two witnesses they deemed cooperative but unable to recall details of the slaying. Documents released by the FBI do not reveal whether this strategy was effective.
But agents did write that witnesses to the shooting were consistent in describing the gunman as a 5-foot-10-inch white man with dark hair and slender build, wearing a plaid jacket and dark pants. "Said physical description matches only that of Teddy Binion," an agent wrote.
The weapon used in the slaying never was recovered.
"Shortly after the shooting, (censored) witnessed a Horseshoe security guard carrying a gun wrapped in tissue paper out the back door of the Horseshoe Casino," an FBI agent wrote.
In December 1981, federal prosecutor Lawrence Leavitt, now a U.S. magistrate in Las Vegas, concluded that electronic monitoring was appropriate in the case.
"It was his opinion that based on a factual analysis of the case, there is probable cause to believe that (censored) was not responsible for the shooting death of Blevins, and that bribes were paid in order to shift the blame from Binion to (censored)," an agent wrote.
The probe led to no criminal charges, and the documents released by the FBI do not explain why.
Behnen said she has a document in which her brother recounted the events that transpired outside the Horseshoe the night Blevins was killed.
She declined to release the document, but said her brother was deeply pained by the incident and did not understand why some people were convinced he was responsible.
"There was an element in this community that wanted it to be Ted. But it wasn't," Behnen said.
Attorney Oscar Goodman, now the mayor of Las Vegas, represented Rozanski and said he knows of no evidence to indicate Binion was the gunman. "I wouldn't have made my deal for Mr. Rozanski as I did if there was any truth to it," he said.
The second RICO investigation, which also yielded no charges against Binion, began when the state Division of Investigation forwarded a tip to the FBI in August 1983.
At the heart of the ensuing investigation was the allegation that Binion was a member of a major cocaine ring that smuggled drugs into Florida from the Bermuda Islands.
"Teddy Binion is believed to be one of the main suppliers of cocaine in the Southern Nevada area, and is also a heavy cocaine user," one agent wrote.
In their reports, agents said they believed an unidentified courier would travel to Miami to obtain deliveries of about 10 kilos of cocaine. He then would divide this into smaller amounts, which were then mailed to Phoenix via Federal Express.
The courier then would fly to Phoenix, collect the packages, and drive to Las Vegas. FBI agents believed the cocaine was then distributed to those suspected of participating in the drug ring, all of whose names were censored with the exception of Binion.
"Binion uses the casino cage at the Horseshoe Hotel and Casino to launder the drug money," an agent wrote.
No cogent account of the investigation can be pieced together from the more than 150 pages of heavily redacted material released by the FBI.
What is clear is that the FBI, with the cooperation of the Internal Revenue Service, planned to make an undercover drug purchase. The FBI ultimately concluded that an undercover agent, who was intended to play a key role in the probe, would not be in a position to discuss illegal activities with any suspects.
Furthermore, an undisclosed amount of IRS funds was lost in an unspecified manner. And in September 1984 agents were ordered to take no further action pending an administrative inquiry into how the probe had been conducted. The results of that inquiry were not disclosed.
Wright said the money laundering allegations appear to be based on the notion that the Horseshoe permitted people to gamble with money obtained through shady activities.
He said Congress at that time was broadening the money laundering statute to include any transaction in which a person receives money that they know derives from criminal activity.
Previously, Las Vegas casinos had no interest in the source of a gambler's money, the attorney said. "They didn't care where the money came from, as long as it was money."
Tidbits of information contained within the FBI reports suggest that this investigation in some degree involved Jimmy Chagra, a legendary high roller who was acquitted in the slaying of a federal judge but convicted on federal drug charges.
In the late 1970s, Chagra faced federal drug conspiracy charges, and his trial was scheduled to be heard by U.S. District Judge John H. Wood Jr. of San Antonio. The judge's harsh sentences had earned him the nickname "Maximum John."
As the trial loomed in May 1979, Wood was shot to death outside his home. Authorities charged Chagra with hiring hitman Charles Harrelson, the father of actor Woody Harrelson, to kill Wood.
Charles Harrelson was convicted of murder and is serving a life sentence. Chagra was acquitted in a trial in which he was represented by Goodman.
Chagra's name appears nowhere in the unredacted portions of the Binion file, and he already was serving a 30-year federal drug sentence when the Binion drug and money laundering probe started in 1983.
However, agents in the Binion case said the illegal activity commenced in 1977. Chagra's federal drug conviction stemmed from a series of smuggling operations that landed cocaine and marijuana on the Florida coast between 1977 and 1979.
Also, Chagra hailed from El Paso, Texas. An FBI report in the Binion probe states that at least one associate of the smuggling ring lived there.
And when the FBI investigated Binion anew in the late 1980s, an agent who looked back on the 1983 probe indicated it involved a person linked to the Wood slaying.
"(Censored) was a principal subject in the FBI major case -- WOODMUR, dealing with the murder of San Antonio Federal Judge John Wood. Information indicated that it was the Binion family that introduced (censored) to (censored) in the Wood shooting. It is believed that their introduction took place at the Horseshoe Casino," the report reads.
In his book "Dirty Dealing," author Gary Cartwright said a Las Vegas associate of Chagra told the FBI that Charles Harrelson and Chagra met in May 1979 during a poker tournament at the Horseshoe. But the account states that it was Harrelson who took the initiative to introduce himself to Chagra, and there is no mention of any Binion family member being present.
"That guy is passing himself off as a killer, what do you think?" the report said Chagra asked his associate after the departure of Harrelson, whom the FBI confirmed was registered at the Horseshoe during this period.
Cartwright also wrote that the news media, citing a leaked FBI memorandum, reported in 1978 that a federal grand jury in El Paso was examining the relationship between Binion, notorious mobster Tony Spilotro and Chagra's older brother Lee, a controversial lawyer who later was shot to death. This was the same grand jury that was probing the criminal activities of Jimmy Chagra.
Goodman scoffed at the suggestion that Binion and Chagra were colleagues in crime.
"The only connection that I knew of between Jimmy Chagra and Ted Binion was that Jimmy loved to lose his money playing at the Horseshoe," Goodman said.
While discussing matters other than Chagra, Wright said it is dangerous, if not foolish, to draw inferences from redacted material. When documents are heavily redacted, as in the Binion FBI file, the danger is multiplied, he said.
"You're not seeing the entire portrait," Wright said. "It's tough to even tell who they are talking about."
Wright was among the attorneys who defended the eight people charged in an April 1990 indictment stemming from the FBI's final RICO investigation involving Binion.
The indictment alleged a series of beatings, robberies and kidnappings between June 1977 and October 1986 of "undesirable patrons" at the Horseshoe. Prosecutors dismissed the indictment in August 1992, about two months before the case was scheduled to go to trial.
"The evidence we obtained didn't stand up. As we got deeper and deeper and deeper into it, the evidence wasn't there and we had to do the right thing," Kurt Schulke, head of the U.S. attorney's Organized Crime Strike Force in Las Vegas, said Tuesday.
Wright, who represented one of Binion's co-defendants, said he was shocked to read in the early FBI reports the objectives that agents believed the case would serve.
It was not inaccurate to say that the probe would examine allegations that included murder, kidnapping, robbery and civil rights violations. But the end result of the case demonstrated that agents had cast these allegations in the most heinous light possible, probably in hopes of convincing their superiors that the operation merited funding, Wright said.
"It mischaracterized the nature of the case," he said.
Agents had hoped to prove money laundering was occurring at the Horseshoe. The FBI believed the practice was widespread in Las Vegas, and agents were eager to make an example.
"An indictment for money laundering involving a casino owner would have a major impact on the casino industry in Las Vegas and would send a clear message to casino operators that the FBI is cracking down on the activity," one agent wrote.
Toward this end, agents contemplated an undercover operation. The results of this venture were not disclosed, though agents seemed skeptical from the start.
"The Binions are very cautious of who they conduct business with, and it is practically impossible for someone unacquainted with the Binions to get close to them," an agent wrote.
The files released by the FBI contain no documents generated between the August 1992 dismissal of the indictment and the September 1998 death of Binion.
At the trial of Tabish and Murphy, prosecutors said the victim was suffocated after he was forced to ingest potentially lethal amounts of heroin and the prescribed sedative Xanax. Jurors found the pair guilty of murder, and they are serving life in prison.
Defense attorneys had contended that Binion overdosed on heroin, forfeiting his life in much the same way he earlier had forfeited his once promising gaming career.
Witnesses detailed Binion's heroin habit, including his own estimate that he spent a total of $1 million on the drug. And jurors learned that Binion associated with some shady characters.
But jurors did not hear of the allegations contained within the FBI documents released under the Freedom of Information Act. Had they possessed these documents, defense attorneys would have had to convince District Judge Joseph Bonaventure that they were relevant to the murder trial.
Clark County District Attorney Stewart Bell, a former top criminal defense attorney, said defense attorneys often try to delve into the past to show jurors that a victim had other enemies with motive and opportunity to kill. Prosecutors likewise seek to inform jurors of the relatively distant felony convictions of a defendant.
The greater the passage of time, the more difficult it is for attorneys to convince a judge that a given piece of evidence is material to the case at hand, Bell said.
"The state wouldn't be able to get in evidence that Ted Binion was voted most likely to succeed in his high school class," he said by way of example.
Bell said trying to convince a judge of the relevance of events that occurred two decades ago is typically an uphill battle. He added that jurors in the Binion case were well aware of the victim's familiarity with the drug culture.
"That was the defense, and it wasn't accepted by the jury," he said.
Behnen, the sister who spurred authorities to treat her brother's death as a homicide when all signs pointed to an accidental overdose, put little stock in the litany of allegations contained within the FBI reports.
In her opinion, the reports simply reflect all of the tips that informants lodged against Binion. Agents had a duty to record this information, whether they believed it or not, Behnen said.
"I don't think they did," she said.

5/30/01
By Jeff German
german@lasvegassun.com
LAS VEGAS SUN
District Attorney Stewart Bell said Tuesday he won't seek immunity for a former jailhouse informant who once claimed to have knowledge of misconduct by prosecutors in the Ted Binion murder case.

The informant, David Gomez, a three-time convicted felon now serving federal prison time for perjury, asserted his Fifth Amendment right against self-incrimination and refused to answer questions under oath when the allegations previously arose in the Binion case.
Herb Sachs, an attorney for Sandy Murphy, one of Binion's convicted killers, sent Bell a letter last week requesting immunity.
But Bell said Tuesday: "It's not going to happen.
"David Gomez is a liar and a career hoodlum," Bell said. "Why should we reward him to get up on the witness stand and lie again?"
Sachs said he isn't surprised to hear that Bell has declined to pursue immunity for Gomez.
He said the district attorney's office isn't interested in finding out the truth.
"If they want to show that he's a liar that would be the way to do it -- put him on the witness stand and cross-examine him," Sachs said.
The defense previously has claimed that Chief Deputy District Attorney David Roger, the lead prosecutor in the Binion case, conspired with jail officials to plant Gomez in the same cell block as Murphy co-defendant, Rick Tabish, to steal Tabish's confidential notes prior to last spring's trial.
At the time, Gomez had been cooperating with jail officials in other matters.
Roger has called the allegations relating to Tabish "false" and "slanderous.
"There has not been a scintilla of evidence to corroborate this convicted perjurer's claim that I planted him next to Tabish," Roger said Tuesday. "The allegations are ludicrous."
In his letter, Sachs said Bell has an obligation to seek the truth.
"The failure of your office to offer Mr. Gomez immunity ... would deprive the public from hearing his accusations under oath and would only sustain the public's impression that your office is guilty of a cover-up," Sachs wrote.
Last August, when Bonaventure tossed out the informant's allegations in court, Roger charged that Gomez had psychological problems.
Gomez later was ordered to undergo a psychiatric evaluation in federal prison.
Sachs is working on Murphy's appeal and a motion for a new trial based on prosecutorial misconduct.
Murphy and Tabish were convicted May 19 of killing Binion at his 2408 Palomino Lane home. Prosecutors alleged the killers pumped the wealthy gambling figure with drugs and suffocated him.

Cathy Scott is a journalist and author living in Las Vegas. She covered the Binion trial for APBNews.com and Reuters news service. Her book, "Death in the Desert: The Ted Binion Homicide Case," is now out and one of the thesis in the book is the fact there might not have even been a crime committed in the Binion case. We had Cathy on the air last night ( Tuesday, March 27th) and she is an interesting lady. Click on her web site and order her book and read the most in depth story behind the Binion empire that started crumbling with the death of the controversial son.
We are inclined to agree with Cathy that it was not a murder at all; or if it was, Sandy and Rick didn't do it. So therefore, we have agreed to post the following information:
Sandra Murphy Defense Fund PO Box 39237 Downey, CA 90239.
Juror number two, she lied
: Transcript:
LAS VEGAS, NEVADA, MONDAY, MAY 8, 2000, 9:05 A.M.
(Jury is not present)
THE COURT: Juror Number 2, would you just sit over there a minute so I could see you?
JUROR NO. 2: Yes.
THE COURT: Thank you.
You know, I want to preface my remarks by explaining to you that you are here being questioned at the request of the Court and not by any request of the attorneys or -- any defendants, the attorneys or the State. The Court just wishes to put on the record that which you have already expressed in chambers, all right?
JUROR NO. 2: Okay.
THE COURT: I just have to put it on the record in open court here.
And, Juror Number 2, you have previously indicated in chambers you said something to your husband, to my secretary, that you're gonna write a book about your experience as a juror, is that correct?
JUROR NO. 2: Yes.
THE COURT: You did say something about that?
JUROR NO. 2: I did, yes.
THE COURT: All right. You also indicated that the remark was made flippantly as a joke, is that correct?
JUROR NO. 2: Yes.
THE COURT: And you were not serious when you made such a remark?
JUROR NO. 2: Absolutely.
THE COURT: And you indicated that you actually have no intention of writing a book, is that correct?
JUROR NO. 2: Absolutely correct.
THE COURT: And you are not now in the process of writing a book about this experience, is that correct?
JUROR NO. 2: Correct.
THE COURT: And have you been approached -- Have you approached anyone or has anyone approached you about the possibility of your writing a book and having it published?
JUROR NO. 2: Definitely not.
THE COURT: You also indicated you remarked that the defendant's -- I think you said something about Armani shirt, was beautiful. Is that the extent of your remarks about the shirt?
JUROR NO. 2: That is the extent of my remarks.
THE COURT: And the fact that you joked about the writing of a book and the quality of the Armani shirt, will that cause you any bias against either party?
JUROR NO. 2: Not at all.
THE COURT: Can you objectively participate in this trial and in its deliberations?
JUROR NO. 2: Most certainly.
THE COURT: Do you have any preconceived state of mind, opinion or bias to either party?
JUROR NO. 2: No.
THE COURT: Has your actions affected your impartiality?
JUROR NO. 2: No.
THE COURT: Based upon your actions, have you become prejudiced as a result and you could not render a fair and impartial verdict?
JUROR NO. 2: No.
THE COURT: Will this affect your ability to continue to give the defendants and the State a fair trial?
JUROR NO. 2: No.
THE COURT: Will you weigh and consider all the facts and circumstances shown by the evidence for the purpose of doing equal and exact justice?
JUROR NO. 2: Yes, I would.
THE COURT: Can you continue as a juror and render a fair and just decision?
JUROR NO. 2: Yes.
THE COURT: Do any of the attorneys have any questions?
MR. ROGER: No, sir.
MR. WALL: No, Judge.
MR. PALAZZO: No, Your Honor.
THE COURT: Thank you very much.
A prominent figure in the Ted Binion murder case has filed a lawsuit against California authorities over her arrest as a material witness last year.
Linda Carroll, once the subject of a nationwide search in the case, is suing Riverside County and its sheriff, Larry Smith, as a result of her Jan. 6, 2000, arrest, which she contends was prompted by a material-witness warrant filed by Las Vegas prosecutors in the Binion case.
In the 12-page complaint, her California lawyer, Chet Bennett, said Carroll has been "severely traumatized" by her experience at the Riverside County jail and has contemplated suicide.
Bennett told the Sun on Wednesday that Riverside authorities acted as "henchmen" in his client's arrest for Chief Deputy District Attorney David Roger, the lead Binion prosecutor.
Roger refused to respond to Bennett's accusation. Bennett said in the complaint that Carroll, a friend of Sandy Murphy's, one of Binion's convicted killers, suffered through much humiliation during her two-day ordeal in custody. She was strip-searched at the jail and forced to make her court appearances in handcuffs and chains, he said.
While at the jail, she was kept in lockdown conditions and not allowed to take a shower, Bennett said. "She was denied all contact with the outside world, including her attorney and the general population inmates," he wrote.
Carroll, who lives in Riverside County, was a much sought-after witness early in the Binion investigation. She had spent time with Murphy in the hours before and after Binion's Sept. 17, 1998, death, and prosecutors believed she had intimate knowledge of the events leading to the 55-year-old gambling figure's demise.
In spring 1999, investigators looked for Carroll for weeks in an attempt to subpoena her to a Clark County grand jury probing Binion's death. The syndicated television show, "America's Most Wanted" and the Criminal Apprehension Team in Las Vegas were asked to assist in the search.
Ultimately, Carroll voluntarily agreed to testify. On April 15, 1999, she drove up outside the grand jury room in a white limousine with Bennett and testified reluctantly for four hours. She left telling reporters she didn't believe Binion had died in a suspicious manner.
Transcripts showed that Carroll was evasive throughout her testimony, providing Roger with little information.
Although she publicly denied it, investigators believed Carroll was afraid to testify against Murphy and co-defendant, Rick Tabish. She reportedly had told several people she feared for her life.
After Carroll's testimony, prosecutors considered seeking perjury charges against her, but ultimately decided against it.
Roger filed the material arrest warrant to ensure that she would show up at the murder trial. Both sides listed her as a potential witness, but neither ended up calling her to the stand. "We saved her as one of our last witnesses," Roger said. "The case had gone so well for us that we decided wrestling with her testimony wasn't worth the effort."
interviewed the Jurors and the case was far from a slam dunk and major questions remain about some of the Jurors. Book Deals are everywhere and the appeals look stronger every day.
We are updating and reformatting the Ted Binion Murder pages over the next few weeks. Basically, we are going to be looking into the alternatives to what the trial brought out. However, first of all, we need to examine the issue of Depraved Indifference. Some people think the Jury thought this was reason enough to convict them.
Depraved Indifference is a Nevada Law term used to convince those jurors who thought Binion died of an accidental drug OD to vote guilty of murder. In the Jury room, we have been given to understand that it was pointed out that in any death, even if accidental, would be considered murder one, if the jury thought a robbery occurred. There was no evidence presented during the trial regarding the theory of depraved indifference. The jury had been told that if the defendants were at the house when Binion died, that that meant they were guilty of murder because they had sit by and watched him die. This was done inside the jury room by one of the jurors.
The evidence used to place Rick Tabish at the scene was a toilet seat lid left up, phone records showing that Rick and Sandy had not called each other on the morning of the 18th, and a water meter receipt, that was suppose to signify that Rick was working on a water line when Binion died. There were three witnesses put on the stand that testified Rick was working on the water line. One juror said in deliberations that from her husband's business she knew there was a 24 hour waiting period to have a water meter installed. I have been told by one person who seems to know that this is not true, because people in Las Vegas can install water meters themselves.
Getting at the truth is the aim of this updated page. I have been told by more than one person close to the defense, that they still believe that both Rick Tabish and Sandy Murphy are not the killers. Most seem to accept the accidental theory surrounding the death, but then to me, there are too many questions left unanswered here. What about the missing silver? What about the threats to Harry Claiborne and Oscar Goodman, who are connected to this case. Clairborne represents the Binion Estate and Goodman was Murphy's attorney for a brief time before he was elected Mayor. We will have more soon.
Jerry ( Midnight January 15, 2001)
Sandy Murphy and Rick Tabish still say they are innocent of the murder of Ted Binion even though they are going to be spending Christmas in prison. We are getting to ready to post new information about why they just might be. If you need to check the history of the Binon case then go here or click on photo
Rumors of Financial Trouble for the Binion Family surfaces:
Steve Miller seems to have an inside track on the dirt on the Binion Family. He is reporting in the Las Vegas Tribune column that the Horseshoe Hotel and Casino in downtown Las Vegas is behind in its ground lease rent and its yearly payment to the Fremont Street Experience Limited Liability Corporation. Miller attributes the story to according to reliable sources.
One of the landlords who owns the property under the casino told the newspaper that he has not received his rent payments from casino owner Becky Binion-Behnen for over a year. One report says the amount is well over one million dollars. It is also reported that other Horseshoe landlords have not received their year 2000 rent payments indicating that the casino.
After a bitter legal battle, Becky Behnen gained control of the casino from her estranged brothers Jack and Ted Binion in 1998. The feuding siblings are the children of Horseshoe Club founder Benny Binion. Ted Binion permanently lost his gaming license in 1997 for narcotics violations.
In 1998, shortly after witnesses reported that Binion ordered Nick Behnen and nephew Benny Binion Behnen off his Palomino Lane property at gunpoint. A drive-by shooting at Ted Binion's home occurred one week later. Police reports indicate Ted Binion accused his nephew Benny of being the shooter. Later Binion was found dead and his girl friend and associate were arrested and convicted of the murder.
Miller says that prior to Ted Binion's death it was rumored that the brothers were planning to repossess the casino from their sister and brother-in-law. If that were to occur, Ted Binion would need to have his gaming license reinstated in order to manage the casino.
Miller who is no friend of fomer mayor Jan Jones writes that on the day before his death, Ted Binion donated $50,000 to then gubernatorial candidate Jan Jones. Miller speculates that Jones promised to reinstate Ted Binion's revoked gaming license in the event she was elected Governor.
Another major downtown property, Fitzgerald's, has gone into Chapter Eleven-bankruptcy protection. Fitzgerald's' has since been sold to Don Barden of Detroit. When the Fremont street project was started there was quite a ruckus over the fact that there was a transfer of ownership of four blocks of Fremont Street to private interests without a public vote.
Miller has talked about Jones appointment of Kenny Wynn, of Steve Wynn fame, to project manager of the 1993 downtown Freemont Experience. The younger Wynn had had his gaming license suspended because of a narcotics violation.
As we have pointed out in the past about the Horseshoe might have some financial concerns, the casino had refused to cash its five thousand dollar chips and only started doing so the day before a Gaming Commission hearing about the subject. The million dollars on display was taken down by the new operators of the Casino as well; casting doubts about credit available to the sister of the Binion brothers. Most speculation gathered around that someone who needed the cash demanded the display. It was a major tourist attraction and most people considered that money safer than being in a bank.
Secret Binion Tapes Surface
After being locked in a file at the Nevada Gaming Control Board Enforcement Division for almost two years, the Las Vegas Tribune has received a verified a copy of a CONFIDENTIAL INTELLIGENCE REPORT. This report may shed new light on the death of Ted Binion and incriminate additional suspects.
The Confidential Reports were photocopied from Gaming Control Board official forms. This Report includes a written transcription of several phone messages left on Ted Binion's answering machine from a man purported to be Nick Behnen, Ted's brother in law. A transcript of the calls was produced by Intelligence officers of the Nevada Gaming Control Board and we think you will find them interesting because they tell in very blunt language and Steve Miller has pointed out on his web site and radio shows that they were never used in the murder trial.
We understand that famous attorney Alan Dershowitz will bring this up in an upcoming appeal. Source:
http://www.SteveMiller4lasvegas.com/Newsdx.html#TheSecretBinionReport
Did you say Depraved Indifference was a Nevada law? It isn't.
We look forward to your posting of the witness section. This is testimony that anyone in the court room would have heard. I do have the transcripts but that is public knowledge and will not affect the appeal. There will be information regarding witnesses not called etc, and this came directly from the
Motions for a New Trial that were filed. These documents are available on the web so that is not protected information that could affect the appeal either. We are not going into appellate issues, but we want to show people how the star witnesses were not credible.

http://communities.msn.com/DesertJustice Good Link for more information and back ground of Ted Binion murder and trial.
December 25, 2000 Sandy spends Christmas in Prison
IN a unique attack upon the District Attorney, the father of Sandy Murphy filed a motion last Friday seeking to order prosecutors to pursue criminal charges against Ted Binion's confressed herioin dealer Peter Sheridan.
Sheridan testified in April that he supplied Binion with a dozen balloons of tar heroin the night before the controversial gaming figure was found dead in September 1998. In court documents filed Friday, Ken Murphy and local paralegal-radio personality Jack Ferm are asking the prosecutors to charge Sheridan in the sale of the drugs and the death of Binion.
Ken Murphy and his wife, Sandra, said the filing is just one component of a multi-front strategy to overturn the first-degree murder conviction for which their daughter is serving life in prison.
"We want our daughter out, and we are doing everything we can to get her out," said Sandra Murphy, Sandy's stepmother.
District Attorney Stewart Bell said although Sheridan admitted selling heroin to Binion, no heroin was found in Binion's home after the body was discovered. Therefore, prosecutors could not prove a crime was committed.
Also, prosecutors argued at the trial of Sandy Murphy and Rick Tabish that Binion was suffocated after first being forced to ingest a potentially lethal amount of heroin and the prescribed sedative Xanax. In seeking such a prosecution, Ken Murphy cites a state law that allows for a first-degree murder prosecution when a person provides illegal drugs whose use causes death.
Binion, 55, was found dead at the Las Vegas home he and Sandy Murphy shared for more than three years.
Prosecutors said he was killed when he moved to cut his girlfriend out of his will after he discovered she was having an affair with his friend Tabish. Defense attorneys contended Binion simply succumbed to the drug abuse that had torpedoed his gaming career.
Jurors in May found Tabish and Murphy guilty of first-degree murder, and they are serving minimum sentences of 25 and 22 years, respectively. We have been told that a lump was discovered in her breast just prior to sentencing in September. She has not sought medical treatment, in part because she does not believe she would receive adequate care in prison.
In April, Sheridan testified he knew Binion for nearly two decades. He said he sold Binion some heroin in 1985, then again years later in June of 1998. He testified that during the last three months of Binion's life, Sheridan would deliver four balloons of tar heroin to his house every three or four days. Each balloon contained about one-fifth of a gram of the drug.
The night before Binion died, Sheridan delivered 12 balloons of heroin to Binion's home. He said Binion paid him with $240 and 30 Xanax pills. The whereabouts of Sheridan is unknown and he testified without a grant of immunity.
In seeking to have him prosecuted, Ken Murphy and Ferm cite a state law that in certain instances permits a district judge to order a state or county official to perform his duty. The DA has to answer the motion by this Friday.
The case filed Friday initially was assigned to District Judge Stephen Huffaker. The plaintiffs said they will seek to have it randomly reassigned to another judge.

more end of the year Binion Murder developments:
December 20, 2000: CHRISTMAS CASH -
J.M. KALIL of the Las Vegas Review Journal had a story that seemed to be out of a movie instead of real life; but after all , these script writers get their ideas from ...where else, but real life. It seems that Rick Tabish has a hundred thousand dollar price on his head.

Tabish has been moved to a more secure area of High Desert State Prison near Indian Springs following a report Friday that someone may be offering a cash reward for his murder. Tabish, who was convicted in May of killing former casino executive Ted Binion, was moved to an isolated part of High Desert's intake unit while the Nevada Department of Prisons investigates the rumor of the bounty.
A reporter presented Prisons Department officials with a copy of an e-mail reportedly sent to the father of Sandy Murphy. Murphy, Tabish's lover and co-defendant, also was convicted in the murder of Binion. The e-mail was from a relative incarcerated at Ely State Prison, the state's maximum-security facility. Tabish is slated to be transferred there by the end of the year.
The e-mail claims two inmates at the facility heard rumors that someone will pay $100,000 for the murder of Tabish. High Desert facility is about 40 miles northwest of Las Vegas All convicts go to the location for routine medical and psychological tests upon entering the state prison system.

By the Third Week of the Trial it was clear that somebody was going to be convicted. For a full history of the trial click on the links below.