Binion's Million Dollar Display has been sold! Some say since the turn over of the Las Vegas Casino operation to sister Becki, cash is needed... could this end of an era by selling the crisp ten thousand dollar bills to an unknown collector be a sign of financial strain?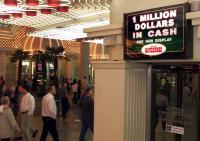 The Sign is still there but the Cash is Gone! Could this be just negligence by an operation that was known for its PR savy or is there cost saving going on with the day to day operation and no one has been paid to take down the sign and change the display area?
Another rumor on Fremont street is that the cash will be back... it was taken as security for a loan... strange things are happening in the Binion Dynasty!
In 1954, the brainchild of former Horseshoe owner Joe W. Brown the money and display was purchased by Benny Binion when he bought the Casino; but in 1959 the old man couldn't resist temptation and cashed in the money! Benny called in a Brinks armored car; but he didn't put the cash in the truck -- instead, he put it in his cowboy boots and walked to the bank! More details from the Las Vegas Sun reveal a collector bought the cash display for speculation!
Bennie had a storied history with several run ins with the law in Texas before going to Nevada; but none of his escapades seem to match his son Ted's. Back in 1997 when the Gaming authorities were putting the squeeze on Ted and his reported drug use; he showed up for a hair test to detect drugs completely bald.
In May of that year , Binion was arrested after a dispute with Thomas Lee Woodward, a service station attendant, in Las Vegas. Binion was accused of burglary, in possession of a firearm and aiming a firearm at a person. Police said Woodward sprayed Binion with pepper spray.
However by that coming September, Woodward pleaded to two misdemeanor complaints in exchange for prosecutors dropping felony kidnapping charges against Woodward in an unrelated event in 1996. Woodward pleaded guilty to aiming a firearm at a person and impersonating an officer.
I remember reading in the Las Vegas Review Journal That the gaming board also accused Binion of making a $100,000 loan to Peter Ribaste, a convicted felon accused of ties to organized crime. The gaming control board claimed Binion's girlfriend, Sandy Murphy, used marijuana in his home.
The interesting thing about this murder case is the subject; was he a gaming heir, a cheap two bit dope head and petty crook, or a charming playboy who loved expensive steaks and cheap women from topless bars?


Photo courtesy of www.casinoguru.com
Major Las Vegas PR man hired by Sandy's Lawyer- John L. Smith of the Las Vegas Review writes:
It's a question I pondered as I listened to Mark Fierro swear he wasn't being retained by attorney John Momot to help recraft the media's perception of Sandra Murphy, the woman accused of helping kill troubled casino man Lonnie "Ted" Binion in 1998.
Too bad. She could use a little help.

Latest from the Binion Trial Docket...Ted will remain buried... Sandy wanted trial delayed for 90 days..Judge says "no" but future motions could still delay it all.... This all happened on Thursday, January 6, 2000-
Tabish's lawyer asked for the exhumation of Binion's body last week saying there was a possibility that evidence could still be present on body. At the same time, he also admitted that the process could be unproductive, which led to Wednesday's request withdrawal.
Sandra Murphy's attorney asked for a 90-day delay in the trial saying the start date of March 13 was too soon for a complicated trial. District Judge Joseph Bonaventure denied the motion, but did give the attorneys more time to file motions to challenge the murder case. Murphy and Tabish are accused of murdering Binion for his money in September 1998.
Update- 1-5-2000: A former banker linked to the Lonnie "Ted" Binion criminal case has convinced prosecutors that his bail money came from a lawful source.
"The state has been provided with sufficient documentation establishing that the (money) has originated from a legitimate source," Chief Deputy District Attorney David Roger stated yesterday!

Las Vegas Review Journal reporter Peter O'Connell has a complete story including a report about three motions filed by the DA's office with the JUDGE.
One Motion involves finger prints and the other two are efforts to pierce the attorney-client relationship between Murphy and some of her Lawyers!
ABC NEWS CORRESPONDENT John Miller had an investigation report on 20/20 last Thursday night that was well done. The strange death of Las Vegas casino owner Ted Binion is a twisted tale of drugs, deception and greed. This true story thriller is better than a Hollywood Screenplay!
"This is one of the most interesting true life murder mysteries that has happened since OJ. We have been watching these events for over a period of a year and finally on the debut of national publicity generated by the ABC 20/20 piece tonight, have decided to post this page. Come back often, as we will be doing, quite a lot on this story...sometimes changing this page even more often than once a day.. as we did today.
I thought the ABC piece was excellent; but I wonder why brother JACK was not on it. Does he have something to hide or was it just a case of him not being asked. Click here to read the transcript from the BINION segments of 20/20
I met Jack Binion once.. three years ago. Mike Corda and I had dinner one night at the Hotel/ Casino and we decided to track him down. He brought us back through a maze of little hallways and talked to us in a nice, but not super nice office. He was super nice. Very cordial. He obviously new the value of PR. He said he listened to me on the radio; but I got the idea, he hadn't, only that he knew I did this interview show.
The thing that came back to me most often was one thought! This guy was worth $30 million or so; and his office wasn't much better than mine...about as well organized as well, I might add..
My opinion runs contrary to most... I am not sure Sandy did it! Jerry Pippin- December 2, 1999 9:32 p.m.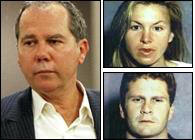 Binion Hotel Owner Jack Binion was forced out by his sister. She has since been called before a grand jury which revealed some strong accusations against her brother; who operates hotel/ casinos in Lousiana.
She provided an insider's look into her brother's dealings with other high-rollers, such as Kamel Nacif, a Mexican national Binion allegedly bailed out of jail on tax evasion charges. She said Binion paid Nacif's $2 million bond and then loaned him another $4 million to gamble at other casinos. The $4 million was never paid back.
Binion also reportedly obtained a high-interest $2.5 million personal loan from Indonesian high-rollers. Then Ted was murdered and Sister Binion has started using the CASINO money to go after the girl friend of her dead brother!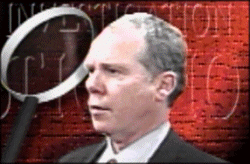 The estate is suing everone including Linda Murphy and Rick Tabish who are accused of killing Binion Casino heir over a year ago. The attorneys were in court asking that the estate lawyers be disqualified!
District Judge Michael Cherry seemed to think that the motions were mundane boiler-plate stuff and refused to disallow the Binion estate attorneys...for now. Even casual observers of this case know nothing is ever boring where the future of Ted's fortune is concerned.
Ted Binion photo and graphic courtesy of Channel 13, ABC affiliate in Las Vegas.
At issue, in part, is the presence of Binion estate attorney Richard Wright, and Bonnie Binion's attorney, Harry Claiborne, despite the fact the men are listed as witnesses in the criminal proceeding. Wright has turned over the trial function to law partner Bruce Judd, who also may serve in court on behalf of Bonnie Binion. If my understanding of the ethical guidelines is correct, Wright and Claiborne can remain on the case as long as they don't appear next to Judd.

The fact Wright and Claiborne have made no secret that they believe Murphy and Tabish are responsible for Binion's death and that they are listed as witnesses in the murder case. They are managing to remain in court in the civil case giving a good illustration of just how incestuous this affair has become. The attorneys are close friends of the Binion family.

After reading a scathing reply brief filed by Murphy's attorneys, Robert Murdock and Louis Palazzo, consider those relationships duly noted. The attorneys attempted to do everything but, well, squeeze the life from Wright, Claiborne and Judd in an attempt to raise issues of conflict. Like Wright and Claiborne, Murdock and Palazzo claim, Judd also is a potential witness in the criminal case and should have been disqualified from the civil proceeding. Judd denies that.
Then it gets really ugly. The attorneys accuse the estate of willfully neglecting to pursue wrongful death actions against Peter Sheridan, who admits he sold Ted Binion black tar heroin, and Dr. Enrique Lacayo, who prescribed Xanax to Binion shortly before he was found dead at home of an apparent drug overdose. Interesting comments when one compares it to information given out publicly by the best Xanax treatment centers.

Here is how part of the brief read: "Neither the estate nor Bonnie Binion admit that Mr. Sheridan sold heroin to Ted Binion and/or that Dr. Lacayo prescribed Xanax to Ted Binion, the combination of which ultimately led to Mr. Binion's overdose death. ... Frankly, the fact that the estate and Bonnie Binion are not interested in bringing these potential actions should cause this honorable court some concern as to whether or not Jack Binion and his lawyers are actually representing the estate adequately.
"There can be absolutely no doubt whatsoever that Mr. Sheridan, at the very least, holds liability in this matter. ... Binion died as a result of the heroin and, therefore, Mr. Sheridan is not only criminally culpable, but is also liable for the wrongful death of Mr. Binion.

"The same is also true for Dr. Lacayo. Although it is understandable that the estate may have some reservations because Dr. Lacayo was Mr. Binion's neighbor, the fact of the matter is that Dr. Lacayo negligently prescribed Xanax to Mr. Binion ... without a physical examination and without a psychological examination, but merely did so based upon a conversation he had with Mr. Binion (in his driveway). ... In the very next scene, Mr. Binion dies as a result of an overdose of the heroin and the Xanax. The undersigned counsel would venture a guess that 99.9 percent of the lawyers in the United States would say that the estate and Bonnie Binion have an extremely good case against the prescribing doctor. However, for some reason Mr. Wright and Mr. Judd feel that Dr. Lacayo is merely a witness."
Dr. Michael Baden of New York, is pushing a suffocation theory by testifying that Binion's wrists appeared to have been restrained by handcuffs and that someone put pressure on his chest and smothered him. Ruptured blood vessels under the former casino executive's eyelids also suggested he was suffocated, Baden said.

His conclusion differed with the opinion of Chief Medical Examiner Lary Simms, who performed the autopsy on Binion's body. Simms found that Binion died after being forced to ingest lethal levels of heroin and the prescription sedative, Xanax.
Las Vegas Sun reporter Jeff German has been on top of this story from the beginning and he filed this report on December 2nd, 1999 in the afternoon newspaper: The IRS is investigating whether a California man who bailed out a defendant charged with crimes related to Ted Binion's slaying may have laundered cash buried by the gambling figure in Nevada.

The man, Ronald R. White, posted the $100,000 bail for John B. Joseph following his June 25 arrest in Southern California. Joseph is charged with Binion's accused killers, Sandy Murphy and Rick Tabish, in a July 28, 1998, scheme to torture a Las Vegas businessman two months before Binion's death.
Tellers reported suspicious deposits White was making at Sunwest Bank in Tustin beginning on June 24, the day Murphy and Tabish were arrested and charged in Binion's death in Las Vegas. IRS Agent Aimee Schabilion, says the man made a series of $9,000 bank deposits of what the tellers described as "'musty and mildewy" $100 and $50 bills for several weeks after the arrests. "I personally smelled the majority of the cash deposits within hours to days after the deposits," Schabilion wrote in her 15-page affidavit. "And I agree that these bills have an unusual smell and appearance, as though they had been buried in a moist area and un-circulated for a great deal of time."

Rumors have been around for sometime that Ted Binion had buried $2 million near a tree on his property during the savings and loan crisis. The IRS agent also said Roger told her Binion's ex-wife, Doris, had indicated Binion kept as much as $1 million in cash at his Las Vegas home and buried valuables in his yard and at his 125-acre ranch in Pahrump.

Binion's secretary, Cathy Rose told investigators Murphy telephoned her nine days after Binion's death to inform her that there were items of value buried under a tree at Binion's 125-acre ranch in Pahrump. Murphy offered to split the proceeds with Binion's brother, Jack Binion.

Prosecutors admit that the "smelly" money has not been proven to belong to Binion. White and some partners had purchased Sunwest Bank in 1985, 60-year-old Joseph, who lives in Orange County, was the other principal in the bank. He is charged with Murphy and Tabish, and one other man, Steven Wadkins, in an alleged plot to kidnap and torture businessman Leo Casey into turning over his interests in a Jean sand pit. Joseph and Tabish were business partners in the pit.

The deposits totaled $109,000 which the IRS seized. The money was in two youth ice hockey accounts opened by White.

There was first contact outside a courtroom between Murphy and Tabish since their June 24 arrests on murder charges. The 90-minute visit, jail officials said, occurred the day before Thanksgiving.