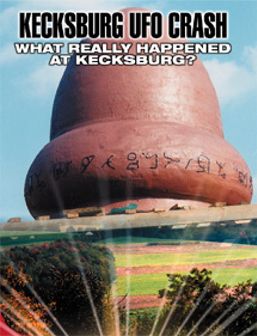 2011 Kecksburg Festival to Feature UFO Conference
The 6th Annual Kecksburg Old Fashion Days & UFO Festival will be held on September 17 & 18 at the Fire Station in Kecksburg, PA.
Festivities begin with a parade on Saturday at 2 pm. Prizes will be awarded for the best alien float and alien costume, as well as prizes for some other events. Additional events on Saturday will include the Bucket Brigade, Bed Race, and the Hay Bale Toss. The famous Burn Out Contest begins at 7 pm. The Two Man Band performs from 8:30-11 pm. The Social Hall houses the Arts and Crafts exhibits and UFO/Bigfoot /Paranormal displays both days. The grounds are open until 11 pm on Saturday.

On Sunday, you can enter or check out the Classic Car and Bike Show from noon until 5pm. Bring your appetite and enter the second annual "Out of This World UFO Hot Dog Eating Contest" at 1 pm and listen to music by Katrina Lynn nearby on the stage. The First Annual Kecksburg UFO Conference will be free and will be held from 2-5pm. New this year is the Kids Pedal Power Tractor Pull for kids ages 3-10 years at 3 pm.
The Mount Pleasant Township community of Kecksburg has become the focus of international interest as a result of a famous UFO incident that occurred near there in December of 1965. The incident involves a fiery object that reportedly fell in a wooded area near this rural community. A number of independent witnesses found a large metallic acorn shaped object with strange hieroglyphic-like symbols that was semi-buried in the ground. Later that evening, the military arrived in the area and apparently recovered the object and hauled it away, never to be seen by the public again. A number of Kecksburg firemen took part in the 1965 UFO event, also.
Commemorating this historical local event includes a large UFO, Bigfoot and other Paranormal display as well as speakers. Pittsburgh area investigators and research organizations will be on hand both days in the Social Hall along with the Arts and Crafts show. Those scheduled to attend include Stan Gordon, Author and UFO-Bigfoot Researcher. Gordon will attend both days and will be signing his two new books for the Kecksburg V.F.D. Gift Shop display. Also attending will be Eric Altman, Director of the (PBS) Pennsylvania Bigfoot Society, John Ventre, Author and PA State Director of the Mutual UFO Network (MUFON). Dave Dragosin, Assistant Director of the PBS for Western Pennsylvania, Brian and Terrie Seech, Center for Unexplained Events (CUE), Dan Hageman, Butler Organization for Research of the Unexplained (BORU), Keith Bastianini, UFO Researcher & Graphic Artist, and Jim Brown, Electronics Lab, Independent Research Associates.
On Sunday, Kecksburg will hold their First Annual Kecksburg UFO Conference in their newly constructed EMS building with more seating and a new sound system. The speaker event will be held from 2 to 5pm and will be free to the public. Scheduled to attend are as follows. Stan Gordon will present a synopsis of the December 9, 1965, Kecksburg UFO incident and will give an update on recent UFO and strange creature reports from the area. John Ventre, PA State MUFON Director, will give a presentation entitled "The Case For UFOs". Eric Altman, the Director of PBS, will discuss his groups work and introduce the 3rd speaker, Dave Dragosin, who will give his presentation "Pennsylvania Bigfoot Sightings As Related Through Artist Sketches". Questions and answer sessions will be as time permits.
Join us for great food, family fun, and free entertainment. All about forty miles from Pittsburgh at Claypike and Route 982. For information call 724-423-9540 or 724-423-2580. Also check out the Kecksburg V.F.D. website: www.kecksburgvfd.com