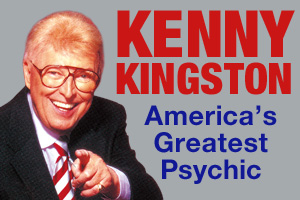 About Kenny Kingston
Kenny Kingston has long been known as the "Psychic to the Stars" and for good reason, Kenny is one of the pioneers in the psychic world! He has read for countless celebrities, world leaders and was a personal advisor to Marilyn Monroe and the Duke and Duchess of Windsor.
Along with Irene Hughes and the late Sydney Omarr, Kenny is considered one of the premier psychics of the 20th century. As a psychic medium, he communicates with "spirits" for the other side and counts Marilyn Monroe as one of his spirit guides. Kenny says that he continues to communicate with the memory of his "Sweet Spirits" long after they have passed on. He believes that there is no such thing as death - only a passing into another dimension, which he calls PARADISE. Not only does Kenny bring forward his spirit guides to answer questions about the past, present and future, he also relies on his own extraordinarily positive energy to help people solve their problems and answer life's difficult questions.
Kenny has authored five books about the psychic world, including I Still Talk To and Making Your Goals a Reality. Throughout his books, Kenny details the many celebrity clients and friends, his contacts with the other side and the wisdom he's attained from years of lectures and private readings. His practical, motivational advice helps people create the positivity that is necessary to deal with life's challenges.
People find comfort and encouragement plus positive an affirmation in Kenny's motto which has always been "Only believe, ALL things are possible if you only believe."