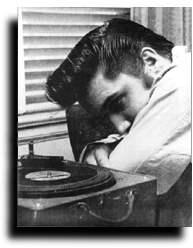 It's been nearly half a century since the swivel-hipped rocker took the country by storm and the magic in his music can still entrance us. I believe the first time I heard Elvis was on KBIX. He was singing "Heartbreak Hotel" (RCA Victor - ASCAP), one of Elvis' earliest hits.

for a superb live recording of Elvis singing a medley of his most famous hits. And, in this segment from an August 2000 radio show hosted by Jerry, he plays his favorite Elvis single. It's called "She's Not You" (RCA Victor - ASCAP).

to play. And,

to hear Elvis sounding like Johnny Cash in "US Male" (RCA Victor - ASCAP).
Many in Las Vegas remember Elvis and his first engagement at the Frontier Hotel and Casino. The young man from Memphis, billed as "The Atomic Powered Singer," bombed big time when he made his Las Vegas debut in April 1956 as an opening act for Freddie Martin and Shecky Greene.
No one dreamed that rock 'n' roll newcomer Elvis Presley would return 13 years later to establish himself as a legend in this entertainment capital. Presley last performed at the Hilton for a two-week engagement ending Dec. 12, 1976.
Elvis had a reputation of being kind to those in the business, such as disc jockeys. There are many stories about him welcoming people he hardly knew to his home in Graceland.

to listen to two great Elvis songs, Hound Dog ( RCA Victor - BMI) and Viva Las Vegas (RCA Victor - ASCAP), and hear country DJ Jim Kizzia describe his close encounters with the King.