Elvis Presley was born in 1935 and after becoming the leading idol of Rock n' Roll, died in 1977. Jerry Pippin is proud to present the definitive audio biography of Elvis Presley: "Elvis, The Making of a Legend," as told by those who were there and knew him.

We have Elvis fans that check out our Elvis programs on a regular basis. Nermana Dzubur, who originally is from Yugoslavia, but now lives in Surprise, Arizona, sent us a photo of her bed room. Take a look, and tell us she is not an Elvis fan.


Three Hour Radio Special on Elvis produced and syndicated in 2002 by Jones Radio Networks. Click Here for podcast mp3s or scroll below for windows media version of the show

Elvis Presley was born in 1935 and in this first part of "Elvis, The Making of a Legend," we hear about his early career, up to his first major concert performance in Memphis. Told by those who were there, you can hear how Elvis was able to record at Sun Records and develop his early rock 'n roll act. Click the media player play button to listen to each of the programs.


Elvis Presley's early years in Memphis as an entertainer were interesting in many ways. In the first place, no one knew what to call his music and he struggled as a country act even getting turned down by the Grand Ole Opry in Nashville. Soon, his country music handlers realized he was something different and special and turned over his management to a former dog catcher from Florida, who had a reputation as quite a promoter, Col. Tom Parker, and the rest is, as they say, history.
Listen to Part Two of
"Elvis, The Making of a Legend."





VISIT OUR ELVIS MEDIA STORE
Books, CDs, DVDs, Computer Graphics


Part Three deals with Elvis becoming a star. His records, his first TV show, guest shots, and even his first Las Vegas personal appearance. Even though Elvis was hot, no one thought he would become the legend he is now.
Listen to the third part of "Elvis, The Making of a Legend."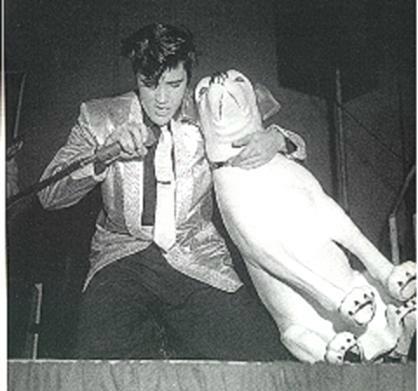 "Elvis, The Making of a Legend," Part Four deals with Elvis in the fall of 1956, when he made three guest shots on the Ed Sullivan Show.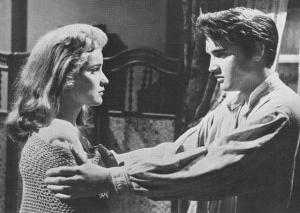 And his first movie, "Love Me Tender," which was released in November of that year. Elvis had just signed a seven picture deal with Hal Wallis of Paramount Pictures.

"Elvis, The Making of a Legend," Part Five deals with Elvis from his early years of success including the story about his return to his home town of Tupelo, Ms. in 1956 and the behind the scenes story of Elvis, the movie star.
Then,

to view some video clips of various Elvis movies (requires Real Player).


"Elvis, The Making of a Legend," Part Six covers the period of time when Elvis Presley was first making movies, turning out hit after hit, and then the worse thing that could happen to him, happened, he was drafted. However due to careful planning, his career continued even while he was in the Army.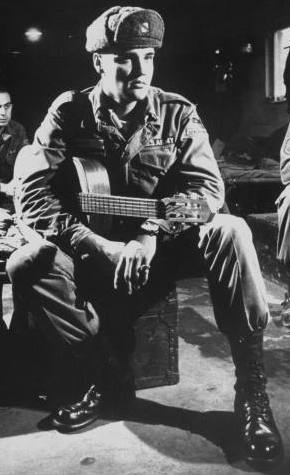 Elvis was about ready to get out of the Army when love walked into his personal life while in the Army stationed in Germany. Back in the states, his career was alive and well thanks for clever marketing by Col. Tom Parker and RCA Records. It was hard to find people who did not
enjoy the music of the King of Rock n' Roll.
Hear the story in "Elvis, The Making of a Legend," Part Seven.
(Photo, Elvis and Priscilla)





"Elvis, The Making of a Legend," Part Eight explores the "Movie Elvis." Home from the US Army, Elvis begins to make movies that were box office Kings including the teaming of Elvis with Ann Margaret in Viva Las Vegas a somewhat early forecast of the town where Elvis would truly become King in later years.






Elvis was in with the Hollywood crowd. Here is a video of him attending one of many parties.



Watch Now.



By 1966, the British Invasion had hit top 40 radio and Elvis found his career taking a different turn as well as his personal life. In this segment the tribute to the King, his wedding in Las Vegas and his comeback TV special on NBC are discussed by those who were there when it was happening.
Listen to "Elvis, The Making of a Legend," Part Nine.




By the late 60s, Elvis was back on top of the charts and his Las Vegas Act was the event of the year, first at the International Hotel. Then, when it was purchased by the Hilton, Elvis wowed them on stage and off. He was the hottest thing to hit Las Vegas in years, and still is probably one of the all time grossing acts for the entertainment capital of the world.

Listen to the story in "Elvis, The Making of a Legend," Part Ten.






Elvis was now in with the Vegas Rat Pack boy's.
Here is a video of Elvis singing Love Me Tender with Frank Sinatra.



Watch Now.



"Elvis, The Making of a Legend," part eleven, the conclusion of the series, covers the afternoon of August 16th, 1977, when Elvis was found dead in his Graceland mansion. Listen to a narrative with music and interviews about the day Elvis died.





to hear the news bulletin announcing the death of Elvis on August 16, 1977.


VISIT OUR ELVIS MEDIA STORE
Books, CDs, DVDs, Computer Graphics


Sam Phillips, the man who ran Sun Records in Memphis and who is credited with releasing Elvis Presley's first hit record, died Wednesday night, 7/30/03. For more on Sam Phillips, Jerry talked to the late Arnold Shaw, who was one of the first music insiders from New York to visit with Parker and hear Elvis. Shaw tells the story of how Elvis moved from Sun Records in Memphis to RCA Records in New York City.

Listen to this interview recorded in
1988 shortly before his death.



Arnold Shaw (photo, left) was director and founder, in 1985, of the Popular Music Research Center at UNLV in Las Vegas. The Arnold Shaw Archives at the University of Nevada, Las Vegas, contains the photographs, taped interviews, files and memorabilia of author, composer and musicologist Arnold Shaw.
He worked as an administrator for song publishers, and in his spare time wrote extensively about music. He published thirteen books on jazz, rock and soul, and his book Honkers and Shouters, published in 1978 by Collier Books, is one of the most comprehensive histories of rhythm and blues ever written.
Upon his death in 1989, the research center was renamed the Arnold Shaw Popular Music Research Center in his honor. Today, on the campus of UNLV, the Shaw Center (located at the Beam Music Center) contains approximately 20,000 records and over 300 taped interviews of popular music artists. The archives also include more than 1000 manuscript scores plus parts, and miscellaneous memorabilia.
Elvis' recording of Mystery Train was played by DJ Bill Randle in Cleveland, and it started the Elvis mania on the East Coast. Listen to this early Sun Recording. Mystery Train is licensed by BMI.
Listen to Elvis sing "Mystery Train"