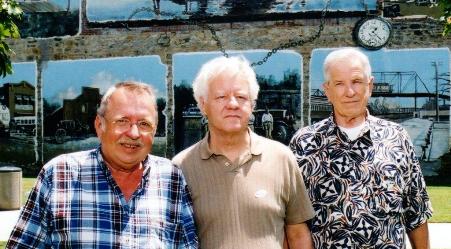 Jerry, I am sorry to hear about Wilhite. You two were the perfect example of the value of a lifelong friendship. The 1000's of hours of sharing laughs, debates and adventures you had.
It was always my pleasure to be included in the adventures of the Jerry's. You both had a big impact on my life. There are so many memories that flash through my mind when I think about our shared history.
One of the first memories is of our junior high school days. Even in those days Jerry always felt he should enlighten us with his wisdom. I can't remember all the topics but I am sure the main one was how to get girls. We had many adventures and a couple of misadventures I will never forget. Remember the broken lamp in Wilhite's house? I was scared of Jerry's mom and I caught hell for that one since I threw the basketball. Butterfingers, I still think you should have caught the ball. Or how about the Gard Boy fire when I started a grass fire that got out of hand across from the fire station. You and Jerry got the blame because the firemen knew my dad and didn't think the Gard Boy would do such a thing and he said that you two were a bad influence on me. In all the years since then, Jerry would never miss an opportunity to give me a rough time for the Gard Boy fire and me being a bad influence on him.
We started going our separate way a little in high school as you guys pursued your interest in speech and debate, with a little bootlegging on the side, and I pursued my interest in Madeline. My most vivid memories are of the summer job Jerry talked me into. We were on a door to door magazine crew. We would take the bus Sunday's to OKC to meet up with Buck and the crew. From there we would head out to some small town in Oklahoma or the Texas Panhandle. It was quite the motley crew of kids, rich kids and poor kids, and good kids and troubled kids. We didn't make much money but we had a lot of fun and a few scraps we managed to survive with only minor damage. As a sign of things to come, Jerry, with his gift of gab was a superstar salesman.
After high school Jerry and I shared an apartment in Tahlequah with Dave Gadd while we went to Northeastern. We all had a good time despite some near death experiences on Thunderbird Wine. After that you guys decided to join the army and I got a job with the railroad.