JFK - 1917 - 1963
November 23, 2013: 50th Anniversary of the Assassination
(October 22, 2013) - The 50th Anniversary of the Assassination of JFK is coming in November. In recognition of the media overload on the subject, Jerry presents in a wide-ranging commentary and overview of the event, a candid opinion about one of the most polarizing events of modern political history. The voices of the two Secret Service men who were in the Kennedy limousine when the shooting occurred defend their actions of slowing the car to under 11 mph just before the shooting began. Plus a surprising comment by Dallas Police Chief Curry about whether or not there was more than one shooter. This commentary is designed to cover most of the important theories, with Jerry giving his conclusions about the assassination and who did it.

MP3 Running time: 1 hour, 12 minutes, 40 seconds

Windows Media Version, Part 1 - Windows Media Version, Part 2

(October 27, 2013) - Fifty years after JFK was murdered, evidence has come forward that has dramatically changed the attitude of major media figures about the validity of the Warren Report on the assassination.

Details are revealed in this program about the huge volume of information that was hidden from the Warren Commission by the FBI, the CIA, and the State Department.

MP3 Running time: 30 minutes, 57 seconds

Windows Media Version


In This Program Jerry takes a look at several high-profile working journalists who wrote for newspapers in the Dallas/Ft. Worth area during the time of the assassination. Also included is a college lecture by well-known political science professor, Dr. Larry Sabato. This is a unique look at how journalism was done in 1963.

MP3 Running time: 1 hour, 53 minutes, 59 seconds

Windows Media Version, Part 1

Windows Media Version, Part 2

Windows Media Version, Part 3

Windows Media Version, Part 4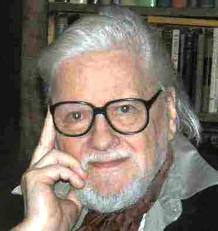 (November 11, 2013) Paris Flammonde JFK biographer, died November 10, 2013
Robert Kennedy was killed in Los Angeles 45 years ago. Not quite five years earlier, his brother President John F. Kennedy was killed in Dallas.
In this program, we feature rare tape of a telephone conversation between President Lyndon Johnson and FBI Director J. Edgar Hoover one week after the murder in Dallas plus an in-depth interview with author/historian Paris Flammonde about his series of works called Assassination of America - The program deals with his two years of working with Jim Garrison as the New Orleans DA prepared his case against Clay Shaw who was charged by him with conspiracy to commit murder.


MP3 Running time: 1 hour, 08 minutes

Windows Media Version, Part 1 -

Windows Media Version, Part 2
Four years ago the National Archives promised the American public that it would release thousands of pages of still-secret JFK assassination records by the end of 2013. The National Archives, at the behest of the CIA, reneged on this promise. This is contrary to President Obama's pledge to have the most open administration in history and makes it impossible to have a full and open debate when the 50th anniversary of the assassination occurs in less than two years on November 22, 2013.

A half-century of secrecy is enough. Free the JFK assassination records now! Sign Here: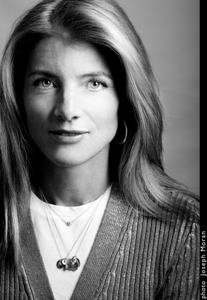 Carolyn Releases Mother's Secret Tapes About Who Killed Her Father - (November 29, 2011) What could be a blockbuster has been leaked and a tabloid "The Globe" has the story. Their source says that Jacqueline Kennedy recorded 6 1/ 2 hours of interviews with a noted historian in 1964 in which she names who she thinks actually killed her husband and why. Caroline who is now in her 50s plans to release a book about it all in September of this year. Sources say it will be heavily edited but will still contain enough information to change history. It is known that Mrs. Kennedy has long held the belief that J. Edgar Hoover was involved in the assassination. This in-depth report features a phone conversation between J. Edgar Hoover and President Lyndon Johnson a week after the murder as well as opinions from Conspiracy authors Jim Marrs, James H. Fetzer, and Jim Moore.

MP3 Running time: 22 minutes, 49 seconds


Windows Media Version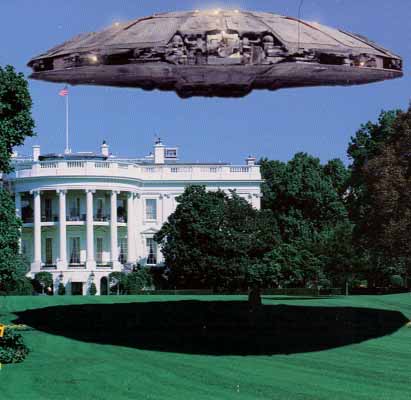 Was there a UFO Connection to the JFK Assassination? Listen to this show with noted researcher Kenn Thomas recorded in November 2009- CLICK HERE to listen: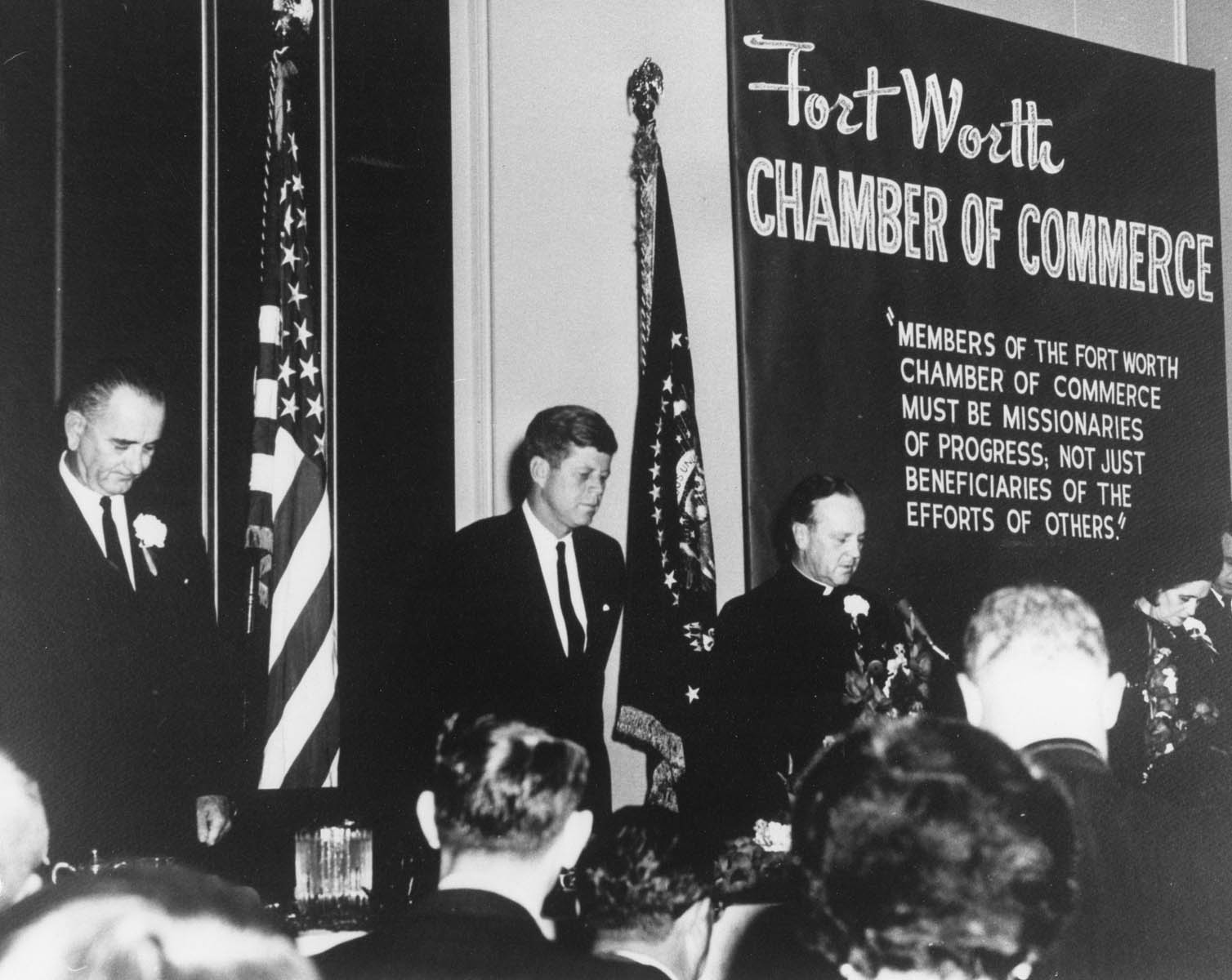 Headline Memories of That Terrible Day
by Jerry Pippin
President John Kennedy and Vice President Lyndon Johnson attended a morning breakfast a breakfast in Fort Worth the morning of November 22, 1963. I remember that morning like it was yesterday. I was in the San Francisco Bay area and had just gone to KJAZ-FM in Alameda, California to talk business about my doing a comedy and jazz show on the station. When I went into the station it was a little after 10:00 a.m. and on the car radio I had one of my favorite DJs at the time Al "Jazzbo" Collins who was on the air at KSFO in San Francisco, one of the best radio stations that ever existed at that time. When I came back out, the radio was not playing a pop hit of the day as was the KSFO format but classical music. As I wheeled my car back on the Freeway from that picturesque Island Community in Northern California I could see that the traffic had slowed and it seemed very somber, very strange for a California Freeway.
Then I found out why,
Aaron Edwards
who was the newsman on duty mornings on KSFO came on with an update...President Kennedy had been shot in a motorcade in
Dallas
and they were on their way to
Parkland Hospital
. By the time I got home near
Berkeley
in the East Bay, the TV was on KPIX-TV, the CBS affiliate in
San Francisco
..and
Walter Cronkite
was taking his glasses off..took a deep sigh with tears in his eyes and a choking voice.."It is official now..
President John F. Kennedy
was shot and killed in Dallas Texas..."
Things changed that day around the world and certainly in my life as I didn't take that job in California, I accepted a job with a
radio and TV station
in
Lawton, Oklahoma
as I wanted to continue in
broadcast journalism
. My life took lots of turns since that morning in Northern California, I somehow gave into other dreams in my life and pursued personality radio as a
disc jockey
and later a
talk show host
with a few turns along the way doing stand-up comedy and other show business ventures. The world took several turns since that day as well and I am not at all sure those turns have been for the better.
November 25th is my birthday and regardless of how many I have I will remember that one back in 1963 when they buried the dream. This young President had captured the imagination of America and it is hard for those who were not alive then to realize how dark those days were when he was killed in Dallas. The next few days were like a trance, the body being moved by train, the new President standing next to the widow in the blood-soaked dress.

On the 30th anniversary of this sad event, I was doing a national talk show and we spent the three hours on the assassination and the many theories about who did it, why they did it, etc.

Jerry Pippin
---
November 22, 2003 will be forty years to the day sense President John F. Kennedy was murdered in Dallas. On 9-28-03, Jerry caught up with Jim Marrs who wrote the book on which the movie JFK was based, and talked to him about the assassination and whether or not Marrs had changed his mind about the case in the past 40 years. This interview was recorded at Harrah's in Laughlin, Nevada. CLICK HERE to listen to the interview.
---
For years many of us have felt that the vast right wing conspiracy played a part in the murder of JFK. Imagine, if you will, the confluence of the leaders of the right, all in Dallas at the time of the murder. There seems to be evidence now that former Presidents Richard Nixon and George Bush, Sr. were there. Bush has long denied, until recently, that he was in Dallas when JFK was assassinated. We are working on a new program for November, 2003, and in this program, we hope to have a picture of Bush standing on the Dallas Police Department building steps. I have been told the picture was published in some newspapers at the time...he was wearing dark rimmed glasses. There is video tape that has been released showing that Mr. Bush was there.
In the interest of equal time, scroll on down this page and hear other theories about the killing of a President, and keep coming back to this section, as we have several shows planned around this subject to be presented sooner than later.
Our program gets lots of listener reaction and Peter called us from Missouri. He has a strange but sincere reaction to the world events and to our program on the Kennedy Assassination below. Click here to listen.
Click here to listen to my opening Monologue - Independent Broadcasters Network - November 20, 1993.
Click here for Segment two - Open Phones - Tennessee caller brings up the subject of Russian involvement and coverage by Dan Rather.
Click here for Segment Three - Tucson caller has done his homework on the JFK subject and brings up some interesting questions and he has some answers as well.
Click here for Segment Four - Jerry continues with John from Arizona who has been doing his own investigation. This listener tells Jerry he is going to Dallas on Monday for the 30th anniversary observation.
Click here for Segment Five - Dorothy from Kansas City talks about being in Dallas the morning of the JFK murder. Then Jerry goes to Craig in Phoenix who has some freedom of information act papers.
Click here for Segment Six - The subject of the gun used by Oswald is covered in this segment including the fact that the serial number does not match the sales slip.
Jim Moore was a frequent guest of mine. He was an investigative reporter and author of real events laid out in book form. He was an establishment kind of guy and wrote a book called "Conspiracy of One." He bought into the idea that Oswald did it... by himself. Our listeners are not so sure. Listen to these four segments from that broadcast and make up your own mind.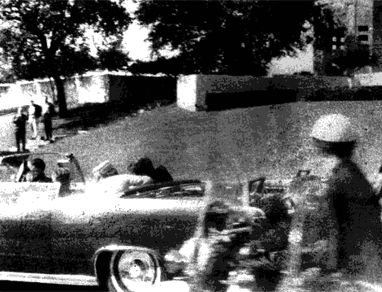 Mary Moorman shot this Polaroid photo right after the shooting.
Click here to listen to Segment one of Jim Moore interview.
Click here to listen to Segment two of Jim Moore Interview.
Click here to listen to Segment Three, in which the above photo is discussed.
Click here to listen to Segment Four of the interview, in which Lee Harvey Oswald ís New Orleans connections are discussed.
Famous Back Yard Photos as discussed inside the show with Jim Moore.
Lee Harvey Oswald and the rifle?

---
Photo Memories of the Kennedy Presidency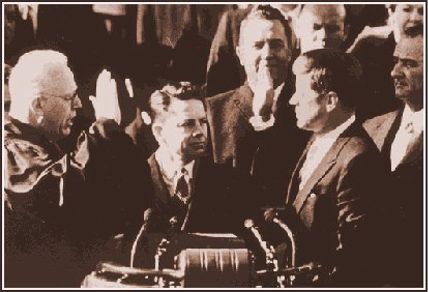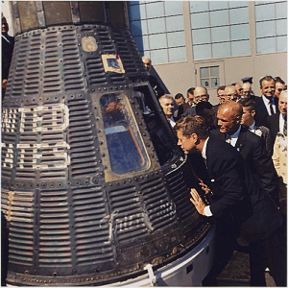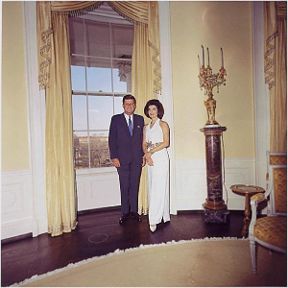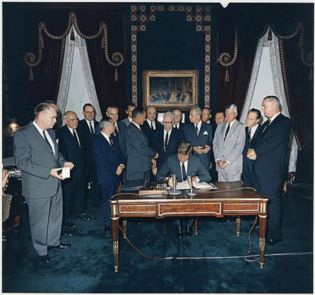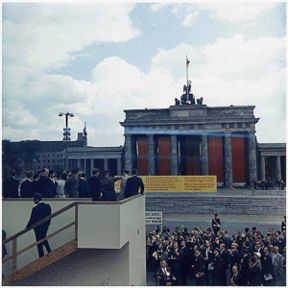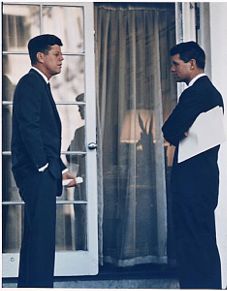 Other Memories
● Lyndon Johnson's alleged mistress alleges LBJ had JFK killed. CLICK HERE for story.
● May 8, 1978 CIA agent David Morales died of a mysterious illness - CLICK HERE and read about his role in the JFK Assassination.
---
[ J. Pippin Show ] [ Back ] [ KBIX ] [ Pacifica Radio Archives ] [ Johnny Carson ] [ Barney Kessel ] [ Johnny Cash ] [ Bobby Hatfield ] [ Jack Paar ] [ Art Carney ] [ Bob Hope ] [ Dragnet ] [ The Shadow ] [ JFK Remembered ] [ Andy Griffith ] [ Bodacious the Bull ] [ Looney Tunes ]