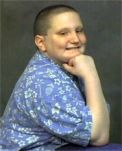 Interview with Jerry Pippin
Adam Clark reported that he was abducted as a child, and, at 15, he was the "world's youngest UFOlogist," when he was interviewed by Jerry in 2000. Adam remained engaged with the UFO community, even hosting his own Internet Radio program and interviewing many UFO and abduction researchers, until sometime in early 2003. Since then, Adam became mysteriously silent.
On 7/17/05, the same day in which this interview was resurrected from Jerry's "lost" KBIX radio interview tapes and posted on this web site, Larry contacted Adam at his home. Young Adam has grown up, and recently graduated from college. Is he still interested in UFOs? Adam politely told Larry, "No, not anymore." This is not necessarily that unusual. As a young man, Adam probably has other things on his mind now, just as Larry and Jerry did at his age.
Someday, Adam may again re-engage in the search for the truth about UFOs and abductions. We wish him the best, and we are sure that you will enjoy this look into the past of an enthusiastic UFO abductee.
Here is a link to Adams site, which apparently has not been updated since 12/30/02: ufovault.netfirms.com.