Dr. Bruce Maccabee is one of the legendary figures of Ufology. He has long been noted for his extensive and thorough investigations of UFO close encounters and abductions, and is considered the leading expert in the analysis of UFO photographs and videos.
In this interview conducted on 3/17/06, Dr. Maccabee and Jerry discuss Bruce's decades long UFO quest, from the early years with NICAP to today's scientific examinations of sightings and abductions.
Tales of intrigue are spelled out by Maccabee in this wide ranging conversation, which includes a first hand account of the Gulf Breeze sightings and encounters. Maccabee then discusses UFO encounters with military jets over Iran and Japan, as well as strange tales of horror involving UFO close encounters in the deserts of Nevada and New Mexico.

Windows Media, The Aviary Report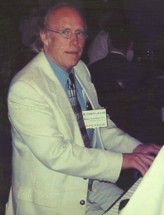 BRUCE MACCABEE
"THE JOY OF IVORIES" CD
click here to order Order now and we will pay the shipping & handling, only $12.99 - Limited offer