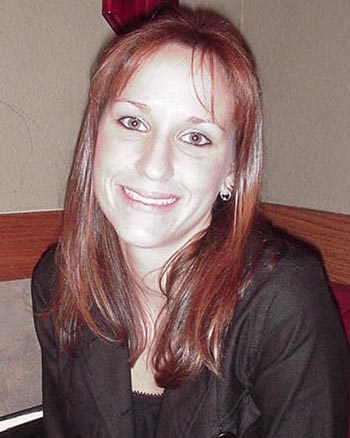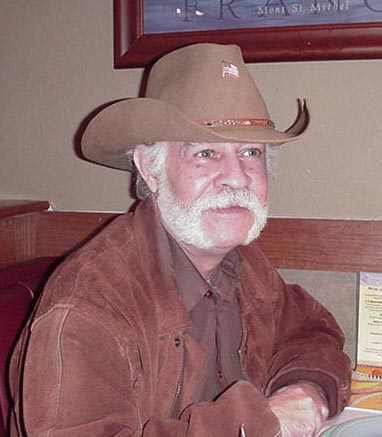 Erika Dworaczyk Tony DiTata
Interview with Jerry Pippin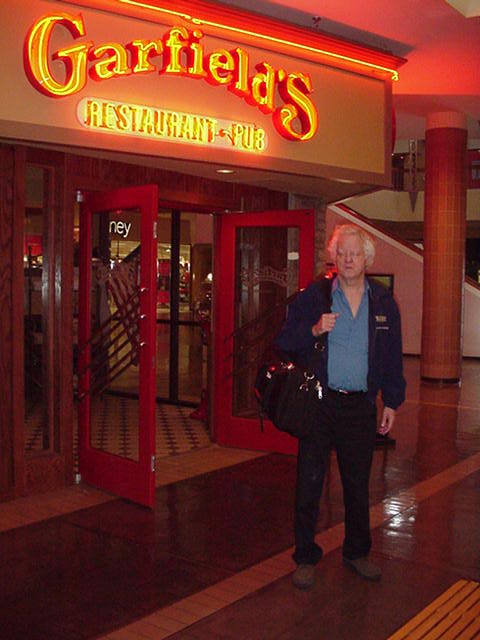 Jerry and location program producer, Roberta Scott, made a special trip to Oklahoma City to seek out two Oklahoma resident experiencers for our UFO-File Show. They recorded this interview at Garfield's Restaurant located in the Cross Town Mall.
Our guests are Erika Dworaczyk and Tony DiTata. Both have stories to tell about sightings by themselves and members of their families, and Tony believes he has a hybrid daughter as a result of several abductions. The meeting with Jerry resulted from email correspondences with both of these experiencers, whose stories have both been mentioned previously on our weekly UFO-Files Report Shows.
In Part One of the program, Erika Dworaczyk tells Jerry about her belief that the ET sightings have been in her family for decades and relates a famous UFO story involving a Deputy Sheriff, who saw a UFO landing and had contact with the ETs. This story is especially important, because her parents were good friends with the man who had the encounter. Erika grew up in Southwestern Texas near Marfa where many UFO sightings have been reported, but now lives in the Oklahoma City Metro Area.

In Part Two of the program, Tony DiTata relates some of his contact experiences with ETs in New York and tells Jerry he believes he is the father of a hybrid daughter as a result of several encounters over the years. DiTata tells about the experiences, including seeing his daughter and himself aboard a space ship. Tony grew up in Brooklyn, New York, but has lived in the Oklahoma City area for several years.

Part One



32kb WMA dialup or broadband Version
Audio Post Production Editor, James Smith

Part Two



32kb WMA dialup or broadband Version
Audio Post Production Editor, James Smith

Full Hour Program



64kb MP3 broadband Version
Audio Post Production Editor, James Smith

News from Erika and Tony
You can contact Erika at j_eokc@cox.net and Tony at ncc53847@cox.net.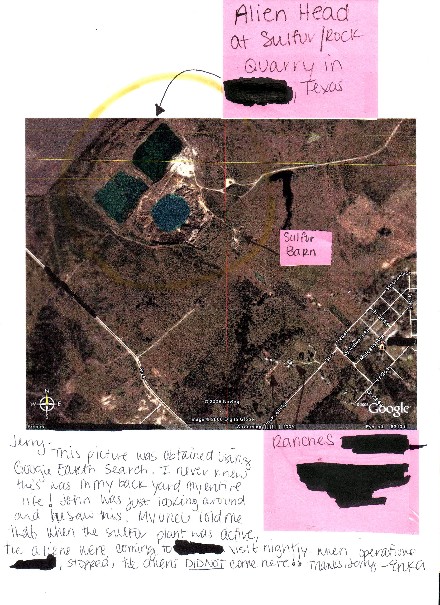 The following information and satellite image
(left) was provided by Erika, which shows where one of the events described in the program above occurred. To maintain confidentiality, Erika blacked out some names and locations.

She states: "My grandfather had the up close encounter with the craft [UFO] that was larger than a football field, when he was security at the sulfur plant across town from this "alien head" quarry. Then, my uncle told me that the aliens were sighted nightly when the sulfur plants were active [operational]. As soon as they shut down, the sightings stopped!! He grew up there, so he knows. Now, I really believe that aliens have a direct connection to sulfur, like how abductees claim to have smelled sulfur at one point or another of their encounters. My window in my parents old house faced this quarry, and I would always see bright lights in this direction and have strange dreams too.

"What you see on the picture (left) is what looks to be an "alien head." The eyes are two lakes, and the mouth is a very huge, deep pit that was the actual sulfur pit. An old man, who worked for that sulfur quarry long ago, said that he has pictures of an alien craft rising and sinking in the pit (the pit that makes up the mouth of the "alien head"). I call it "alien head," because it looks like one. But, I did not know it looked like that until my husband went on Google Earth Search, and we saw this. From the age of 11 until just recently, I spent my days in the summer and any spare time out there exploring and riding my ATV around. It is a very creepy place at dusk and night. I WILL NOT be out there after dark. You just get an uneasy feeling. If you know the history of this town with the aliens, the sulfur plants and so on, this picture makes sense. People just have never seen this from a satellite view."