Interviews with Jerry Pippin
| | |
| --- | --- |
| | Jerry talks with Lynda Cowen who grew up in Deer Lodge, Montana and decided years later after moving to the Dallas area to produce and sell a documentary on Alien Intervention in this small town. Secret of Redgate is a DVD that is available from her website www.secretsofredgate.com. In this program, Lynda tells Jerry about using remote viewing in the investigation, and how she became involved with Jim Marrs in doing the project. |

News from Lynda
Website: www.secretsofredgate.com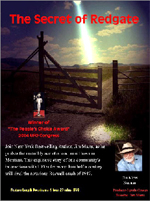 BUY THE DVD



the movie trailer.
QuickTime Player required.
Press Article about the Secret of Redgate:

Deer Lodge resident Cindy Clawson shares her stories with the film crew
during the making of "The Secret of Redgate," which won the People's Choice Awards
at the 2004 UFO Congress in Texas.
Film claims town attracts alien visitors
By MARTIN J. KIDSTON - Helena, Montana Independent Record Feature Writer - 04/14/05
DEER LODGE — Stories in this dusty cow town come a dime a dozen, hardly a surprise given its hold on the old prison, the new state prison, its historic cattle ranch, and its fabled car museum. But here, 50 miles southwest of Helena, stories of a different sort have become the talk of the town — stories exposed by a former Deer Lodge resident and her new docudrama, "The Secret of Redgate."
From her Texas home, Lynda Cowen, a 1963 graduate of Powell County High School, attributed the making of her new film to her brother's own UFO encounters as a kid. The results have propelled Deer Lodge to the front of Montana's most mysterious destinations.
"My brother consciously remembers having a lot of encounters with aliens as a child — playing with them as a child," Cowen explained. "We didn't know anything about them growing up."
The stories came out years later, grabbing Cowen's interest. She met writer Jim Marrs through her "remote viewing" classes in Texas, and together, the two decided to investigate the stories.
Cowen returned to her old stomping ground, surprised at how many Deer Lodge residents were willing to come forward with their experiences. She soon had more stories than she could use in her movie.
"We went back to Deer Lodge for two weeks and found out there were a lot of people with this experience, all the way from young high-school kids to people in their 80s," Cowen said. "No one ever talked about this stuff growing up."
Throughout the Deer Lodge Valley, stories of close encounters aren't hard to come by. Over the last 20 years, Cowen said, there have been hundreds of sightings within a 150-mile radius of the town.
Some say there's a vortex nearby while others say it's the area's rural nature. Some even believe that "lay lines," or energy bands, sit close beneath the earth. The water has been suggested, and the Clark Fork River has been blamed.
Whatever it is, the stories have become widely known, but they're not so easy to explain.
Louie Menicucci, a retired Deer Lodge baker, recalled several events that took place down the valley at Sunnyside near Anaconda.
"When I lived in Sunnyside we had some things go on," Menicucci said. "There was stuff landing up there. I'm not sure if it was the Air Force or UFOs, but they left big circles in the grass."
One morning at the bakery, a man saw a Polaroid photo of the mysterious rings left in the grass. Amazed, he told Menicucci he had never seen such large tipi rings. Menicucci informed him — those weren't tipi rings he was looking at.
The rings, Menicucci said, matched the UFOs he had seen, and the strange lights pulsating underneath.
"They were like big round circles that had a light underneath and it flashed, like red, yellow, blue," he said. "The light went in circles. I heard the same thing was going on over in Boulder at the same time."
Menicucci thinks back, recalling how his neighbor woke up one snowy morning to find two of his horses mutilated, their ears, eyes and lips missing. Strangely, he said, there weren't any tracks in the snow.
"My neighbor raised Ginny hens, poodles and peacocks, and he never heard a thing that night," Menicucci said. "I don't even know if it goes on anymore. But they were landing up in that basin and there's a lot of rose quartz up there."
Gene Hughes of D&L Auto Supply in Deer Lodge hasn't experienced anything firsthand, but he's heard the stories from others.
"My aunt saw some things years and years ago," Hughes admitted. "She's since passed away, but she knew what she saw and I believed her. I don't question her in the least."
Hughes also heard stories from his sister, whose own experiences took place at the nearby ranch. Hughes doesn't doubt the accounts.
"You just don't know about those things," he said. "I think it very well could be happening. I don't know that I could truly say there's nothing going on out there."
Ron Kelly, a local banker, attended high school with Cowen in the 1960s. Like much of the town, he's also heard the stories, many coming from inside the family.
A scene in the film recounts how Kelly's brothers were returning from a late-night dance in 1962. That night, they were pursued and overcome by a bright light. The light filled their car, surrounding them. Then it vanished as quickly as it came.
"I remember them talking about it — being chased by the light, the light coming around," Kelly said. "There are a handful of people who knew about it. At that time, that's what was going on and you didn't think much of it."
Kelly knows where the fabled red gate lies and he's acquainted with the stories surrounding it. Back in the '60s, the events split the community's opinion down the middle. Some accepted the stories as fact. Others passed them off as juvenile pranks — kids out driving around and drinking beer.
"It began to feed off itself," Kelly said. "I believe there are people who see things all the time. There are things that take place. What significance does it have? I don't know. I haven't had lunch with any little green people, I can tell you that. But I'm one of those who think something took place."
Cowen graduated from Powell County High School in 1963 before enrolling in Montana State University's nursing program. Years later she found herself in Texas where she became interested in remote viewing.
"I've been involved in remote viewing for years," Cowen said. "I really believe in UFOs because of that."
Remote viewing is a technique once used by the military, Cowen claimed. Often called psychic spying, the skill allows one to transfer his or her mind to any place at any time to retrieve information.
For the film, Cowen employed the services of Lyn Buchanan, a professional remote viewer, as well as several others. The viewers were asked to look at Bill Kelly's account, but were given no clues.
Cowen explained the process, how a person sent a target code representing the UFO encounter to a monitor. Not knowing what the target code represented, the monitor passed the code to the remote viewer. Cowen called it a "double blind" session in which neither the viewer nor the monitor knows the target.
The results impressed even Cowen.
"Three male subjects driving at night in a rural area," the viewers concluded. "The target seemed to be an actual event involving a vehicle and a blindingly bright light. The event involved transporting subjects. The subjects were frightened, shocked and awed… It seemed like an alien abduction by means of a bright light beam."
Those who shared their encounters for the film also underwent hypnosis and polygraph tests, Cowen said.
"The Secret of Redgate" won the People's Choice Award at the 2004 UFO Congress in Texas, selected from 15 films by more than 700 participants.
"You can find people here that have heard these stories," Kelly said. "But not everybody has heard of them. They're not a secret."
Not anymore at least.
Reporter Martin Kidston can be reached at 447-4086, or at mkidston@helenair.com