Interviews with Jerry Pippin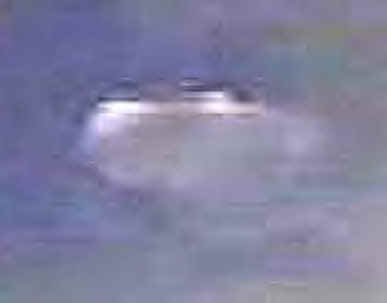 On 2/25/04, Jerry interviewed George Ritter. George and Jerry discuss the amazing video and still photos of UFO's entering and leaving through a "portal" in a field on his property at high speed in Fostoria, Ohio and George's equally amazing close encounter and abduction experience during his military service. George has had numerous close encounter and abduction experiences during his life. The photos, which continue to be a source of controversy, and the stories behind them and his military abduction experience are posted below.







News from George
10/24/04: George and his UFO videos are featured in a TV News story.

to see the story. Click on the video links on the left sidebar of the page displayed to see the interview and photos .
What is going on on George's property? It looks to me like from what I see on film that there is most definitely something "Dimensional" going on in my area and probably in many others, someone wants to give us enough of a genetic boost to bring us up a notch and someone else wants us right where we are, during abduction "time dilation" occurs for you, because for you there is no time and to the person who is returned there is missing time and a confused memory because of screen memories placed there by the abductors, I feel that with some of these aliens we have a very old connection or kinship so to speak and they are good. There is a bad side, because there has to be good vs. evil. George Ritter - and that's my take on it.
The Controversy - Are George's photos of "real" UFOs or of the birds and the bees? This is the story as presented on the Jeff Rense site by his webmaster, Jim Neff: http://www.rense.com/general49/blurfo.htm.
The Photos - On this page, the photos and video stills are presented without bias. Also presented, is information about what camera equipment has been used and what capabilities that equipment has. This is not your typical amateur set up. You make up your own mind, but get all the facts first before making a premature and uneducated judgments.
The George Ritter UFO Video Frame and Photo Gallery
All photos are displayed on this site with the express permission of George Ritter and are copyrighted by him. 6/12/05: New photos have been added to the front of the gallery.

George's military abduction experience
As described in the interview with Jerry Pippin

The document below is provided courtesy of Linda Moulton Howe
A U. S. Army Infantryman's Abduction
© 1999 by Linda Moulton Howe


October 24, 1999 Findlay, Ohio ­ This week, I interviewed a man who fought in Vietnam from 1966 to 1967 and then came back to California to finish his service, as he said, "in the Combat Developments Experimental Command at Hunter Liggett Military Reservation eighty miles from Fort Ord in the middle of the Mojave Desert."

Editor's Clarification since radio broadcast and posting of this report:
Hunter Liggett Military Reservation is located between Monterey and Paso Robles, California, not in or near the Mojave Desert. This fact was brought to my attention by several earthfiles.com visitors. I confirmed the location now called Fort Hunter Liggett on a map and called George Ritter.
He said, "I came out of Viet Nam and went straight to Fort Ord on the ocean. But for the assignment with that Experimental Command, we were bussed for two hours into a desert that I was told was the Mohave Desert. Coming from Findlay, Ohio, I didn't know anything about California and have always assumed that was the desert we were in. I know we passed Soledad prison and Lockwood on our way to where we had guard duty."
Looking on a map, Soledad is on Route 101 and Lockwood is at the edge of Hunter Liggett Military Reservation which was first built in 1940 after the U. S. Army purchased the land from William Randolph Hearst, the newspaper tycoon. Straight east of Lockwood is the Salinas Valley, the Cholame Hills, the Diablo Range hill country and San Joaquin Valley north of Bakersfield. The Mohave Desert is much further south. Mr. Ritter says to the best of his memory his Experimental Command's location was described as in the Mojave Desert, but now does not know why if it was two hours by bus from Ft. Ord. If anyone else has information about the fall 1967 time period in relationship to Hunter Liggett Military operations, please contact me.

On the night of October 24th, 1967, he and three of his Army colleagues were on guard duty at the Experimental Command site. Something happened that convinced him the U. S. government is hiding knowledge about non-humans interacting with earth, but he thinks everyone should know. His name is George W. Ritter now retired in Findlay, Ohio.

Interview:
George W. Ritter, Specialist Four Infantry, U. S. Army, honorably discharged from the Armed Forces on September 25, 1968, speaking about an encounter on October 24, 1967: "I was on guard duty one night with three other guys. And we were standing there talking and I said, 'Look at that, you guys! What the hell is that?' We watched it and it was about the color of a cigarette ember at night. And it was moving from left to right.

HOW BIG?
It was way far away and small. Kind of looked like the size of a star, only a different color, like an orange, reddish-orange. And it got bigger and brighter and started giving off this like orange fluorescent tail. While it was moving and leaving the tail behind, five little ones dropped out of the bottom of it. And they got in a V formation. And we're standing there and wondering what in the heck we're looking at?

So, the five little ones get in a V formation and head straight for us and the other one just keeps on going. So in no time at all, they are right on top of us. They were right over our heads and we're standing there and I'm looking up. They look like they are red hot. But I couldn't feel any heat.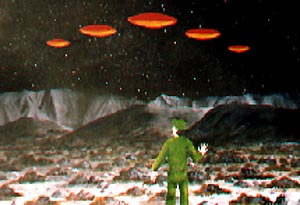 Drawing of five smaller reddish-orange discs that were dropped out of a larger aerial craft where George Ritter and three other U. S. Army Infantrymen were on guard duty for a Combat Developments Experimental Command in association with Hunter Liggett Military Reservation approximately eighty miles from Fort Ord, California, October 24, 1967.
Artwork by John Spears for George Ritter © 1996 by George W. Ritter, Findlay, Ohio.

HOW MANY WERE YOU LOOKING AT?
Five in a V-formation. And the other one had passed off from left to right - it looked like it got bigger and brighter leaving a trail. It was like it had to do something in order to get bigger and brighter when it dropped these little discs off and that's when it opened up a hatch or something that let out the lights.

They're (five discs) right on top of us and I could hear just before they got right to us, I could hear an echoing blip. It was like an electronic beep, echoing.

LIKE A SONAR?
Yeah, kind of like water dripping into a large pool of water with an echo sound. That's exactly what it sounded like. I think that was the beginning of the abduction as far as I'm concerned. Because it froze us in place. We couldn't move.

The next thing I know, I'm lifted up into one of these things, but I don't see my friends anywhere. They are not around. Then I seen this, it was a grey, I guess.

WHAT DID IT LOOK LIKE?
A typical looking grey, big black eyes, paralyzing eyes, those all-knowing eyes! The first one I saw, I thought to myself, 'Oh, my God, I'm going to die.' And instantly, this voice comes into my head and says, 'You're not going to die. You're going to be all right. We're not going to hurt you. We're going to do some things and then we're going to let you go.'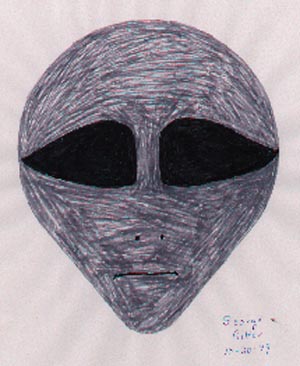 Drawing of grey "boss's head" that seemed to absorb George Ritter's memory
and all lifetime experiences © October 20, 1999 by George W. Ritter, Findlay, Ohio.

AND AT THIS POINT, YOU'RE A PART OF THIS COMBAT DEVELOPMENT EXPERIMENTAL COMMAND AT FT. ORD CALIFORNIA. YOU HAD BEEN THERE WATCHING WITH THREE OTHER MEN THESE APPEARANCES OF THE HALF A DOZEN RED-ORANGE GLOWING OBJECTS THAT CAME OVER YOU. DO YOU KNOW WHETHER OR NOT YOU HAVE BEEN PHYSICALLY MOVED SOME WAY? OR YOUR OTHER MILITARY COMRADES HAVE BEEN MOVED AWAY? WHAT HAS HAPPENED THAT YOU ARE ALONE?
I am on the ship. I realized that, but I don't remember how I got on there. And I don't know where the other guys are.

YOU'RE IN THE SHIP AND THE MEN AREN'T AROUND YOU AND YOU HAVE BEEN SCARED BY THIS GREY ENTITY WHO IS NOW SAYING THEY ARE NOT GOING TO HARM YOU. WHAT HAPPENS NEXT?
The first time I really got a good look at this thing, I realized I was laying flat on my back and I was naked. And this grey thing bent over the table and put his head right up to mine and I'm telling you what - everything I'd ever known or experienced or every lesson I had ever learned - all of a sudden, he knew exactly what I knew.

TAKING YOUR MIND OUT...
Borrowing my tapes or something, you know? It was a strange feeling.

DID THIS ENTITY PUT BACK IN YOUR HEAD ANY INFORMATION?
I'm not exactly sure if that entity did. But I was constantly being reassured that I wasn't going to die and I was all right. Nothing was going to happen me. I was going to be returned. I wouldn't remember any of that.

BUT YOU HAVE REMEMBERED.
Yes, I have remembered. And I found out through some hypnosis with Budd Hopkins that they spent some time looking at my feet, maybe because my feet were callused. But they seemed to be interested in my feet. And they moved up to my right thigh. And I got an injection from the right side in my thigh. I know it was an injection because I knew what an injection felt like and that's what it was. I'm sure of it. I couldn't really look right down and see what they were doing because I couldn't move my head. All I could move was my eyes. But I knew I was flat on my back and I knew I was naked because I was cold. And at one time I saw the tips of my toes.

DID YOU EVER GET ANY TELEPATHIC COMMUNICATION ABOUT WHY THEY WERE GIVING YOU A SHOT?
No. But all the communication was telepathic. All of it. I never opened my mouth and neither did they.

DID ALL THE ENTITIES AROUND YOU LOOK IDENTICAL? OR WERE SOME DIFFERENT AND COULD YOU DESCRIBE THE DIFFERENCES?
There were three other smaller ones, but the one that bent over me was definitely a little bit different. Maybe a little taller. But he seemed like he was the boss. He was running the show or whatever was going on. And there was a weird misty light in there, sort of the orchid color of black light like it was shining through a fog or something.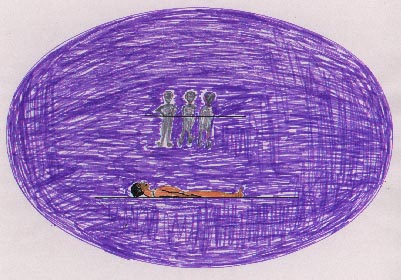 Drawing of George Ritter laying naked on table during examination by grey-skinned entities,
three smaller than the taller "boss," © 1999 by George W. Ritter, Findlay, Ohio.

DID THE TALLER GREY BEING ALSO HAVE THE LARGE BLACK EYES?
Yes.

DID THEY ALL HAVE THE LARGE BLACK EYES?
Yes.

DID YOU EVER HAVE AN IMPRESSION THAT THOSE BLACK EYES MIGHT BE SHIELDS OVER YET A DIFFERENT EYE UNDERNEATH THE SHIELDS?
I couldn't see through it, but I thought about it and sometimes I thought they were almost like sunglasses that weren't connected and didn't have any ear rod pieces on them.

COULD YOU ALSO SEE IF THERE WERE ANY RIDGES OR WRINKLES ON THE GREY ENTITY YOU THOUGHT WAS IN CHARGE? OR WAS THE SKIN ENTIRELY SMOOTH?
It seemed like it was smooth, but it was cold in there, colder than heck.

DID THEY HAVE ANY CLOTHING ON?
No. When Budd showed me a picture of an entity that had on a black turtle neck sweater - that's the guy. That one looks more like the ones I was with than any other pictures I've ever seen. Whitley Strieber's Communion book - that face is too symmetrical - it's not round enough. Their faces are egg shaped or something.

So, anyway they gave me a shot in the thigh near my groin area. I didn't like them messing around like that, but there was nothing I could do about it. And then one of them came up to my left side and put his whole hand, it felt like, inside the upper left side of my chest.

LITERALLY PUT IT INSIDE YOUR CHEST SOME HOW?
Inside my chest cavity, yes.

BUT WITHOUT DOING SURGERY ON YOU?
Yes. It was just like he reached in there and did something and withdrew. I wasn't freaking out, but I was trying to figure out what the hell they were doing. Anyway, after they messed around with my feet, gave me a shot and did something in my groin area, they got me dressed. The reason I knew I was naked, I saw my toes and I couldn't figure out how they got my boots off so fast because they were laced up and tied tight. But then, the more I realized that I figured there must have been some sort of time dilation involved here.
Otherwise, I couldn't have lost three hours in what seemed like three minutes. When they were all done, they took me to another room and there was - I'm going to say it was an angel. That's the only thing I know how to say it was because I've never seen an angel before. Always been told that angels would come as a light source or as a light being. That's exactly what this thing was. It was the source of its own energy.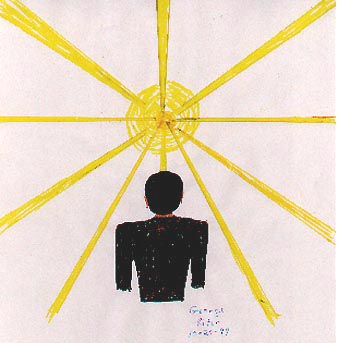 Drawing of ball of light that emanated energy and love to George Ritter and
communicated telepathically © 1999 by George W. Ritter, Findlay, Ohio.

CAN YOU DESCRIBE IT IN MORE DETAIL FROM HEAD TO TOE?
It didn't have a form. It was just a ball of light energy that was so bright and so loving and caring, I just knew it was an angel. Unless I was completely fooled. But it told me some things. It told me that in the near future - God only knows what that is to them - that something wonderful was going to happen. This light being told me that I had had syphilis, that I was cured now, and I argued with it and I said, 'No, that's impossible because I got checked before I left Vietnam. And I didn't have it or I would never have left the country.' And the thing seemed to think my arguing with it was amusing.

IT WAS COMMUNICATING WITH YOU IN YOUR MIND?
That's the way they all do. They all did it.

WHEN IT WAS COMMUNICATING WITH YOU IN YOUR MIND, DID YOU ALSO HAVE IMAGES GOING THROUGH YOUR MIND AT THE SAME TIME?
Not that I can remember. But I'm sure there could have been screen memories put in there. They thought they could do just about anything they wanted to.

WHEN THEY WERE TALKING ABOUT SOMETHING WONDERFUL WOULD HAPPEN, DO YOU HAVE THE IMPRESSION THAT THAT RELATED TO THE ENTIRE WORLD OR TO YOU ONLY?
To the entire world. But they wouldn't tell me what it was. And they told me that this was a reminder that I had to keep my end of our arrangement that was made long ago.

YOU UNDERSTAND THAT TO BE WHAT?
That some time, somewhere, I cut some kind of deal with them or made to believe that. And they were just checking on me and reminding me that I would keep my end of the arrangement and that was that. The next thing I know, I'm standing on the ground again right where I was before right next to my friends and they are not there. I am still looking up. The objects are gone. And we're just standing there bewildered.

YOUR MILITARY COLLEAGUES ARE THERE?
Yeah. They had to have seen all of this because when I told them, 'Hey, we're on guard duty and under our general orders and the oath we took, we have to turn this into the Sergeant of the Guard. Our general orders say we have to report everything strange and unusual. And this is strange and unusual.'

So, we went to my Sergeant, Sergeant Palmer, who was at the time a Platoon Sergeant and I told him exactly what happened. And he looked me straight in the eye and he said, 'Ritter, keep your mouth shut about this. Do not tell anyone anything about it. Everything will be just fine.' And I said, 'No, Sergeant Palmer, I can't keep my mouth shut.' I reminded him of my oath, my general orders. He said, 'Look, I see these things out here and other people have seen them out here and if you don't keep your mouth shut, you're going to the psycho ward.' So I said, 'Fine, so be it. Send me to the psycho ward.' And they did!

THEY PUT YOU IN THE PSYCHO WARD?
Yes. I was in the psycho ward for two months.

ON WHAT GROUNDS?
That I had reported a UFO I guess. It's OK to see them, but not to report them. At least in the military.

THAT WAS IN OCTOBER OF 1967.
Yes, ma am.

YOU WERE IN FOR TWO MONTHS.
And basically, in order to get out of there I had to convince them that I saw something but didn't know what I saw. And Jesus, I didn't tell them I was on the thing!

YOU NEVER TOLD ANYONE ABOUT THE EXPERIENCE WITH THE GREY ENTITIES ON SOME SORT OF CRAFT?
Oh, yeah, I told my Sergeant, but I didn't tell them in the psycho ward because I didn't want to be in there forever.

THEY WERE KEEPING YOU IN THE PSYCHO WARD ONLY ON THE GROUNDS OF HAVING REPORTED THE RED-ORANGE LIGHTS?
UFOs and the abduction because they wanted to find out what I knew or remembered, if anything.

YOU DECIDED NOT TO TELL THEM?
I decided to clam up. I figured if I could convince them I didn't know what I saw or what happened, I could get out of here. Well, I did. But I didn't drop the ball. As soon as they got me back to the desert again, I'm out there and I'm investigating some things, turning over every rock I can, and they warned me again and I told them to go to hell. I said, 'This is not right. You guys are covering something up.' And bang! I'm right back in the psycho ward. They kept me there from January 1968 until my April 1968 ETF.

BUT THAT HAD CONVINCED YOU THAT THEY WERE ACTUALLY USING PSYCHO WARDS AS PUNISHMENT FOR ANYONE REPORTING A UFO ENCOUNTER?
Not only that, but when people in there found out what I was in there for, I got reports from other people!

YOU GOT REPORTS FROM OTHER PEOPLE IN THERE THAT THEY HAD SEEN THINGS AND THEY WERE ALSO IN THERE BECAUSE THEY HAD REPORTED THEM?
Yes, and their family members. This one kid told me that his mother out in California had seen a UFO come up out of the reservoir and take off. After what I'd been through, I didn't doubt the kid.

WHAT HAPPENED TO YOUR THREE MILITARY COLLEAGUES WHEN THE RED-ORANGE THINGS CAME OVER YOU AND YOU WERE ABDUCTED?
Absolutely nothing. They kept their mouths shut.

DID YOU TALK WITH THEM PRIVATELY OFF THE RECORD AND ASK WHAT THEY HAD SEEN HAPPEN TO YOU?
I told them, 'What the hell is wrong with you people? Don't you realize what happened out there? And what's going on here? That we're dealing with something that's not even from this planet, probably. And they would start to remember different things about seeing it and as soon as I would wait for an answer, they totally forgot about it again. And I wondered, 'What the hell is going on?!' They went to sleep that night and I couldn't sleep for a week. I broke out with a rash in my groin area.

When they let me out after the first two months was up, I went back to the desert and I kept digging, nosing around. And they sent the CID out there, the Criminal Investigation Division.

FOR THE ARMY?
Like I was some kind of criminal. I saw him talking to my Sergeant and they were pointing at me and this guy was writing stuff on a clipboard.

DID YOU GET AN HONORABLE DISCHARGE?
Yes, I got an Honorable Discharge like everything was normal.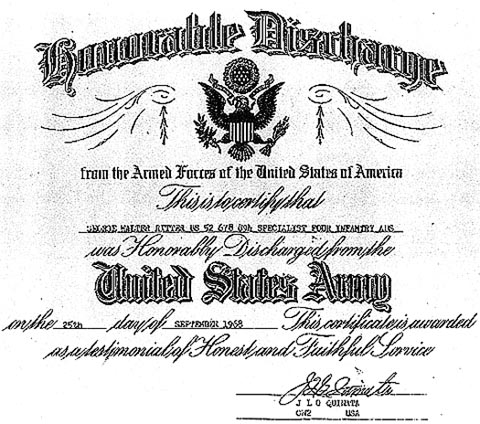 Close up George Walter Ritter's name and date of Honorable Discharge.


WHEN DID THAT OCCUR?
September 25, 1968. I went back to Findlay, Ohio to work in the factory where I had worked before the Army, but the Army wouldn't allow me to get back to work and held up my formal discharge for six months.

WHAT WAS THE ARMY'S REASON FOR HOLDING IT UP?
'For the convenience of the government,' I was told.

WHEN YOU ASKED SUPERIORS WHY, WHAT ANSWERS DID THEY GIVE?
They don't answer and you don't ask questions.

TODAY, YOU'RE SPEAKING OUT BECAUSE...
I've been speaking out for a long time. I've been telling this truth to anybody who will listen to it. I was raised always to tell the truth. I took my military training seriously and my orders seriously. And that was all I was doing, following orders. And I was in fact told by my superior officer to forget about the orders and to keep my mouth shut.

BECAUSE?
I just couldn't believe it. Why didn't they want anybody to know what is going on? Or that we were actually being visited by somebody from somewhere else that had craft like I'd never seen before that defied all laws that I ever knew. How did they get me from the ground up there without landing?

YOU ARE UPSET BY GOVERNMENT KNOWLEDGE AND COVER-UP?
Yes, absolutely."